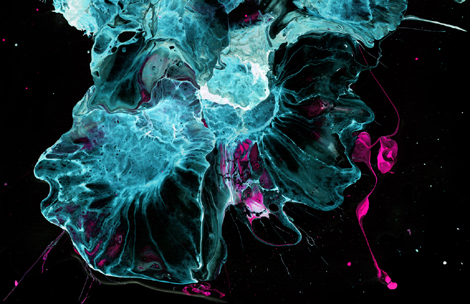 [Fabric]
When it was announced that Shackleton would helm Fabric 55 I was a little surprised. The legendary London club's flagship mix series has been known to be a little stuffy — generally high standards regardless, it's usually reserved for techno and house. It's all the more surprising because there is literally no one who sounds like Shackleton, and Shackleton doesn't seem like the type of artist to concede to other people's expectations. His music carries traces of genres, but only in virulent strains that infect and invade specific sectors, mimicking the music's own viral nature as elements multiply and implode at seemingly random intervals. Hints of techno and dubstep surface in the occasional kick drum or halfstep beat, respectively, but that's as close as it gets to classification. Even better, Fabric 55 is not your typical DJ set: a live set of all original material — some new, some old — it bears most obvious resemblance to landmark previous entries by Omar-S or Villalobos, and like those releases, it's a memorable statement that hews closer to indelibility than your regular mix CD.
Audio clip: Adobe Flash Player (version 9 or above) is required to play this audio clip. Download the latest version here. You also need to have JavaScript enabled in your browser.
In some ways, Fabric 55 is like the ultimate Shackleton album. After two incredible compilations from his own label Skull Disco, Three EPs on Perlon was the closest he'd come, but even that felt more like nine separate stark stone pillars of exotic desolation rather than a proper album. So while this mix might not have the same predictable progression as the usual thumping DJ set, it does the Fabric series one better, painting an immersive (and sometimes frightening) world out of smooth strokes of gray-scale. It's 75 minutes of panicked respiration and painfully probing introspection, the sound of Shackleton's universe swallowing itself up with steely resolve, themes and patterns colliding for a singular and unified monolith of convulsing sound.
As such, it's hard to pick out individual moments in Fabric 55, despite the fact that this is a career-spanning mix reaching far back into the Shackleton catalog for all manner of memorable classics. Instead, each track is subsumed into the next, veering around sharp corners in cobwebbed catacombs rather than conventional beat-matching or crossfading. The lightly tribal percussion sweeps and dips over a churning, endlessly-searching low end full of autonomous tendrils and unforeseen tangents. Shackleton's labyrinthine bass lines go on forever, winding and turning in hard right angles much like the dank tunnel imagery his music tends to evoke: when they run into each other constantly as presented in his live set, the effect is disorienting, where abrupt turns become hypnotically wrenching circles. That motion-sick hypnosis renders Fabric 55 with a physically exhausting sense of strained inertia — when you go in circles you aren't really going anywhere, after all — only reinforced by the blood-draining dread embedded deeply, subconsciously into Shackleton's music.
Audio clip: Adobe Flash Player (version 9 or above) is required to play this audio clip. Download the latest version here. You also need to have JavaScript enabled in your browser.
Over the course of the mix, the combined impact of bleak tracks and foreboding rumblings brings together and subversively makes palatable the xenophobic and paranoid tropes of the post-9/11 world. Exotic, vaguely Middle Eastern sounds are muddled into something more musically Western, something that occasionally approaches dance music. That's why Shackleton's live set is so bewildering, blackened and oblique, yet beguilingly accessible. A set of "tunes" built in unfamiliar shapes, bled together with bass lines that pry the tracks open like leeches without discernible progression as they echo into each other, it's something like the ultimate realization of dubstep's original potential for destruction through deconstruction. Rooted somewhere in a genre that was conceived in the spirit of slowing down and re-valuing empty space, Shackleton puts together his own spatially-obsessed brand of dance music out of the tattered remains of UK bass and makes something that feels impossibly removed from everything else. Akin to the way Kassem Mosse constructs otherworldly and dilapidated house music out of metallic shards and broken drum machines, it's fervently committed to its determined and defined aesthetic, sonically consistent and unmistakable, and the furthest thing from a gimmick.
Audio clip: Adobe Flash Player (version 9 or above) is required to play this audio clip. Download the latest version here. You also need to have JavaScript enabled in your browser.
I haven't mentioned any individual tracks because, really, I don't have to. Fabric 55 transcends its original material — and its enticingly new and exclusive tracks and interludes — by being more than the sum of its parts. Of course, there are moments that stand out; the unnerving self-help monologue of "Negative Thoughts;" the nerve-wracked and artificially isolated choir of "International Fires;" the tabla worship of "Man On A String." These are all moments that might stick out, but likely only if you're watching the tracklist like the trainspotter you might really be. Getting lost in music is usually more of a romantic ideal than any kind of reality, but it's one that seems made for Fabric 55, as the stone-reinforced hedge maze of twists and turns proves conducive only to confusion; the only solution is giving up and admitting defeat to Shackleton's oppressive and apocalyptic atmosphere. It's kind of hard to read track titles when your head is spinning. Not only is Fabric 55 completely out of the norm for the series, it's a mix where the component parts are completely irrelevant, rendered homogeneous in a manner of magical synthesis so many DJs can only dream of. It's enough to give one hope for the renowned but aging mix series, and for troubled mix CDs in general: what does it mean when one of the best and thoroughly conceived electronic albums in years is actually a mix CD?