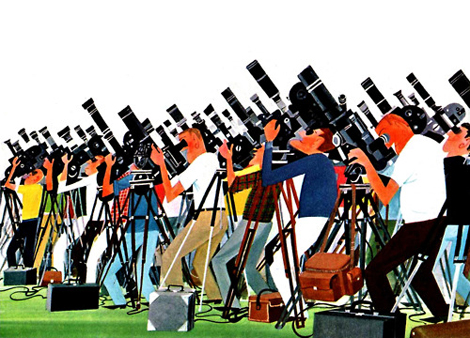 Swedish label Studio Barnhus are no strangers to a novel idea. The original Radioactive Orchestra tracks, by The ZZZZZ and Abdulla Rashim, are the fruits of a "scientific musical translator," with which one can, "create melodies and rhythmic patterns…based on the nuclear energy levels and gamma radiation observed in experiments at accelerator laboratories around the world." The two producers won an online competition orchestrated by the label and the Orchestra's developers at the KTH Royal Institute of Technology and KSU, and a pair of remixes have been commissioned to sweeten the deal.
Audio clip: Adobe Flash Player (version 9 or above) is required to play this audio clip. Download the latest version here. You also need to have JavaScript enabled in your browser.
The ZZZZZ's contribution mirrors the nuclear subject matter, at least in that its opening ping-ponging sound seems to be a universal signifier for atoms. "Europium" dissolves into a more traditional groove of dubby chords and hand drums, moving as a measured jam-out for its duration. Âme's remix of the track unleashes its hidden dance-floor potential. Most every aspect is primed to emulate a purposeful forward motion, from racing hi-hats to its filtered piano line. At sporadic points, they employ chanting to match the stab patterns, and its reminiscent of how Blondes used a whooping Meredith Monk sample to heighten the intensity of their track "Lover."
Abdulla Rashim's "Kallocain," by contrast, is coldly serene, and slots neatly into the producer's catalogue of hypnotic techno. It's dubby, but not oppressively so, and the ticking rhythm subtly moves out from behind cloudy chords. Jonsson/Alter's remix builds off of these clouds, but when the rhythm kicks in they're reduced to gusts, whistling in between the drums. As with many of the duo's productions, it has a stiff, locked-in funkiness with thoroughly hypnotic results. While a stylistic mixed bag, Radioactive Orchestra Remixed all but proves the "scientific musical translator" is a fertile concept.