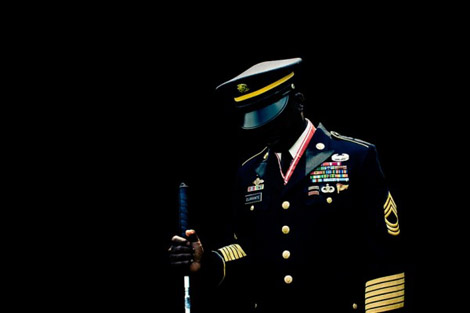 Photo by Christopher Wilson
Over the course of his last couple of releases — starting with Wax Dance at the end of last year — Vessel has taken a dive toward darkly broken territory, a tendency confirmed by his recent signing to vetted imprint Tri Angle. Standard, his second EP for London's left_blank imprint, furthers this. Its three tracks hint at artists like Actress and Newworldaquarium in their blend of boogie-ish bass lines and feverish synthesizers, but are distinguished by just how rickety they sound. Anyone familiar with the aforementioned artists' proclivity for imperfection — Legowelt once described Actress' "Paint, Straw And Bubbles" as sounding like it was "put together with tape and sciccors [sic] with some glue and painted over with crayons" — will recognize this as quite an achievement.
Audio clip: Adobe Flash Player (version 9 or above) is required to play this audio clip. Download the latest version here. You also need to have JavaScript enabled in your browser.
Like those producers, Vessel specializes in grooves — on the lurching title track, he wastes no time in introducing a sludgy bass line and shuffling hi-hat patterns, laying a ghostly, siren-esque synth on top. He throws a fair bit of detritus at the beat, but the mood — an odd mix of down-low funk and icy paranoia — remains constant. On "Merge," he plays with what could be termed as an "old-standard" melodic motif, the sort of melancholic chords that appear on Detroit-indebted dance releases every week. However, it's hooked into a slippery rhythm that's defined by its willingness to slide off the grid — tunnel-vision techno gone lopsided. Finally, "Zero" is the most abstract of the bunch; its beat is a clotted squirm, and as it progresses a diminutive melody tries to poke through squashed clouds of hiss. The track ends before it's able to, but like the prior pieces, its frayed, disquieting atmosphere lingers.