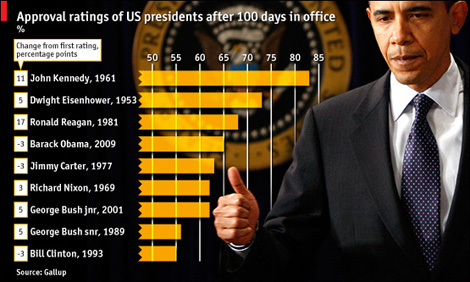 Chart courtesy of The Economist
For the third And Charts For All we decided to experiment with a different method of tallying to see how it would impact the results. We opted to lump together votes for different tracks on the same release rather than keep them apart, which could provide a better picture of what releases are popular if not which tracks. We welcome your feedback on our methods and any suggestions for the future. Now on to the results.
This month featured the most clear cut winner since these polls started, with newcomer Culoe de Song's "The Bright Forest" trouncing its competition. Voters appear to agree with us that STL's "Silent State" (#2) is already a year's best contender, and is followed by another — Martyn's stunning Great Lengths. Both sides of "Berghain 03|Part 1" captured top 10 spots so we left them separate. New singles from Ame, LoSoul, and Donnacha Costello placed well, and voters vocally supported "Clapper" by Tobias Freund while our reviewer's feelings were more tepid. Jitterbug's debut EP (#7) seems a hit; as does Ramadanman's Apple Pips 12″ (#8). There were two real surprises: First, only Stefan Goldmann's "Art Of Sorrow" hung on from last month's charts, which seems an indication of its staying power. Second, Anton Zap's Uzuri EP and a Patrice Bäumel remix of Bomb the Bass managed to sneak into the top 20 despite being technically unreleased; the Internet is powerful with these ones.
Thanks again for making And Charts For All such a happy success. Please tell your friends, neighbors, enemies, DJs and elected officials to cast their vote for May so that our results hold even more weight.
01. Culoe de Song, "The Bright Forest" [Innervisions]
02. STL, "Silent State" [Smallville Records]
03. Martyn, Great Lengths [3024]
04. Radio Slave, "Neverending" [Ostgut Tonträger]
05. John Daly, "This Is A Lonely Beat" [Drumpoet Community]
06. Tony Lionni, "Found A Place" [Ostgut Tonträger]
07. Jitterbug, "Raw Winter EP" [Uzuri]
08. Ramadanman, "Humber" [Apple Pips]
09. Âme, "Setza/Ensor" [Innervisions]
10. LoSoul, "Up The Beach" [Playhouse]
11. tobias., "Clapper" [Diamonds & Pearls Music]
12. Dplay, "Huub Sand" [Running Back]
13. Donnacha Costello, "Always A Why" [Look Long]
14. Peter Van Hoesen, "Attribute One" [Time To Express]
15. Jamie Vex'd, "In System Travel" [Planet Mu]
16. Bomb The Bass, "Black River" (Patrice Baumel remix) [Studio !K7]
17. Stefan Goldmann, "Art of Sorrow" [Victoriaville]
18. Precious System, "The Voice From Planet Love" [Running Back]
19. Wareika, "Ascending, Descending" [Tartelet Records]
20. Anton Zap, "Outside EP" [Uzuri]