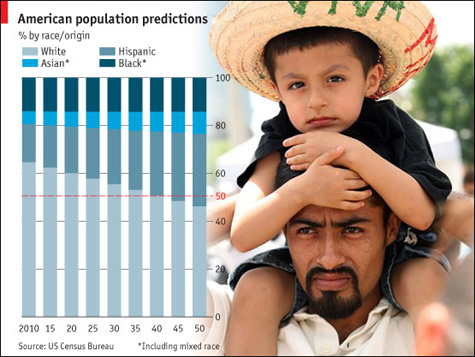 Chart courtesy of The Economist.
01. Matthew Styles, "We Said Nothing" [Diamonds & Pearls] (buy)


So far I've managed to look past Matthew Styles despite the sheen of buzz around him, but "We Said Nothing," the lead cut from an EP of the same name, is utterly impossible to ignore. The dense and flashy percussion cuts a path for the snaking acid progression, all the while female and tar-pitted male vocals invoke chaos in the tightly structured piece. It's prominently featured in Âme's forthcoming Fabric CD, and is sure to wreck a little havoc on dance floors. Mr. Styles has my attention now.
Audio clip: Adobe Flash Player (version 9 or above) is required to play this audio clip. Download the latest version here. You also need to have JavaScript enabled in your browser.
02. Matias Aguayo, "Minimal" (DJ Koze remix) [Kompakt] (buy)


Sure, the lyrics are inflammatory ("people don't dance, 'cuz that music's got no groove, got no balls, no man"), if not outright sarcastic (especially coming from half of Closer Musik), but the breezy sunshine DJ Koze injects into Matias Aguayo's "Minimal" can assuage even the most inconsolable critic's qualms. More in line with his work with International Pony, Koze threads a funk guitar needle through soothing Rhodes pads, leaving only the jangling percussion of the original to penetrate the mellow vibe. Yet another incredible production from the vaunted DJ Koze, a radio edit of which can be downloaded here.
Audio clip: Adobe Flash Player (version 9 or above) is required to play this audio clip. Download the latest version here. You also need to have JavaScript enabled in your browser.
03. Brendon Moeller, "Electricity" [Leena Music] (buy)


While so much of dub techno is content to hang in the air like cumulus music, Brendon Moeller is one of the few producers to persuasively toughen things up to delight DJs and dancers. "Electricity" aggressively proves the point with a hard percussive shell, from which dub reverberations stab pointedly or flare up like a sudden tidal wave. So for DJs who would rather see bodies moving instead of pinned to couches, this cut off a great EP is the one for them.
Audio clip: Adobe Flash Player (version 9 or above) is required to play this audio clip. Download the latest version here. You also need to have JavaScript enabled in your browser.
04. Solomon, "Explicit" [Four:Twenty Recordings] (buy)

Solomun's stature as an excellent producer only grows faster as he steps further away from Diynamic and its hallmark aesthetics. "Explicit," a hidden gem of a b-side to the well-charted "International Hustle," maintains his carefully groomed balance of melody and organic percussion. The plucked progression at its core is delayed such that it could be echoing through a lengthy alley, and its looming pads color the long shadows. It's also a treat to mix with.
Audio clip: Adobe Flash Player (version 9 or above) is required to play this audio clip. Download the latest version here. You also need to have JavaScript enabled in your browser.
05. Portable, "Release" [Perlon] (buy)


It's hard to think of a label with better and more consistent taste than Perlon, and the past 12 months have only bolstered its already impressive reputation. Their 70th release yields some of Portable's best music to date, the incredibly soulful and demented "Release." Alan Abrahams' multi-tracked vocals plead from the center of a twisted city which bends and arches around determined 808 stabs. If you're craving something deep and housey that avoids indulging in all the oft-repeated cliches, pick up a copy of "Knowone Can Take Away" pronto.
Audio clip: Adobe Flash Player (version 9 or above) is required to play this audio clip. Download the latest version here. You also need to have JavaScript enabled in your browser.
06. My My, "Everybody's Talkin'" [Playhouse] (buy)
07. Nekes, "Waitin" [Oslo] (buy
)
08. Henrik Schwarz, Âme & Dixon, "D.P.O.M.B." (Version 2) [Innervisions] (buy)
09. La Peña, "Untitled 1" [La Peña] (buy)
10. A Guy Called Gerald, "In Ya Head" [Perlon] (buy)