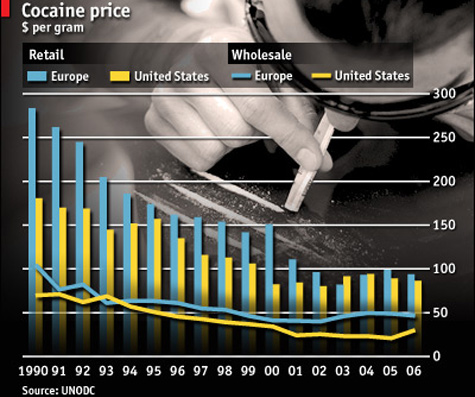 Chart courtesy of The Economist.
01. Shed, Shedding the Past [Ostgut Ton]


In a year that's shaping up quite nicely for techno/house albums, Shed's long-playing debut is certain to be at the front of the pack. Internally diverse and unique among its peers, Shedding the Past truly dispenses with familiar forms (4×4 beats are a rarity) while firmly lodging itself in listeners' pleasure centers with ease. Expect a full review of this beautiful and challenging album once it reaches stores.
Audio clip: Adobe Flash Player (version 9 or above) is required to play this audio clip. Download the latest version here. You also need to have JavaScript enabled in your browser.
02. Dave Aju, "Crazy Place" [Circus Company] (buy)

It's taken me a minute to come to terms with Dave Aju's sui generis brand of free jazz-inspired deep house, and I have his latest single, "Crazy Place," largely to thank for putting things in focus. According to a blog on his Myspace, Aju's forthcoming album is constructed entirely from sounds made with his mouth, a tactic which is happily apparent on "Crazy Place." Its sputtering "hi-hat," chorus of un-finessed vocals and rubbery synth line are endearing in a very human way. Luciano's flipside remix is another treat, allowing only snippets of skin to show between gleaming metallic percussion. Highly recommended, and Open Wide is highly anticipated.
Audio clip: Adobe Flash Player (version 9 or above) is required to play this audio clip. Download the latest version here. You also need to have JavaScript enabled in your browser.
03. Burger/Voigt, "Wand Aus Klang" [Kompakt] (buy)

It seems Wolfgang Voigt has caught the producing bug again: rekindling the Gas moniker, reviving the Profan label, and working with longtime partner, Jorg Burger. Their new "Roter Platz" single proves this is a good thing, as it revisits the pair's seminal [Las Vegas] sound: a potent blend of electronics and rock which might just give you goosebumps. "Wand Aus Klang" (wall of sound, roughly) is the duo's stunning addition to the shoegaze cannon, a gauzy drift down a droning river where guitars spar and vocals coo.
Audio clip: Adobe Flash Player (version 9 or above) is required to play this audio clip. Download the latest version here. You also need to have JavaScript enabled in your browser.
04. Kelley Polar, "Magic Dance" [Rapster Records] (buy)

Any track opening with a request to "slap that baby" is sure to get listeners' attention. But in the case of Kelley Polar's fantastic David Bowie cover for the Life Beyond Mars compilation, it's the music's frantic frot which pulls me in, especially Polar's stacked vocal harmonies. I can't wait to start a night with this, half for audience reaction, half because I know they'll love it.
Audio clip: Adobe Flash Player (version 9 or above) is required to play this audio clip. Download the latest version here. You also need to have JavaScript enabled in your browser.
05. Kevin Saunderson, "Good Love" (Luciano's Good Love Remix) [KMS] (buy)

Colin already did a good job describing Luciano's series-beating remix of "Good Love," but my enthusiasm overfloweth. Luciano's signature warmth and restraint serves Paris Grey's eyes-on-the-prize well, which is sparingly wrapped in flaring synth progressions and reinforced by unhinged sub-bass. And being the consummate DJ himself, Luciano tailors the remix for interesting mixes, as this one is sure to get aired out often this summer.
Audio clip: Adobe Flash Player (version 9 or above) is required to play this audio clip. Download the latest version here. You also need to have JavaScript enabled in your browser.
06. STL, "Zeitsprung" [Something] (buy)
07. Niggemann & Poppcke, "L'Aurora" (Agnès Chicago Take) [Moonpool] (buy
)
08. Cassy, "Idle Blues" [Cassy] (buy)
09. Andri, "Ala Bass" [Slutfunk Records] (buy)
10. John Daly, "Countdown to Zero" [Wave Music] (buy)