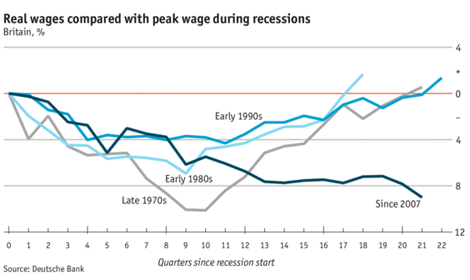 Chart courtesy of The Economist
01. Osborne, "Hold Up (Feat. Joe Goddard)"
[Spectral Sound] (buy)

The return of Todd Osborn has been glorious. The Ann Arbor-based producer made such a strong impression on me with his mid-00s Osborne records for Spectral Sound — the Ruling EP, especially — that the strength of his 2013 releases for 7777 and Acoustic Division is a relief. "Hold Up" is a cut above these and many, many other 2013 releases. Pillowy soft vocals courtesy of Joe Goddard prove a splendid companion for Osborn's plush instrumental, nestled in cushy Rhodes riffs and lit by the glowing synth lead buzzing overhead. Cavernous snare hits and a slowly stalking bass line round out the 80s influences, and at times the sweetly intricate tune bears some resemblance to Arthur Russell's poppier moments. It's also a song I haven't been able to get out of my head since first hearing it, perhaps because I've been playing compulsively. This is potentially your most tender dance floor moment of the year just waiting to happen.
Audio clip: Adobe Flash Player (version 9 or above) is required to play this audio clip. Download the latest version here. You also need to have JavaScript enabled in your browser.
02. Ksoul & Muteoscillator, "Stinger"
[Dekmantel] (buy)


On the Soul Hell EP, Ksoul & Muteoscillator's first release of 2013, the Italian producers take a great leap forward by offering three of their most memorable tracks to date. My favorite is also the one I'm most likely to play — the sweet and deadly "Stinger." The duo's gruff percussion plays bodyguard to a wispy yet urgent organ riff, shielding this vulnerable melody with aid of a grumbling bass. The scraping texture used as a rhythmic element throughout brings an unexpected grit where claps would often be. This core element emphasizes the track's contrasts and actually furthers its dance floor utility. "Stinger" may not be the most sui generis of Ksoul & Muteoscillator's work, but it's their track I'd most like to hear played at nearly any point in a party. I won't be surprised when it actually does, with a hat tip to Dekmantel.
Audio clip: Adobe Flash Player (version 9 or above) is required to play this audio clip. Download the latest version here. You also need to have JavaScript enabled in your browser.
03. Lee Jones, "A Perfect Kick"
[Watergate Records] (buy)


It's generally a fool's errand to guess what causes a producer like Lee Jones to not release new music for two years. Yet with an anticipated follow up entitled "The Perfect Kick," it's fair to speculate that fine tuning it may have played a part in his radio silence. Released by Watergate where he's been a long time resident DJ, this single incorporates every signature sound and arrangement explored in his time making house music. There's an easy confidence to "The Perfect Kick," first in the rippling pools of aquamarine electric organ and appropriately punchy kick drum. The actual standout percussion here are the full bodied hi-hats which really carry the groove, although the English producer's hallmark bass line shoulders its share. It's just as arresting when Jones lets go of the rhythm, letting brief guitar leads, breathy vocals, and loose drum kit flourishes sop up the tension before shifting back into gear. Although I often encourage producers to challenge themselves stylistically, it's respectable to stick to your wheelhouse when you do it better than most.
Audio clip: Adobe Flash Player (version 9 or above) is required to play this audio clip. Download the latest version here. You also need to have JavaScript enabled in your browser.
04. Lone, "Airglow Fires"
[R&S Records] (buy)

The above also applies to Lone. The guy just can't help making stuff that sounds like him and only him. So far that's been much to our benefit. "Airglow Fires" is the first dispatch since Matt Cutler's well liked Galaxy Gardens LP of last year, but it just as easily could have fit somewhere in the prismatic madness of that album. So in-tune with his elements, Cutler wields his sparkling synth riffs, choral swells, and spoken punctuation like a ninja, darting as many directions as possible while staying in the house frame. For how rambunctious it is, "Airglow Fires" is surprisingly playable, although you have to be prepared for the left turn in the last 35 seconds, which suddenly leaves you bopping along on a gilded hip-hop beat. Portents for the near future? Perhaps, but I'd be just as happy if he kept finding intoxicating new ways to chop up the same ingredients.
Audio clip: Adobe Flash Player (version 9 or above) is required to play this audio clip. Download the latest version here. You also need to have JavaScript enabled in your browser.
05. Miguel Migs ft. Lisa Shaw, "Heartbeat"
[DFTD] (buy)

However many cool points I have to forfeit for liking this song are surely worth it. Miguel Migs, the prolific San Francisco producer with as much history with NRK Sound Division as OM Records and his own Salted Music, has hit a certain sweet spot with "Heartbeat." Migs is in his element but renders his glossier, hand drum-clad house with less sheen and more concise melodies. Lisa Shaw is an obvious but welcome pairing, as it's clear Migs knows how to complement her voice while she completes the song. Her soft and sassy vocals melt between the laser focused stabs and bounding bass line, buttering the groove of persistent hi-hats and stacked claps. And like that stack of pancakes you may be imagining now, it may be tough to resist the combination no matter how incredibly sweet and sugary it is. Even the DFTD label (Defected's new digital imprint) shouldn't scare you off. Even if DFTD reads more like "defeated," this track suggests it's not.
Audio clip: Adobe Flash Player (version 9 or above) is required to play this audio clip. Download the latest version here. You also need to have JavaScript enabled in your browser.
06. ItaloJohnson, "Untitled A1" [ItaloJohnson] (buy)
07. Blondes, "Elise" [RVNG Intl.] (buy)
08. Terekke, "Amaze"
[Long Island Electrical Systems] (buy)
09. Jordan GCZ, "Crybaby J"
[Off Minor Recordings] (buy)
10. Julien H Mulder, "Won't Say Nothing"
[Midnight Shift Records] (buy)
Staff Charts:
Brandon Bussolini
01. Redshape, "Bulp Head" [Delsin]
02. Gunnar Haslam, "Billowing Black Cloud" [Long Island Electrical Systems]
03. Jordan GCZ, "Crybaby J" [Off Minor Recordings]
04. Beautiful Swimmers, "Running Over" [Future Times]
05. Mark Pritchard, "Duppies" [Warp Records]
06. Sabre, "Nightdrive to Bolland" [W.T. Records]
07. Shxcxchcxsh, "Slvrbbl" [Avian]
08. Blondes, "Elise" [RVNG Intl.]
09. Fred P, "Reach" [a Harmless Deed]
10. Ghosts On Tape, "No Guestlist" [Icee Hot]
Nick Connellan
01. Marcel Fengler, "Jaz" [Ostgut Ton]
02. John Roberts, "Shoes" [Dial]
03. Holy Garage, "Diver Down" [Running Back]
04. Fisherman, "Black Haze" [Kontra-Musik]
05. A5, "My Cat Can Play Weird Bass Solo" [Udacha]
06. Steven Tang, "Potential Light" [Smallville Records]
07. Jordan GCZ, "Crybaby J" [Off Minor Recordings]
09. Neurotic Drum Band, "Cardboard Wings" [You Are Hear]
10. Redshape, "Bulp Head" [Delsin]
Steve Kerr
01. Queens, "Frost Flowers" [Dial]
02. Lawrence, "Lucifer" [Dial]
03. Jane, "Wait" [not on label]
04. Steven Tang, "Interstice" [Smallville Records]
05. Aquarian Foundation, "Dream of the Red Chamber" [Going Good]
06. Big Strick, "How High" [7 Days Ent.]
07. Blondes, "Elise" [RVNG Intl.]
08. Leonid, "67 Jam" [Photic Fields]
09. Craig Leon, "Ring With Three Concentric Discs" [Superior Viaduct]
10. Gilberto Gil, "Flora" [WEA Music]
Dino Lalić
01. Red 7, "I Lost My Shoes Acid" [not on label]
02. Golden Teacher, "Like A Hawk" [Optimo Music]
03. Jordan GCZ, "Crybaby J" [Off Minor Recordings]
04. DJ Rashad & DJ Spinn, "Brighter Days" [Hyperdub]
05. Prins Thomas, "Flau Pappadans" (DJ Fett Burger Tællekæll Mix) [Full Pupp]
06. Pharaohs, "Ahumbo" [ESP Institute]
07. Hailu Mergia, "Hari Meru Meru" [Awesome Tapes From Africa]
08. Helena Hauff, "Actio Reactio" [Werkdiscs]
09. The Mole, "Lockdown Party" (Sprinkles' Crossfaderama) [Perlon]
10. Alex Coulton, "Too Much Talk" (Tessela Remix) [92 Points]
Chris Miller
01. Marcel Fengler, "Jaz" [Ostgut Ton]
02. Bookworms, "LIES030 B1" [Long Island Electrical Systems]
03. Huerco S., "Apheleia's Theme" [Future Times]
04. Demdike Stare, "Eulogy" [Modern Love]
05. o.utlier, "For One Of The Least (Main Pass)" [Naïf]
06. Aquarian Foundation, "Hardtalk" [Going Good]
07. Magic Mountain High, "Live At Freerotation" [Workshop]
08. Hank Jackson, "Deposit" [Mister Saturday Night]
09. Rashad Becker, "Themes 1" [PAN]
10. NeoTantrik, "Parched Effigy (Cube3)" [Pre-Cert Home Entertainment]
Brandon Wilner
01. Jordan GCZ, "Crybaby J" [Off Minor Recordings]
02. Sabre, "Nightdrive to Bolland" [W.T. Records]
03. Oh, Yoko, "Seashore" (Sprinkle's Ambient Ballroom) [Mule Musiq]
04. Huerco S., "Skug Commune" [Software Records]
05. Gunnar Haslam, "Culver Viaduct" [Long Island Electrical Systems]
06. Beautiful Swimmers, "New Balance" [Future Times]
07. Terekke, "Bank 3" [Long Island Electrical Systems]
08. Less Monday, "Uhm Hey Acid!" [Crime City Disco]
09. The Royal Oberheims, "Crash Test Dummies" [City Fly Records]
10. Jee Day, "Sum of Love" [Beats In Space Records]