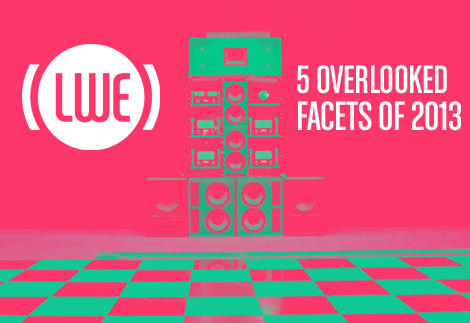 It is increasingly difficult to keep up with even a fraction of the new music released, reissued, and rediscovered each year. The mind boggles at the thought of how much work it would actually be to keep up with the steady firehose flow of new singles, EPs, albums, artists, labels, DJ sets, podcasts, and everything in-between. It's even more difficult for us to attempt to cover just the things we love, let alone all the records and artists making them that simply merit discussion and review. In some tiny way this list tries to address the gap with five 2013 discoveries which flew under LWE and everyone else's critical radars.
40% Foda/Maneirissimo
I found this group of producers from Rio de Janeiro via Ilustradora Carme'n' Alve's's YouTube video for "Um Bom Natal Pra Vocês" (above). I don't know enough about Brazilian music to discern what influence they take from their home city, but that track is immediately infectious — a kind of haltingly rambunctious stepper, suffused with an dusty overdriven plink that is not totally placeable, but sounds homespun, like it came from one of those Congotronics records. The label put out several releases on digital and CD-R (and one cassette) this year by a diverse range of artists; some of it falls into the "raw homemade house" category, but there are some considered and beautiful efforts as well. My favorites come from DJ Guerrinha, whose evocative mini-LP Rua Sorocaba nails ambient house: it's light and ethereal enough to drift off to, but harnessed to a strong percussive backbone. Always a pleasure to find crews quietly working on an aesthetic outside the usual axis.
Miltiades
Greece's Miltiades made a nice case for himself as a new voice this year, with stellar EPs for the Nous and Echovolt labels. He trades in a slinky, dark-hued sort of house, maybe in the vein of Kassem Mosse if he was dubbier and not as recklessly off-kilter (i.e. in the vein of Mix Mup). Epk.x, the Nous EP, is a bit druggy and somnambulant, while Stmete showcases a more streamlined, groove-focused view. Moreover his production values are high; his tracks sound sculpted more than arranged. Low-BPM, low-slung, rhythmically inventive house always seems to be at a premium, and the slanted, nocturnal world conjured up on Miltiades' EPs promises to yield a lot more of it.
GB
FACT podcast or not, I feel like GB always gets slept on. Maybe it's because of how he cuts all over the map stylistically, moving from pulsing, psychedelic techno to crooked beat experiments, sometimes within the same track. He's no dilettante, though his album Within These Machines is pretty diverse; the moments in between his explorations insist on his talent. The subtropical flutter of "Sol" is effortlessly stunning, and comes with the same instinctual delivery that marks more pensive tracks like "The Winds Have Passed" or the foggy, fidgety "Reflexes," on the Eglo label. He may not be very marketable, but GB is quietly ultra talented.
White Visitation
Speaking of producers with a lot of range, Mexico City's White Visitation got the RVNG Intl. nod so I'm not sure he's really overlooked, but I managed to overlook him for a good part of the year nevertheless. His three limited tape/digital releases and one 12″ portray an artist with atmosphere to spare. These records routinely recall everything from Claro Intelecto and Blondes to the moodier end of Kompakt, but there are plenty of other names you could feasibly slot in as well. Basically White Visitation is attempting something close to an ideal of dubby dance music; his tracks may be slow and opiated or rushing and visceral, but all have the same sense of drift, each delay trail full of late-night drama. It's really elegantly constructed stuff.
The internet and its superstores allows music and even records to reach almost any part of the world, yet the impact of many releases is most felt in the scenes in which they're released. Such is the case with Ka§par's Renaissance Tracks EP on Stripped & Chewed, which contains a couple local anthems in the label's native Chicago. Providing ammo for a variety of house DJs, the record ranges from throbbing and uptempo (The Songleader Mix of "Missin' You" featuring Mr. White's rousing vocals) to lush and reflective (the Bell Boys remix of "Stela Maris"). The former must be heard in a club to be believed, where the exhortations of a horned up Mr. White straddle the bass-centric groove and fill the room, grabbing dancers along the way. By contrast, the latter is exceptionally musical, filling the air with sumptuous, agile bass lines, contently sighing synths and grainy percussion. The Bell Boys hearken back to 90s house in their songwriting more than in its neon pastel palette, which gives the remix relevance and longevity. It sure needs it, as it's been played endlessly in Chicago since white labels showed up in early September. While I freely admit that Stripped & Chewed and the Bell Boys are friends of mine, these are the kinds of tracks I'm actively searching for; hearing them come out of my hometown just makes it all the sweeter. (Steve Mizek)