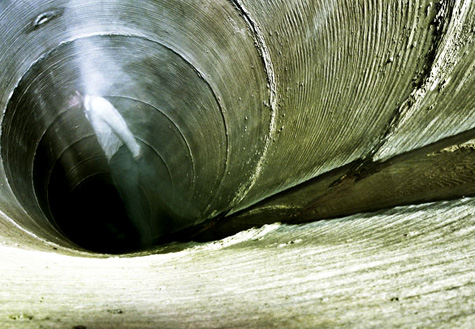 For our second year end column, LWE's editor-in-chief, Steve Mizek, digs up his top 10 overlooked tracks of 2008.
Thousands upon thousands of tracks are released each year, followed by remix packages, online exclusives, reissues and more. So it's inevitable that a number of great tunes and remixes get passed over, escaping even the most obsessive fans and blogs. Still, there are a handful whose absence in collections, year end lists, crates and blog posts is a bit inexcusable. So here are ten of my favorite tracks from 2008 which have been erroneously overlooked.


01. Ben Klock, "October"
[BPitch Control] (buy)
Ben Klock's "October" may not be as majestic as "Dawning," his collaboration with Marcel Dettmann, but this forgotten BPitch Control single is just as finely produced and body-rocking. Equally pounding and caressing listeners' ears, "October" builds an ethereal soundscape for a laser-guided synth line to explode through and bring the dance floor to a boil. Hopefully this perfect slice of Berghain techno is a sign of things to come in Klock's forthcoming album.

02. Niggemann & Poppcke, "L'aurora" (Agnès Chicago Take)
[Moonpool] (buy)
Few remixers were as strong and consistent as Agnès in 2008, and this oft-overlooked cut is the crown jewel. True to its name, the tune is influenced by the work of Ron Trent and Chez Damier, with Prescription-strength synth stabs tugging wallflowers onto the floor. But Agnès is never beholden to his influences, so he adds orchestral flourishes and segmented vocals to give the tune a well rounded finish. Few tracks from 2008 were as much a pleasure to play to crowds than this remix.


03. Mixworks & Alex Picone, "Berlin Dub"
[Mixworks] (buy)
This unlikely collaboration between newly minted Cadenza artist Alex Picone and a shadowy Detroit duo is a slice of simple perfection. Its incisive synth line hits like a scalpel wielded by a butcher, slicing with a stinging precision reminiscent of Wolfgang Voigt's Studio 1 project while muffled bass rumbles below. Besides being one of the highlights of Ame's Fabric mix, "Berlin Dub" got lost in the shuffle. Rest assured it's still got bite even when buried.


04. Lee Jones, "As You Like It" (Recloose remix)
[Aus Music] (buy)
If the original "As You Like It" was a little flabby, Recloose's under appreciated remix trimmed back all but the taut, housey muscles which lay underneath. His sample-studded production matches up nicely with Jones' own aesthetic but with a much larger dose of funk, the outer space kind to be specific. Easily one of the best segue tracks I played out this year, and that's no small compliment.


05. Daso, "Pars Tensa"
[Connaisseur Recordings] (buy)
Looking back, it is and it isn't difficult to see how Daso's masterful B side, "Pars Tensa" was ignored. It ignores all popular palettes for a strange juxtaposition of Flamenco guitar strums and a throbbing 909 bass line which growls behind playful guitarwork and scissoring hi-hats. Keep doing it your own way, Daso; it's more more interesting that way.

06. Scott, "Memory Core" (Paul Frick remix)
[My Best Friend] (buy)
Paul Frick is my hands down personal favorite emerging producer in 2008 and his cheeky remix of "Memory Core" is exhibit one as to why. His artistic vision is impeccable, having only rearranged the original elements in a vastly more compelling way; and his clever, unabashed sense of humor, which never crosses into novelty, is the cherry on top. Don't let this stay lost under the banner of digital exclusivity.


07. Dave Shokh, "Chlam"
[Rompecabeza] (buy)
I heard this first at Berghain during Ben Klock's 8 a.m. shift and it made me rush through the still crowded floor to beg him to reveal its identity. Shokh-ing, indeed, "Chlam" is an immense builder that swells with intensity as it hammers the dance floor before collapsing upon itself. So good and uncelebrated it almost makes me feel bad for this.

08. Luke Solomon, "People, Places, Thoughts and Faces" (Ajello remix) [REKIDS] (buy)
In a year given to disco edits and vocal house proclivities, all the glittery bounce and funky space imparted by Ajello's Luke Solomon remix ought to be taking up space in a lot more crates. It's been my great pleasure to tease dance floors with this fantastic remix all year before dropping it in the mix and seeing smiles light up.

09. Intrusion, "Intrusion" (Phase 90 Reshape)
[echospace [detroit]] (buy)
Fist-pumping, floor-stomping, world-beating reshape treatment from Phase 90 takes Intrusion's self-titled debut from bedroom to dark club basement in seconds. Easily my favorite side of echospace vinyl this year.

10. Telespazio, "Telemetric" (Arto Mwambe's Guitar Down remix) [Tiny Sticks Records] (buy)
It would be fair to say Arto Mwambe's thunderous "Telemetric" remix lacks subtly because bombast seems to be the point. But even with crashing piano chords, soaring synths, snare rolls and whimsical vocals, there are finer, less obvious facets (like the string slide noise) which testify to the duo's production finesse. "Deep-house" audiences still hungover from their minimal binge may cringe at its boldness, but this house head shouts for more.