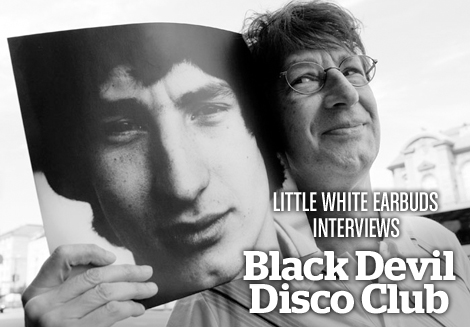 The strange world of Bernard Fevre, aka Black Devil, finished terraforming in 1978 when Disco Club quietly appeared on the Italian label OUT. At the time, however, no one was willing to make the trip. Following decades of indifference and the subsequently massive critical reappraisal in the wake of the 2004 Rephlex reissue, Fevre has spent the last five years releasing new takes on the BDDC sound for Lo Recordings. With Circus, his latest full length, he lets fly the claustro-dystopian vocal sound of BDDC in an array of new directions by way of a bewildering assortment of vocal collaborations (including Nancy Sinatra, Faris Badwan of the Horrors, YACHT, Nicolas Ker of Poni Hoax, and Afrika Bambaataa), all the while maintaining the recognizably dark contours of the Black Devil sound. In this translated email interview with LWE, the Frenchman reflects restlessly on his laurels, shedding a hint of light on his untimely vision, while devilishly leading us further astray.
You've described the early 70s in Paris as "revolutionary times." In terms of musical upheaval, could you say something about your adventures in Parisian nightlife and what left an impression on you during that time?
Bernard Fevre: I wouldn't say it was really "revolutionary," but there was some electricity in the air. You felt alive. I really listened to a lot of music back then, and I was going out a lot and had the chance to meet a lot of interesting people. It was surely a good time for music and experimentation. I'm really part of this mood: playing music as a game and try some new things. That's where Black Devil comes from.
On the original Black Devil release, it certainly sounds like you'd been listening to "I Feel Love," but from a different perspective–through the walls of the more obscure club next door, perhaps. Regarding your tastes at the time, what role did more popular club music play?
Sure, I knew that track, but to me it wasn't that new. I mean it sounded fresh, but it was just a very good product from Moroder: a bit like good marketing to sell you a new car. I'm not denying the fact that it was big and cool at the time, but it wasn't that crazy. It wouldn't have been a hit otherwise, I believe. Just a bit ahead of its time in terms of production, which is great. My dark side maybe comes from the fact that I've always been producing music without paying attention to fashion or marketing. Maybe I should have

By 1978, you'd been producing library music and had released several solo LPs: Suspense and Cosmos 2043 on Musax, and The Strange World of Bernard Fevre on L'Illustration Musicale. In songs like "Cosmic Rays" and "Dali," you seem just a disco beat away from that distinctly Black Devil sound. What was the transition from your earlier albums to Disco Club like?
My early music was like a baby, then it became a teenager: drinking, smoking, going out, trying sex. Then it went out of control and became a monster, which is part of me. That's what the last song of Circus says: the devil is magnetic. I can't get away from him.
Would you consider BDDC an extension of your commercial work? Or did you consciously approach it from a different angle? The BDDC sound is so recognizable that I wonder if you intentionally (or subconsciously) made use of commercial techniques like "branding," to some extent, while arriving at that particular sonic combination.
There's some confusion actually in my resume. I did produce music for commercials, but only after BDDC tanked in 1978. Before I was working for a music-hall, playing keyboards in several bands, and traveling around the world, touring and trying new things with my machines. When it became boring, I started working solo. That's how it happened. When I started BDDC, I wanted to shock people. I wanted people to say, "What's this? I hate it. I love it. Turn the stereo down! Turn it up!" But nothing happened, and no one cared. I was a bit like a child playing Cowboys and Indians in his head with nobody paying attention. Then, I learned to be calm and quiet. It's not that easy to be a punk.
What reception did Disco Club receive in 1978? And in what direction did you move afterwards?
BDDC didn't exist in 1978. I was the only one that cared about it. So, I said to myself, I'm over as a "pop" artist, let's make some music for a living, producing jingles and such.
Putting aside your Milpatte releases, is there a reason most of your post-Disco Club productions were never released? And are there any future plans for a retrospective of that period?
I don't really care. Actually, I don't remember anything. My brain is more focused on BDDC now. There might be a reason why it's never been released, and maybe it's better like that.
After the Rephlex reissue, what was the process for reclaiming the BDDC sound? Was it strictly a musical reappraisal? Or a technical one as well?
I took me two years to get the groove back. 1978 was so far away, it was like doing archeology for me. I really worked hard with my brain and with my machines. And then one day, the sound was there: I heard some parts which sounded both new and familiar at the same time. That's how BDDC was born again.
How quickly were you able to take things in new directions? Would you say there was a point at which you consciously moved from past to present?
That's a real criterion for me. My ears are now used to this special sound, which I prefer to most other sounds at this point. It's not that I'm self-focused or pretentious, but I want to strengthen it and make it evolve towards the future.
As your work has been appreciated by a new generation of listeners, and its influence better understood, do you feel the connections you've made (via remixes, touring, labels, etc.) within the contemporary club music scene have affected or changed your creative process?
Not really. I've been here for a long time, and I believe my music is still a bit ahead of its time–maybe less so than in 1978–but I can feel it since younger audiences are really into it, and girls too. Not only geeks or record collectors. But I still work a lot to keep my music alive. I don't care about the past, I live now, and I want my music to be played for a long time. But it feels good to know that people love your music, you feel better.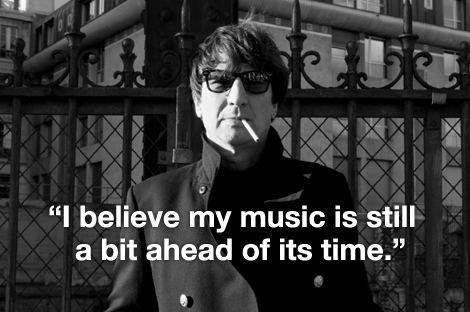 With Eight Oh Eight, you completed the "BDDC trilogy." Does Circus, therefore, represent a new phase for BDDC? And is this perhaps what's motivating the collaborative aspects of this release?
If I had considered Circus a step backward I wouldn't have released it. A lot of people now tend to expect BDDC 1978 redux. Why would I do this? It's easy and not exciting. I've always tried to explore new soundscapes, and I'm now old enough to pay no attention to what people or fashion is expecting from me. I've always loved The Beatles, and I think they were good at being pop and experimental at the same time. I don't want to be the old-school, legendary guy who does the same tricks over and over again. It might be funny for people, but that'll drive me crazier.
As you work with a wide variety of vocal talents on this release (Jon Spencer, Claire Evans, Nancy Sinatra, Afrika Bambaataa, etc.), do you consider it to be an experiment with the vocal aspects of the BDDC sound? If so, what were you looking for originally? How did you decide who to collaborate with? And were there any surprises along the way?
I would hear all the time "BDDC is ahead or out of his time," so I started wondering if it was really true. The strongest idea to challenge my music was to open the Club to different kinds of artists: let's see if they can entertain me and the audience, while keeping the spirit of my music. I'm proud of the results, and I believe it's a great combination of magic and electricity. They've all been great and professional. Of course it was impressive, for example, to have Bambaataa at my place in Paris while he was touring at La Machine du Moulin Rouge. He came with his entourage, and it was something great and unique. I don't really know people in hip-hop (or dressed like that) but everything went perfectly, as he's a real artist and gentleman. Nancy Sinatra didn't come to Paris but recorded in her own studio in Beverly Hills. It was a bit supernatural, first that she was accepting, then that her vocals were in my mail box! Franky's daughter, she's one of my heroes!
I've been to London to meet Faris Badwan from the Horrors. No one spoke French, and my English is pretty bad, so I was a bit scared. But Faris actually knew a few words–he's not that shy, really–and we felt good, so communication was easy. I'd also met YACHT in NYC last summer, playing at the Southstreet Seaport festival. She's half French, so it was easy to arrange some studio recording sessions abroad. I kind of like working on voices that I didn't record myself at home. It's both scary and exciting. It's a lot of work, since you need it to fit exactly what you had in mind. Sometimes, it's not that easy in the studio. It can be funky, like with Nicolas Ker from Poni Hoax. He's a bit like an extraterrestrial, a freak. I was a bit worried about the results. How would it end? But after some time, we discovered we weren't that different, we were both freaks to each other. We became friends, and the recording was really easy. He's a real performer, a character. You just need to hear his voice to feel like he's near you. He's one of the best French singers ever.
How did you manage collaborations with so many different vocalists? Was your approach generally the same or different in each case?
Of course you can't work the same way with each artist, but as I said they are professionals, so they played the game. And I was lucky enough to have them sing my English lyrics, which might not have always made sense to them. When I hear Jon Spencer singing "Fuzzy Dream," I'm still amazed. He's a real werewolf, like onstage.
As we move closer to 2043, where is the Black Devil sound headed?
I can't tell. As I said, it's a bit like a monster I can't control now. It might eat me alive…