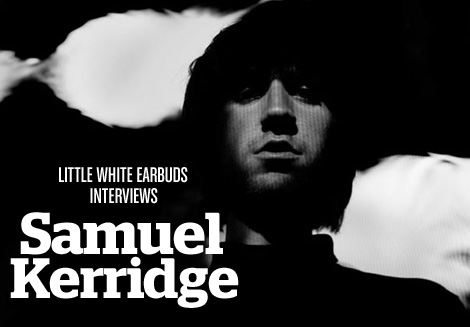 Samuel Kerridge has quickly emerged as one of the more idiosyncratic voices in underground music. Combining a pitch-black ambience, low tempos, ungodly use of sub pressure and an expert grasp of mauve tension, his slim discography has quickly captured the imaginations of those craving a touch of bleak theatre in electronic music. Breaking onto underground consciousness with the Auris Interna EP on Horizontal Ground in 2012, Kerridge has since found a natural home at the vanguard of Downwards Records' new second wave, alongside the similarly grandiose Oake. This year's Waiting for Love 1–4 EP presented a singular furrow that called to mind artists like Shackelton, Vatican Shadow and Regis himself — not in similar sonic aesthetic, but rather in a single minded pursuit of an internal sound world, instantly recognizable and borderline obsessive in design. This month, however, sees the release of Kerridge's debut LP. Eight tracks of tar thick malevolence, A Fallen Empire is the furthest Kerridge has gone down his sinister wormhole thus far — an immersive journey of staggering intensity. Little White Earbuds caught up with him over e-mail to discuss the album's genesis.
Your music is often focused on dread inducing atmospherics, yet, like much of the best ostensibly "dark" music, the experience is ultimately transcendent, uplifting. Would you consider this a fair statement?
Samuel Kerridge: Yeah, and I think that surprises a lot of audiences. People have said it can be a surreal experience, but it brings that emotion out of them. It also comes down to giving yourself in to the music; it doesn't always smack you in the face. Actually the ban on cameras at Unsound Festival this year really highlighted this, promoting people to truly engage in the music being presented to them. Michael from Ancient Methods described it as "real trance music." I couldn't disagree…
I'm interested in the track titles you choose. They seem almost tongue in cheek, knowingly bleak, a distinct touch of Spinal Tap ("Heavy Metal"; "Black Sun") Do you like to go for the most blatant, most widescreen, representation of the music?
It's not something I take too seriously, actually. It's a spur of the moment thing, the most blatant name that comes to mind when I'm producing. It is quite tongue and cheek at times; there isn't some hidden meaning in there. Let the music do the talking, not the bollocks that goes around it!
I love the sense that your music exists entirely in it's own space — it doesn't fit easily into sets, and you can spot your tracks a mile off. I get the feeling that you might approach production like Dillinja or Source Direct used to when making jungle, i.e continual refinement of a particular sound. Is this the case?
I've spoken before about my admiration for artists like Regis, Shackleton, Whitehouse, artists who have their own stamp, to have something that is completely your own. That approach to work has rubbed off on me. I don't want to be making the same music as everyone else, there is no point in tracing footsteps. But at the same time I'm not forcing myself to be different. I'm just doing my thing and if you like it, great, if not, don't listen to it. I know I'm not re-inventing the wheel, there are always going to be elements people will compare and reference, but I just try and give an honest account of myself.
Continuing the jungle theme – you have a serious way with the Reese. Was jungle a big part of your youth?
For any kid growing up with electronic music in England in the late 80's and 90's it would be hard not to feel the influence of jungle. I remember a flyer for a Dillinja show when I was a kid, "earplugs supplied." It was the first time I had seen something like that — what a statement! Thankfully he delivered on the promise! I'm no hardcore junglist with a huge back catalog, but it does run deep. There are a lot of musical influences ingrained into English producers.
What was your introduction to electronic music?
My initial submersion from an early age was through my parents, who were into the acid house scene. Then I started trying to get into parties with mates when I was 13/14. I bought turntables, and from there I started to take it seriously.
How did you move into production? Which were the artists that initially inspired you to make music?
It was the sheer lack of music that I wanted to hear that inspired me to produce. Days/weekends lost trawling through record shops and online, only to come out with one or two records. I spent some years finding my feet, replicating music I liked, but to no satisfaction. I only turned a corner when I realized I should just make music that comes from me — without any boundaries — however good or bad it sounds.
You hail from Manchester and live in Berlin: two cities with rich electronic cultural heritage. How have you found the experience of living in Berlin from an artistic standpoint? Some artists complain of a real saturation of music, is this something that has ever bothered you?
It's sad to say, because I love Berlin, but I think it is over saturated and can be a very insular place. Don't get me wrong, there are some great things happening here, but few and far between. Berlin suited my needs. It's cheap to live, cheap to eat, go out, so it has given me the freedom to produce more. Moving here I'd given up a huge amount and risked a lot, but hopefully it has all been worth it. Since I started buying records I've had this belief that this was what I was meant to be doing in some capacity. If it ended tomorrow, I would be happy with what I have achieved, beyond what I could've ever imagined.
Can you tell us a little bit about your production process, and set up? Are you hardware or software based?
A bit of both. My laptop is my main instrument, in the end everything ends up on there. I have guitar pedals and some pieces of hardware (which is admittedly growing), but in my mind the whole argument of software vs hardware is utter bollocks! Whatever I use, the finished sound is very far removed from the original source. Stripping it back and starting over again. Its run through lots of effects and signal processing to get the sound I want. People can obsess too much over how clinical it all has to sound. A lot of music has lost its edge, there's no rawness. You can lose so much out of a record by cleaning it up. To me it's the overall effect that is the most important thing.
And how did the link up with Downwards come about?
I'm not really one for networking or kissing arse to be honest, and I met Karl on the off chance at a mutual friend's house. I didn't give him a demo 'till I'd met him a few times. It's good to know someone on a personal level before you give them something so valuable. He really understood what I was doing, and the support on all levels is great! He's always stuck to his core values with Downwards, but at the same time still re-invented it. I think the similarities on our vision and attitudes towards music makes the relationship work, as well as being music lovers.
What was your approach to writing A Fallen Empire? How did the album take shape?
The LP was recorded over last winter in Berlin. A long, dark, cold winter. I knew Karl wanted to put a 2×12″ from me, so there was that in my mind, and I think they all capture a period of time of where I was at. Its a strange one for me, as I know I'm labeled with the "dark" tag, but to me it just sounds ace!! There wasn't so much of an approach to writing it, its just what happened over that period of time. It would be such a weird concept for me to go into making a record with the preconceived idea that it had to have a, b, c, before I even started, or even a specific direction. Whether people can play it in a DJ set or not doesn't concern me in the slightest. I wouldn't compromise the music to fulfill that premise.
What are your thoughts on playing in clubs? A lot of people have a very pre conceived idea of what they think techno should sound like, or what they think works on the dance floor. As somebody who often works with lower BPMs, what are your thoughts on the challenges of playing in that environment?
Ultimately it does come down to people's preconceived ideas, which is the most challenging thing. Trying to preach to the unconverted and breaking their mold of thinking. The live show is very intense, it creates an electric atmosphere and, like you said earlier, is an uplifting experience. The reaction I get in clubs is great, it really works! And, believe it or not, I make most of my tracks imagining them on the dance floor, it just depends where you go dancing. I've seen people lose themselves to 80bpm or 130bpm, it doesn't matter. No one should be concerned what tempo the music is, it's the overall effect which is the lasting factor.
Can you tell us a little about your club night, Contort? What is the musical philosophy behind the night?
Contort is an event I co-run with my wife, Hayley. We set it up when we moved to Berlin, after finding the scene was lacking. Originally we held it at Mindpirates, but recently relocated to Urban Spree. We take international and local artists out of their usual environment and give them the freedom to do as they choose. It's an irregular event, every two to three months, which makes it that much more special, and means we don't have to compromise on line-ups. I feel if it was a weekly or monthly affair, it would lose its uniqueness. It's definitely geared more towards the experimental end of music. We've had some really special moments.