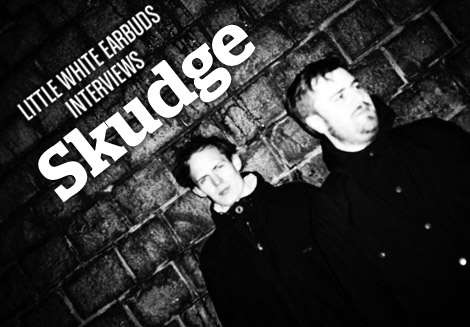 A few weeks ago I was watching a Boiler Room episode and one of the DJs dropped a Skudge track. As usual, someone in the chat was immediately asking "I.D.?" Typically the response is a little slow as people rack their brains, but in this case several answers appeared straight away, mostly to the tune of, "I don't know the track, but it's definitely Skudge." I couldn't pinpoint the track either, but it was pretty clearly Skudge — looping synth interplay, dynamic percussion just the tiniest bit off-kilter, everything sleek and dynamic. The Stockholm duo are revered by a range of producers and fans for this kind of reliability, a type of heads-down focus that recalls two of their clear influences, Jeff Mills and Robert Hood, and ensures most everything they release is worth hearing. Earlier this year, they marked the release of their first LP Phantom, and have since followed it up with two EPs: one of remixes, the other of original material. The other thing about Skudge is they can be pretty tight-lipped, but it seems less about reticent hiding than a desire to simply let the music speak for itself. In advance of their live performance at Blkmarket Membership on October 14th in New York City, LWE contacted them about life post-Phantom, and it appears their day-to-day is business as usual.
One thing I noticed about Phantom was — and I don't mean this negatively — apart from the intro, outro, and interludes, it sort of feels more like a compilation than a fully-flowing "concept" album. Was Phantom composed in the same way as your EPs? Were you setting them aside/consciously producing them as LP tracks? What were the differences between compiling tracks for the album and compiling them for the EPs?
Skudge: We stated that we didn't have any concept [for] the album, but most of the tracks were made in the same period and we were thinking LP instead of EP while making them.
With your first LP out of the way, do you have plans for another?
No, we don't have that at this moment. We're focusing on the EPs right now.
Your remix packages tend to be very well-curated. How do you go about choosing who remixes your material?
We ask people that we like and if two remixes fit well together, we have a finished release.
What's your work rate like? You've consistently put out records every few months; do you record a lot of tracks in say, one session? Or are you actively working on tracks day-to-day?
We work on tracks and remixes every week, mostly we work on one track one day and listen to it the next day with fresh ears, and then we try to finish what we started. There is an archive of unreleased Skudge material.
You have a really well-defined, recognizable sound. Do you have any plans to add new gear, try a new recording process, etc.? Or are you satisfied with your setup? Do you feel any pressure to stay true to what you've recorded already? If you decided to make something radically different, would you use a new moniker/new label or anything like that?
Yes, we are satisfied with the setup. We have some sort of idea we are working with, but it's important for us to always go further and try new things. We haven't thought of making a new moniker, but why not!
How do you approach remixing other producers' work compared to producing your own original material?
We extract the sounds of the original that we like and make it skudgey.
How does the studio setup translate to your live set? Do you do anything differently? Are your sets planned out or are they more like jam sessions?
It is a jam session with a tracklist.
Do you feel involved in any kind of scene in Stockholm? How do you feel about the current state of dance music there?
We don't feel that we came from a certain Stockholm scene. Skudge was created in a basement in the north west of Stockholm, while other people were sleeping. The interest of dance music is growing, that's exciting.
As much as I'd generally classify you as "techno," you've been remixed by Appleblim and remixed Instra:mental, who both lean more toward that UK bass/electro hybrid sound. Are you inspired by/do you feel close to that group of producers at all?
We are like all kinds of music and it inspires us. Variation is necessary for us.
What's coming up for you: new releases, touring, etc.?
We plan to release other artists as well as our own stuff and remixes. Stephen Brown is next up, and more to follow. It will be a nice surprise.