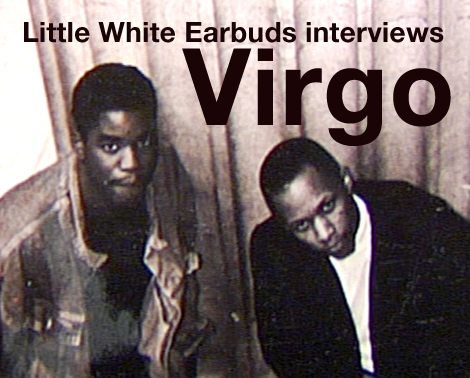 One of the positive aspects of living in a reissue culture is that people who didn't get their props first time round do so on the rebound. Merwyn Sanders and Eric Lewis are two such guys. They released only three records in their short-lived career, but those first two (under the names M.E. and Virgo Four, released on Chicago's legendary Trax label), were compiled into their eponymous album Virgo. Not to be confused with the other Virgo, the house supergroup of Adonis, Marshall Jefferson and Vince Lawrence, the album is regularly described as "the greatest house album you've never heard." You can, however, knock the "n" off that description now with Rush Hour's re-release of the album, as part of their Trax reissue program. Seminal tracks from the album, such as "In A Vision" and "Take Me Higher," have been included on compilations such as Warp 10+1 Influences or Soul Jazz's Acid: Can U Jack? but the CD version of the album still commands hefty prices on the second-hand market. Pressed for the first time on DJ friendly double vinyl (the original was on a single LP), Rush Hour's reissue means Virgo's dreamy and deeply emotional music has never sounded so good. It also means that the limelight is now shone on Merwyn and Eric, two humble men who freely admit in the liner notes to this edition that their lack of profile in the history of house music is due to the fact that they were "horrible at networking." They were kind enough to give us their thoughts on the reissue, how a dog was responsible for their record deal, and why their school discos were considerably cooler than yours. (Our thanks to Koko Sorger and Clara Prettenhofer at Zero" and Christiaan Macdonald at Rush Hour for making this interview a reality.)
First things first. How did M.E./Virgo Four start? How and where did you meet, and at what point did you decide to start making music?
Merwyn Sanders: Well, we were grammar school buddies along with a couple of other guys in around third or fourth grade. We started a lil' band together called Quadrophonics: Eric on guitar, Calvin on bass, Edgwick on guitar and me on drums.
Eric Lewis: Merl and I continued into high school. In the early 80's we were introduced to dance/house music. We listened to it so often we figured we could create it ourselves. We bought a few pieces of equipment and started to record onto a Tascam four track.
Who were your influences early on? Tracks like "In A Vision" and "Do You Know Who You Are?" sound very unique (still). Who did you view as your contemporaries, or peers?
E: Our influences were vast. From Kraftwerk to Parliament, we enjoyed all types of music. Our sound is obviously unique to us. We never tried to copy anyone for the sake of selling albums, we purposely stayed true to ourselves. Our philosophy was to express ourselves through the music, to let people hear how we felt at the time. We always wanted people to, not just hear the music but to feel the music. In a sense escape through the music, hence the space you may hear in our songs. We always felt we were a little different then the average Southside kids and I think that distance comes out in our music.
M: I guess the peers we thought were really cool were Fingers [Larry Heard] and Jamie Principle.
What were you producing music on, in terms of drum machines, synths etc?
M: Over a period of time, we had the Roland 505 drum machine, an Alesis HR 606 or somethin' like that, and a Linn drum. The first keyboard was this old Moog Eric got that was very old school when we didn't even use the term old school. Then we got the Roland Juno keyboards, we had the 1 and 2, and that's what most of the Trax stuff was done on.
E: We greatly altered the sounds on the Juno. It's a great board.
Initially Larry Sherman at Trax rejected your songs; why do you think he changed his mind a few years later?
M: I think at the time he also didn't have any thing else goin' on, nothin' else to release, so in a sense, our timing was just better the second time around. When we first came to him he had really hot records, so he didn't really need anybody new and he wasn't gonna take a chance.
E: We worked on/improved a few things and maybe we gave him better songs.
M: He said he signed us the second time around because besides liking what we had, his dog Rowdy like us.
E: We heard so many negative things about Larry that we didn't want to give him what we considered our better songs. Even the songs that were released were not our best stuff. We would like to soon release the songs we really enjoyed.
How did the Trax deal work?
E: Great question. We got "advances" on record sales. I'm sure it didn't work to our advantage, but Larry would help us out financially.
I understand you recorded a lot of music in other styles aside from house music. Why do you think the house stuff was picked up by labels, and the more R&B or funk-influenced stuff wasn't?
E: During that time Chicago was all about house. It wasn't just a style of music, it was a culture. Also, we didn't really push our other type of music.
M: We never tried to or approached record labels back then for any of the R&B or other stuff. Only thing I can think of is that we saw what other people were going through to try to get a deal with some label, and we just wasn't about to do all of that. We really just enjoyed doin' the music, even just for ourselves. I think we figured maybe one day somethin' would happen.
Which clubs were you frequenting in Chicago around that time? Were you inspired by the Warehouse, Ron Hardy etc, or were you hanging out elsewhere?
E: At first we frequented Mendel Catholic H.S. parties, where I attended. This was the hub of house music. Anyone that went to parties went to Mendel.
M: Mendel parties probably the most. A lot of the parties if not most we got in free, and would get a ride home by one of Eric's teachers.
E: Later we began to go the Box, where Ron Hardy was the DJ. That was an experience. And yes we were inspired by some of the things Ron would do with music. We thought he was great. Later we got to know him, personally. He was a nice guy.
Were you DJing at any of these spots, or were you more interested in producing music?
M: I would DJ a lot. Makin' tapes for friends etc., but not at any of the clubs or anything. Yeah, the producing is what Eric and I was more interested in doing.
Did you ever talk to Marshall Jefferson and co. about their Virgo project?
M: No. I have never talked to Marshall or any of those guys, except Adonis.
The self-titled album is regularly called the "greatest house album ever made." Why has it never been reissued before, and how did the hook-up with Rush Hour happen?
E: Wow! The "greatest house album ever made"? What a compliment, for that to even be suggested. Trax doesn't exist anymore thus reissues are apparently difficult. Christiaan Macdonald from Rush Hour contacted Merl through Facebook and we built a relationship from there.
Your music didn't really achieve the commercial success that others enjoyed — why do you think this is?
E: I'm not sure. We didn't sound like everyone else at the time. We thought it was a good representation of who we were at the time. Also it wasn't promoted at all, but again I'm not sure. After a while, we just figured the music had run its course.
M: I think it's because you're hearin' what was comin' out of us emotionally, even though it was very simple. Sometimes when music comes from that, it's not successful in that sense. We weren't tryin' to make a big club hit, you're simply hearin' what was comin' out of us.
Do you keep tabs on the current house music scene? Is there anybody that excites you, particularly in Chicago?
M: Only keepin' up a lil'. Nobody I can think of to mention actually. I should though, geesh!
E: I really enjoy house/dance music but I could not tell you the name of any artists.
What are your day jobs? I understand Merwyn has been doing some theatrical set design stuff, and Eric, you're a maths teacher?
E: That's correct, Merl is designing sets and shows but I am currently an Assistant Principal at a middle school.
M: I've done everything from playing blues legend Robert Johnson in a play to being one of the scenic artist for huge opera sets.
You're still making music together — do you have any plans to release stuff soon?
E: We are always making music, together and separately. Yes, we would love to release some of the old stuff. The problem is that we have over 200 hours of music to listen to. We have tapes and tapes. It's fun to listen to, but taxing as well.
M: We really plan on releasin' some new material as soon as we can. Get a website goin' and anything else we can think to do!