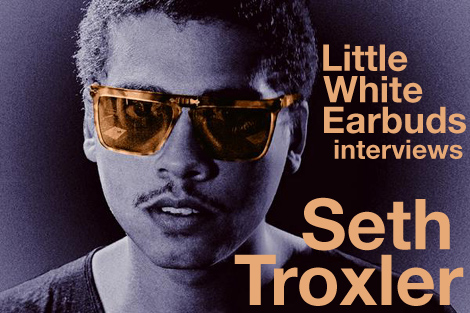 Photo by Will Calcutt
In the mostly faceless world of techno, a little bit of character can go a long way. This explains, at least in part, Seth Troxler's speedy and seemingly effortless rise in the international house and techno scene. Musically and personally, he has a lot more charisma than the average DJ/producer (and for those of you who haven't already heard it a dozen times, he's a 23 year old Michigan native currently DJing full time in Berlin, which in this culture earns him quite a few cool points). I found Seth in the shadowy back room of The Marcy Hotel, fully reclined on a dirty sofa with his head cradled in a girl''s lap, smoking a joint. He looked pretty relaxed, but sprung duly to his feet when I said I was here for the interview in anticipation for his appearance at Electric Zoo Labor Day Weekend. We moved to a room with more sufficient lighting, and Seth gave me an earful about his background, his goals as an artist, and the downside to DJing in Berlin.
Let's talk about your background a little bit. What were some of your first experiences with house and techno?
Seth Troxler: I grew up in Kalamazoo, Michigan, and first started going to parties when I went to high school in Detroit. When I was 15 I threw a party with Magda, and by the time I was sixteen I was DJing Spectral Parties at The Works. Basically I've just been a total rave kid ever since I was a teenager. I "retired" from my job at The Palace [Detroit's sports and entertainment arena] when I was 16 cause they wouldn't let me keep my dreadlocks… basically haven't had a real job since then.
How did you end up moving to Berlin?
Well, I had just graduated high school, and [Ryan] Crosson had just broken up with his girlfriend, so we were like, 'Fuck it, let's move.' We made a plan to move exactly a year later, and we stuck to it.
How did you and Ryan Crosson meet?
Oh man, it's the biggest bromance. Ryan tells it all cute too. We met one day when I was working at Melodies and Memories in Detroit. That night, Dan Bell and Magda were playing in a meat locker in Detroit. Crosson and I went to the party and just got hammered, we were spraying beer everywhere and shit. Eventually we passed out in the parking lot of his dad's factory. The next morning we got some Coney's for breakfast, and before we went in we decided to pretend we were German DJs the whole time, talking with accents and shit. We've been really close ever since, and we're roommates now in Berlin, with Shaun [Reeves].
I heard some of your first gigs in Europe were at Panoramabar and Robert Johnson.
Yeah, a week after I graduated from high school, I went to Berlin to DJ at the Playhouse party, at Panoramabar with Omar-S. It was totally different. In Berlin it's just like, let's turn the lights down and get weird. Detroit kinda has that too, everyone's just locked into the music, but you definitely get a special vibe in Berlin.
What's it like bouncing between Europe and the U.S.? How are the parties different?
In Europe there are obviously lots of amazing clubs, and its great because so many people come out that love this shit. But they also kinda know what to expect. I think especially in the past few years, past three or four years or so, at least in Berlin, the party scene has changed because people are so used to partying.
How do you mean exactly?
Well it's like, in Berlin people come out, and they're like 'Wooo, yeah!' [puts his hands in the air], and they're still there the next day and everything, its great. But a few years ago it was like, whoooooa. Like, seriously hedonistic. Now it feels like people are going through the motions sometimes, you know? That makes it fun to play in the U.S., cause it's a lot easier to blow people's minds.
That reminds me: Marcel Dettmann said recently that The Bunker is one of his favorite parties. For a guy who's been and played so many parties around the world, I found that pretty surprising.
Yeah, that's the thing. You play at the craziest parties in Berlin and the UK and everything and its great, but the people there have been into this music for years. So somebody like Marcel comes here and people like "WHAAAAAT?!" It makes it really fun for the DJ's. Cassy told me that after her set at Paxahau 10 year anniversary in Detroit, she cried. In Berlin, it just doesn't go off like it used to, we've all noticed it. Still leaps and bounds a head of the rest of the world, but just not as crazy as it used to be. Berlin really needs something new.
Let's talk about your newest track, "Aphrika." How did you decide to use a Maya Angelou poem for the vocals?
I heard it on a Defected a cappella compilation and I just liked the words, thought it was a cool idea. It's like, I'm dedicating this one to all the special ladies, all the phenomenal women, you know? [laughs] I also like that it sort of sounds like a trannie, declaring her gender, "I'm a woman," which makes it kinda weird.
Why do you think that appeals to you?
[laughs] I'm a weird dude I guess. Really didn't think about it too much, I just like the feeling it gives the track. A lot of music coming out now is just beat tools, and I wanted to give it some more atmosphere.

Photo by Will Calcutt
Do you try to be more colorful than other house and techno producers?
Yeah, I think some dance music is a little bit dry. A lot of people are just putting out "product," not taking enough chances. It's like, go with your own ideas, do something new, something weird. I want my music to be remembered in an art history sense — like, I want it to be culturally remembered. Obviously the beats should work well, but there's also so much room to play. You can always use packaging and pseudonyms to put in a lot of concept. Like, for instance —
[Seth grabs two records, "Take 1/ Take 2" by Others and "Warriors" by LoSoul featuring Malte.]
[Others] is a great record. But there's nothing here except the music. "Warriors" has a lot more shit goin' on. I used to look at this sleeve and wonder, where are all these places? Who took these pictures, who are all these people? Actually — pretty sure that's Heidi from Get Physical right there. I know her now. Huh. Anyway, this is what I mean. I want the whole product to be worth it, there should be room for fantasy. So many records are just the dude's name, with two tracks in a white sleeve. I want my records to be more like this, something people can really connect to. Like, on the cover of "Sexplosion EP," all that blotter paper symbolizes growing up in Michigan — Kid and Play, pizza, Rambo, all shit that was cool growing up in Michigan.
It seems like a lot of artists, especially in techno, like the simple functionality of the records, and intentionally avoid artwork and pseudonyms.
Yeah, but I mean, techno creates a fantasy too, they're doing their own thing. It makes it more mysterious, makes the whole thing more engaging. But I'm a crazy dude, and I want my music to be weird and crazy. Sometimes I feel like I wanna be the Andy Kaufmann of techno.
How do you mean?
Well, like the whole Sex Trothler thing. The idea behind that was, Sex Troxler is supposed to be like my Jewish alter ego. One night I put on one of those masks that's like, glasses, a nose and a mustache — actually, we cut off the mustache, cause I have my own mustache — and we said this was Sex Trothler, the Jewish version of Seth Troxler. We had a "Bar Mitzvah" party at the Marcy, the whole thing was a really fun, weird joke. Same thing with Thrill Cosby, that was another one of my characters. At first, I wanted Thrill Cosby to be in blackface, but no one was really down with that. [laughs]
Do you think that kind of playfulness is missing from techno at the moment?
Well, techno in Berlin is really focused on progress. Which is good, but it's like, fuck! There's so much room to play, you know? Let's just have fun with this shit. You know that track with P Diddy, where he's like, "I wanna hear something I can fuck to, something I can rob a bank to…" that's how I feel! Obviously it should work in the club, but I also wanna be able to clean my house to this shit, make something people can connect to. It's hard sometimes; there was a four month period where I just couldn't make anything good enough, just ended up smoking weed and browsing the Internet all day. But I wasn't just gonna release product, it's important to me that each EP really represents something.
Is that a perspective you share with the other guys here at Wolf + Lamb?
Yeah. Wolf + Lamb is an outlet that's providing depth touched with a pop sensibility, taking risks with class and sophistication. [laughs] I mean, that's true, but also none of us really give a fuck. Wolf + Lamb is all about smokin' joints and not givin' a fuck.
So have you always had this laid back attitude or was there a time where you were really determined to market yourself and get your music out there?
No, I never did shit, never sent anybody a demo, probably only made two mix CDs ever.
Do you ever feel strange about how far you've come?
Oh yeah, there's not a second I take it for granted. It's ridiculous — like my own private joke. Kinda goes back to what I said about being the Andy Kaufmann of dance music.
What are some labels and artists you're really into at the moment?
I really like Jin Chio at the moment; also Chris Sylvester, or Inxec is making bombs. The best label for me right now is Cómeme, a new disco sub-label on Kompakt — it's really magic!
Any plans for the next release?
Just had a remix for Louderbach on M_nus, and there's an EP coming on Spectral Sound with a track I co-produced with Matt Dear. Also, a Paco Osuna remix, and a remix I made with Shaun Reeves of Adam Marshal coming on Aus Music. Ummm… a remix on Adults Only. Also a Visionquest remix of Kiki called "Good Voodoo" for BPitch — it's a bomb.