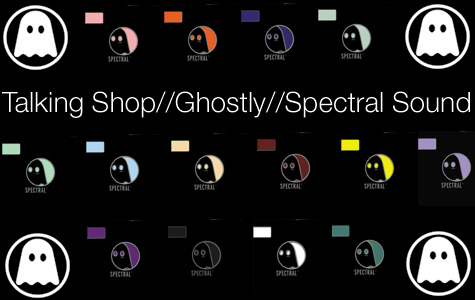 Welcome to the fifth edition of our series of short interviews affectionately titled Talking Shop. The majority of media and fan attention gets showered on the artists who create the music we love to listen to/DJ with/dance to, and for good reasons. But without the hard work, keen ears and business savvy of label staff, we'd be stuck only streaming tracks on Myspace. This time we focus on two of America's most forward-thinking labels, Ghostly International and its swarthy sister, Spectral Sound. The U.S. was the birthplace of house and techno, but these days many of its finest purveyors are struggling to keep up with the future they helped create. The Ann Arbor, Michigan-based Ghostly/Spectral are among the few keeping up with the ripping pace of progress by becoming a multi-media empire with hands in publishing, videos, comics, apparel and of course records. The pair count Matthew Dear/Audion, Osborne, James T. Cotton, Lusine and many others among their numbers, offering a dark, distinct and blissfully unforgiving sound beloved by DJs and throngs of fans. Label impresario Sam Valenti IV tells us a bit about his booming baby and how it came to be.
Please tell me about the beginning of Ghostly/Spectral. Why and how did you start out?

Sam Valenti IV: I started DJing in high school and getting very wrapped up in hip-hop music in my teens. My interest began to wander to the more electronic edges of the genre and into drum and bass, which led to Squarepusher and the like. I think growing up and hearing Detroit radio DJs play booty into Detroit techno into Funkadelic was very inspirational. It was a statement that good music is good music, free of the genre restrictions that I felt in hip-hop at the time. There was just so much music to discover and it was like a veil had been lifted. Record labels and producers for me were a way to identify where to look next. I was DJing with probably 60% imported records at the time as there just didn't seem to be a lot of American labels involved with the kind of music I was interested in, and those that were had very little identity. Ghostly was conceived as a statement of intent, representing electronic music as an art form in America. Something you could see and trust for music coming from these shores.
I also think Ghostly operated on the underdog principle, coming from the Midwest and Ann Arbor, and representing something new and cool for the world to see what important to me. On a personal level the working of a label, almost acting as an editor and helping artists and designers achieve their best work is and was a great source of pride for me, especially since I didn't feel particularly adept at anything before that. Ghostly started after meeting Matthew Dear and working with Disco D, trying to get a record out, but after meeting Tadd Mullinix (Dabrye, James T. Cotton), there seemed to be a need to split the label into two to house all this great music, one label for more avant-pop style and one for dance music.
Audio clip: Adobe Flash Player (version 9 or above) is required to play this audio clip. Download the latest version here. You also need to have JavaScript enabled in your browser.
How did you decide on the names of Ghostly/Spectral?
Sam: Ghostly was a word that always stuck out in print. It would just lift off the page, as it's a powerful but emotionally ambiguous word. The reader decides what it means to them, be it good/bad or sacred/secular. Spectral means "dark ghost" so it made sense as an playfully evil twin label, but it also relates to the color spectrum.
How did you select the artists for Ghostly/Spectral roster? Do you get many demos?
It's a process of both hearing the music, be it by referral or chance, and getting to know the artists, making sure we share the same goals/ideals. We get a lot of demos, but due to being strapped for time with our existing artist base, we haven't signed very many. Mobius Band and Cepia came through demos originally.
What are the advantages and disadvantages of being based in Ann Arbor and the U.S. more generally?
The U.S. is where we live and the perspective we represent, but our artists are based all over the world. I guess this makes us somewhat unique. You're always working against expectations here, as electronic music has always an underground phenomenon here. I don't mind that aspect if we can keep growing, as it keeps you honest with yourself.
What is one of your favorite releases on your labels?
What are you trying to do here?? : ) The next release is my favorite.
According to many doomsayers, running a record label isn't one of the "smartest" fiscal things to do. How do you keep Ghostly/Spectral running with sales "as they are"?
My philosophy is that if you want it bad enough, you can make it work. I've never thought of us in the scope of a traditional record label of yore, more of a mutant brand of label and art gallery. We are putting work on display for the public's consideration, not going for the hard sell. I don't want to be sold to, but I do want to be addressed with products that don't insult my intelligence. That's our mantra.
We got on board in this industry when the ship was already sinking, so to speak, so our vision of success is perhaps different. However, I do see a lot of value in music and the kind of music that we release, so helping people see that value is what I think a label does. We've stayed alive amidst some tough times because of our artists' loyalty, persistence and a fair bit of luck.

LOOK INTO MY EYES! Audion's Suckfish

Do you think blogs like mine hurt the music industry? Do you think blogs have a role in the future of dance music promotion?
Yes, I think YOU are single-handedly killing the music industry. No, blogs that put entire albums up are bad. They aren't even interested in music, they're interested in themselves. A well-constructed blog that shares personal but relevant knowledge about music about which little is written is a great thing.
It's one answer to the problem with electronic-based music which is that there's a lot of barriers to entry in finding the good stuff. I mean, where do you start? You can't find any selection at most major record stores, or it's the usual formulaic pap, so it's hard for anyone to begin to discover music. What is the stereotypical Kind Of Blue of this music?
The record store clerk was really the equivalent of a "blog" for me growing up and I like to think this tradition still exists online with the more solid blogs.
There is no shortage of labels in dance music. What does Ghostly/Spectral do to stand out from the crowd?
I think just being yourself is inherently enough to stand out. It's tempting to look at your neighbor and want what they have but you wouldn't be happy living their life. We'll stick to what we think is good and try to do it better that we did last time. Otherwise you go crazy trying to be something else.
As technology advances further, vinyl is moving closer to becoming obsolete to many DJs. What are your feelings on this? Do you think the end of vinyl is in sight?
That's the $20,000 question. Is Home Taping Killing Music? Vinyl isn't dead against all odds of convenience and price, so I'll say "no."
Audio clip: Adobe Flash Player (version 9 or above) is required to play this audio clip. Download the latest version here. You also need to have JavaScript enabled in your browser.
What are a few other labels you respect/revere most?
I admire the history of Factory and 4AD for the musical and graphical scope, and yes I'm a walking cliché. More-so than aesthetics and history, I have respect for any sincere label operating today. Funny enough, I've become less interested in following labels religiously, and focusing more on singular artists and their output. I think with the variety of ways artists can release music and the speed it happens has increased the ability to develop consistent narrative with one's work.
What specifically can we expect from Ghostly/Spectral in the next year or so?
Some new faces like The Chap, JDSY, Michna, Kate Simko, Seth Troxler, Tycho and some surprises, plus great work from some of the consistent roster. We also have a new compilation out with Adult Swim called "Ghostly Swim", which features the usual group of magicians, romantics and dark arts conjurers.