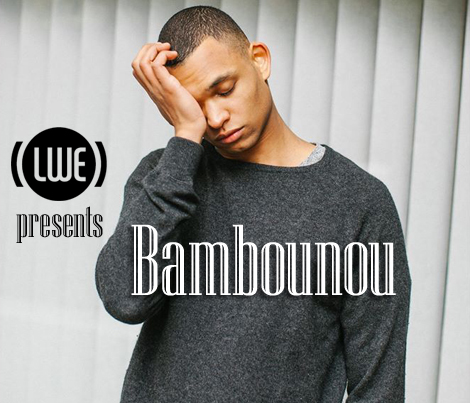 Photo by Ilyes Griyeb
By the time Bambounou's Cobe 12″ dropped on the 50Weapons imprint in 2012 he had already racked up close to a dozen remixes for different artists and three EPs, a quietly prodigious effort for someone who had only been putting out records for two years. It was arguably this appearance on Modeselektor's dance floor focused off-shoot label that propelled the Parisian producer to more widespread acclaim. The EP was swiftly followed by a full length which seemed perfectly molded to the 50Weapons sound; bass-influenced techno heavy on the mechanics and light on the sentimental nature of music. The musician born Jéremy Guindo-Zegiestowski has released exclusively on the label since, recently following up that 2012 effort with an impressive sophomore album entitled Centrum. Ahead of his American tour for the album, including a Chicago date this Friday at Primary, Bambounou reached out to LWE with a fresh mix of everything that's been exciting him lately and divulged more about his career to date and making it big in the Dominican Republic.
Hi Jéremy, how's your day going? What are you up to right now as you reply to these questions?
Bambounou: Hey, I'm just chilling on my couch, cruising Discogs and other music websites, buying some new music and finishing that new track for 50WEAPONS. Pretty much what I do everyday

You're about to head off on an American tour. Have you played there before?
I played in Canada and South/Central America but never in the U.S. No need to tell you how much I'm excited.
You're even playing in the Dominican Republic. How did these dates come about? How did Bambounou get big in the Caribbean?
Ha, I have absolutely no idea. My agent arranged it, apparently it's some kind of warehouse vibe in the middle of San Domingo. I can't wait to discover that part of the world and meet new people 😉
You are touring your dystopian future techno LP Centrum, which I understand is the product of soaking in some literature and films around the subject at a subconscious level. Do you ever set yourself certain parameters or boundaries to work within when you're making tracks?
I give myself some key words and I like to think about them while I'm making a track. Most of the time, it's a texture theme like wood or rock. But otherwise I don't like to give myself boundaries; I'm producing whatever I feel like producing and if I really enjoy it then I'm going to release it. It really depends on my current mood and what state of mind I am in.
You and Valentino [French Fries] have been good friends for a long time and were instrumental in each other's growth in electronic music. I know the two of you have helped each other out before in the studio but can we expect to hear a collaborative release from the two of you any time soon?
Yes, Valentino is my best friend and I've known him for quite a while now. We just finished an EP at the Red Bull Studios in Paris. We had the chance to use it for a whole week and we did a two track EP which was released for free on April 30th. For example, our keywords for this EP were Ninja House New York and Natation (swimming in French).
You've been exclusively releasing on 50Weapons since 2012. Do you find that releasing with one label has certain advantages?
It does. For example, people can see you evolving, there's a proper development work and I really needed that in 2012.
I know that producers sometimes work on particular parts of their skills in the studio, trying to hone a certain sound or trick to get their tracks sounding better. Is there anything you're currently exploring a lot in your tracks, through a sound or a technique?
These days, I'm exploring extremely short delays and how it can make your sound wider. Before, I used to use a reverb to do that stereo effect but now I'm doing it with a delay and it is sounding great.
I was interested to read your thoughts in a recent interview about remixing the Boyz Noize and Skrillex project Dog Blood. You said the opportunity to remix something that would reach a more mainstream audience is appealing to you, because if that crowd enjoys what you've done, they have compromised what they believed they like rather than you compromising your sound. With that in mind is there anyone you wouldn't want to remix? And if you could remix anyone or any track out there who or what would it be?
I don't actually listen to what we can refer to mainstream music as pop or EDM. But If I find something interesting in the track or if I have an immediate idea then I'll try and work on a remix. To be honest I don't know which track I would remix if I could choose, right now, I just feel like working on my own music

What can you tell us about the mix you've put together for us?
It's pretty much what I play in club at the moment, some recent stuff, a little bit of my stuff and some upcoming tracks 😉 The first track is from our collaboration with French Fries for RBMA and it's called "Dramatically Isolated."
What can we expect from Bambounou over the next year?
I'm just going to keep doing what I'm doing, going to tour more and never going to give me any boundaries. Music-wise, I have a split EP with an amazing artist coming out on 50WEAPONS later this year, along with a new solo release for my Berlin fam.
Download: LWE Presents Bambounou (60:12)
Audio clip: Adobe Flash Player (version 9 or above) is required to play this audio clip. Download the latest version here. You also need to have JavaScript enabled in your browser.
Tracklist:
01. French Fries & Bambounou, "Dramatically Isolated" [Red Bull Studios Paris]
02. Hüpnosaurus, "Muru" (Bookworms Remix) [Wicked Bass]
03. Tambien and Tiago, "Track 01" [Public Posession]
04. Claudia Anderson, "Neutral State" [Singular Records]
05. Tessela, "Bottom Out" [R&S Records]
06. Alan Backdrop, "Siaka" [OGUN Records]
07. Bambounou, "Each Other" [50Weapons]
08. Markus Suckut, "For Set #3" [Figure]
09. DJ Hyperactive, "Venus" (Truncate Remix) [CLR]
10. Exos, "Attfalt" [Thule Records]
11. IVVVO, "Raised" [Crème Organization]
12. Binny, "Retrospective" (Chicago Skyway Mix 1) [Scenery]
13. Bambounou, "I Ride" [50Weapons]