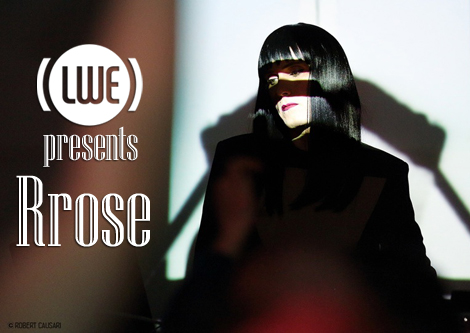 Photo by Robert Causari
Two events, seven months apart: Rrose is first introduced to the world via Sandwell District, and the label proclaims its demise. In the intervening months, the seemingly new producer releases three gargantuan 12″s and a double pack of variations on American artist Bob Ostertag's Buchla 200E recordings. Though it eventually becomes clear that Rrose is the new project of a veteran producer, information remains scarce, which seems to be half the point: removing the stage presence and identity of the performer, creating an immersive atmosphere, and questioning techno's gender norms all seem to be crucial parts of the Rrose story. Setting up her own label, Eaux, Rrose has continued to prove himself a remarkable producer, melding interests in 20th century music with impeccable sound design. This weekend, Rrose will headline the inaugural edition of Sustain-Release in upstate New York: the festival's psychedelic bent and mountainous location fitting perfectly with the artist's surrealist, tripping techno. LWE caught up with Rrose for a brief chat about gender and presence, and she sent us a sterling mix of mind-bending techno.
Despite your anonymity, many are aware of your techno past, even if few know the exact details. What is it that you wanted to do with the Rrose project that differs from your past work?
Rrose: It's mainly about focus. Now I set strict parameters, whereas before it was sort of anything goes. This project is a narrowing in and refining of one aspect of what I did before. There's more emphasis on tuning, using frequency rather than pitch, and more thinking about the physical properties of sound.
You have talked about your dressing up on stage as part of the larger "performance" of Rrose. Do you find it allows you to feel more free on stage?
Not really. I generally like to keep the stage as dark as possible. I want people to feel my presence, but only as an anchor to the sound.
Many have taken Rrose's gender to be female, but is that your intention? Is Rrose meant to be androgynous? Or is it meant to be a comment on techno's often glaring gender divides?
All of the above. I'm not trying to make one specific, grand statement. Gender is (or at least it should be) a pretty fluid concept, so I think it's good to get people thinking and talking about it.
Much of your music seems inspired by avant-garde 20th century music, both explicitly in your versions of Bob Ostertag's work, as well as through the use of repeating, minimalist phrases and Reichian phasing ("Kneeling"). Has this interest always been with you, or is this an area of music you've discovered more recently?
It's always been there to an extent, but more recently I took the time to study it, which makes me a little more disciplined in how I apply my influences. I should mention that I'm also inspired by non-Western traditional musics, early industrial, and all kinds of "non-musical" noise. But I'm still making techno at the end of the day, so the music has to be functional and make the body move.
Your DJ sets are often done on the computer, both live and as studio mixes. Do you have a background in traditional vinyl DJing? What does the computer allow you to express as a DJ that turntables wont?
I started DJing vinyl in the early '90s and I still love the sound and feel of it, but the computer allows me to concentrate on layering, filtering, and mixing without worrying about beat-matching.
What can you tell us about the mix you've made?
This one is fairly representative of recent DJ sets, possibly a little more driving than past mixes. As always, I try to choose tracks that really speak to each other and lend themselves to long mixes. There's some brand new stuff, a few classics, and some unreleased material in there as well.
What's coming up next for you?
There's a related project coming out on Seattle's Further Records (two live recordings of James Tenney's "Having Never Written a Note for Percussion" for solo gong), a track on the Stroboscopic Artefacts five year anniversary compilation, and a remix of Teste's classic "The Wipe" for Edit-Select. There will be a new release on Eaux before year-end as well, and some exciting projects are in store for next year.
Download: LWE Presents Rrose (66:13)
Audio clip: Adobe Flash Player (version 9 or above) is required to play this audio clip. Download the latest version here. You also need to have JavaScript enabled in your browser.
Tracklist:
01. Rrose, "Untitled" [*]
02. Regis, "Reclaimed 4" [Downwards]
03. Svaag, "Sage" [Semantica]
04. BMG + Derek Plaslaiko, "Your Mind is Mine"
[Interdimensional Transmissions]
05. Brendan Moeller, "Passage to Obscurity" [Atrophic Society]
06. Iori, "Inject" [Field]
07. Plastikman, "Elektrostatik" [Plus8]
08. Mike Dearborn, "Destruction" [Djax]
09. Broken English Club, "Untitled" [*]
10. G-Man, "Kushti" [swim]
11. French Fries, "Change the Past" [ClekClekBoom]
12. L.A.W., "Isola" [Black Nation]
13. Bronze Teeth, "Albion Pressure" [Diagonal]
14. Rrose, "Untitled" [*]
15. Kwartz, "Form and Void" (Reeko Remix) [PoleGroup]
16. Gunnar Haslam, "Ataxia No Logos" [Delsin]
17. Rebekah, "Diablo" [Cult Figures]
18. Peter Van Hoesen, "Chroma 3" [Time To Express]
19. Denise Rabe, "The Drama"
20. Antonio Vasquez, "Hidden Consequences From a Diffuse Reality"
[Exhibition Design]
21. Damaskin, "Kaona II" [Concrete]
22. Ben Vida, "pin ans sweek" [PAN]
* denotes tracks which, at the time of publishing, are unreleased