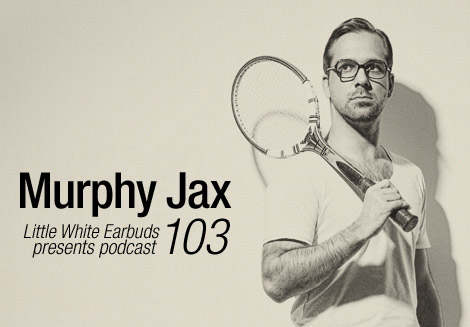 Overnight success is a rare and elusive beast, though anyone might think that's exactly what happened to the hitherto unknown Murphy Jax when his Mike Dunn endorsed debut release, "It's The Music," hit us with all the polish and verve of a seasoned veteran late last year. The truth is that the Berlin based producer had already been making music for several years, having released under a variety of names before settling on the Murphy Jax handle. Evoking the pure strains of Chicago house with a healthy serving of disco, Jax has been steadily turning on new fans with each release, so far gracing the likes of Clone's Jack For Daze imprint, Turbo and My Favorite Robot. LWE got in touch with Murphy to find out about his affinity for Chicago house and the journey that lead him there. We also coaxed out a hot mix of acid house that stretches from the early days of the little silver box and heads off far in to the future, making our 103rd exclusive podcast a freshly minted future classic.
LWE Podcast 103: Murphy Jax (60:38)
Audio clip: Adobe Flash Player (version 9 or above) is required to play this audio clip. Download the latest version here. You also need to have JavaScript enabled in your browser.
Tracklist:
01. Adonis, "Lost In The Sound" [Trax Records]
02. Farm Boy, "Move" [D.J. International Records]
03. Mink, "What Does It Take" [Sound Pak]
04. Murphy Jax, "Untitled" [white*]
05. The Six Brown Brothers, "City Hall" [Serious Records]
06. Actual Guy, "Acid Emotion" [CNR Records]
07. Adonis, "Reck The Joint" [Black Market International]
08. Jared Wilson, "This Love" [7777]
09. Phuture, "Rise From Your Grave" [Strictly Rhythm]
10. Phuture, "Phuture Jacks" [Trax Records]
11. MC B., "Aquarius" [Dance Street Records]
* denotes tracks which, as of the time of publishing, are unreleased

Where did you grow up and how much of an impact do you think this had on your musical education?
I did grow up in a pretty small city, and there was nothing of an impact really. On the typical long way of searching for life's sense and what to do with the stuff you love or like, I simply found out that it's music. So I've chosen the hard way of becoming a paid artist, learned to produce, started with piano themes, went through new-wavy and early electro-clash stuff, and found finally my passion for old school Chicago house in combination with discoid and 1980's style synth work.
You've got a very distinct sound in making retro-styled Chicago house and disco tracks. I'm interested to know though, what was the first electronic music you heard or that really inspired you to become a producer?
Ha, the first electronic stuff must have been 90's dance, but the chart stuff didn't really inspire me I guess, 'cause I was nine years old. But there I started to think about the music I listened to. So what inspired me was a bunch of stuff that I found out about much later. The late 70's electronic music period, until the early 80's synth wave did inspire me a lot. As well as music themes out of the electronic genre. Like those nice little groovy themes of "Beverly Hills Cop" that didn't ever appear on any soundtrack compilation. The "Airwolf" themes and much more.
Were you a DJ before this? How long were you DJing for before you thought about producing?
Its not really about being a DJ or not, because at the end it's just presenting tracks in a club. If there is a certain kind of public interest, and people do care about your taste, great, let's DJ. So I pretty much produced before ever spending a thought on DJing.
And what is it about Chicago house that really appealed to you? What were your first experiences with it?
The original house stuff was always all around. It just didn't catch me that much in my early days or production, because I was a bit chained inside some other genres. But at the end its the way of transporting a special kind of fun. A honest and authentic way of fun. As minimalistic as it could be from time to time, as authentic as it is. Looking at all that commercial house after 2000 or highspeed 90's dance, I pretty much think that Chi-town house music with all its discoid and soul-like vocal influences as still the most authentic electronic music on the dance floor.
Having your focus on a particular sound like this can either pigeon-hole you or allow you to really explore the intricacies of what you do. It is an approach that STL takes in making his music and one that many artists have taken – focussing on a particular style or theme their whole career. What are your thoughts on this? Are there other unrealized sides of Murphy Jax to come out?
I am not that much focused on that style as it might look like. The period we are looking on is extremely short. It's just one year. Nobody knows what comes later. My My Favourite Robot release, called Masters of Meta Space, was not Chicago styled at all. It was space disco themed. And I still have a lot of theme-like material which is great to listen to, but there is no label out there having the balls for it (as far as I understand). So we are probably looking onto a future album here. What's planned and coming next is a hip-house release on Hypercolour, somewhere around December 2011/January 2012.
What equipment are you using for your tracks?
I am a strictly digital person when it comes to producing work flows. An exception are some own built synth modules and modifications and a 707 drum machine that I dig out from time to time.
And do you play live or do you have plans to do a live set?
Of course I do. That's what I do mainly. On the old-school machine way, without any laptop action. Love the coloured LEDs all around me.
Tell us about No More Pop. How long have you been doing that?
I did start the No More Pop Project in 2009, and until then there is still no big intention about why I'm doing it. The major thing about it is pretty simple: combining the styles I like and put it into a nice graphic surrounding. And if I find out about artists who seem to have a taste similar like mine, I go for it.
Doing a radio show is quite different from playing in a club and very enjoyable in its own way. What do you enjoy about doing a show?
It's the freedom to play what you like, when you like, without having in mind if somebody is dancing to it or not.
How did you manage to get Mike Dunn on your "It's the Music" release? That's quite an achievement for your first release.
That was actually pretty easy. I contacted him, showed him the track. We contracted it, and two months later he came up with that great chant idea.
How long had you been working on tracks as Murphy Jax before you had this release?
Maybe three months. Not more.
Your retro styled tracks are perfectly suited for the Clone label. Were they the first people you went to with "It's the Music"?
They were the first and only. Clone got the instrumental version before I actually thought about getting Mike Dunn on board for it.
What can you tell us about the mix you've put together for us?
Its a different direction this time. After doing mixes for Dazed and Mixmag, I decided to do it the way I do a big part of my live set. Acid.
And what can we expect from Murphy Jax over the next year?
I work on a new track with Mike Dunn at the moment, and on some other material for 2012's release schedule. Let's see what happens, as I don't want to create that big expectation for a follow up hit like "It's the Music." Unique stays unique.