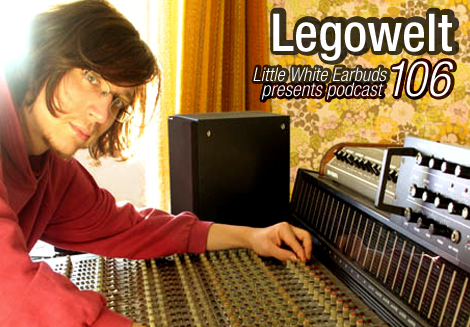 If you haven't knowingly heard a Legowelt record then there's every chances you've heard from him under one of his numerous guises. Boasting more aliases than Frank Abagnale, Danny Wolfers first started making music in the early 90s, inspired by the likes of early Detroit and Chicago techno luminaries and his home-town heroes Unit Moebius. Known for his gritty, machine-driven techno and electro, his impressive discography is also noted for forays into ambient soundscapes, self-designed sleeves and some of the best album and track names you're likely to find across any genre. His unique website, beamed directly from somewhere in the vicinity of 1995, is a mixture of information, music-gear adoration and banality that touches all the right nodes of any discerning music lover. LWE opened the lines of communication with Mr. Wolfers to find out more about his favorite bits of kit, why we won't be hearing a concept album from him any time soon and what his favorite airplane is. He also mixed our 106th exclusive podcast, a blistering collage of techno, house and electro peppered with his own productions and divine obscurities.
LWE Podcast 106: Legowelt (77:09)
Audio clip: Adobe Flash Player (version 9 or above) is required to play this audio clip. Download the latest version here. You also need to have JavaScript enabled in your browser.
Tracklist:
01. BNJMN, "Open The Flood Gates" [Rush Hour Recordings]
02. The Abstract Eye, "Cool Warm Divine" [Valentine Connexion Records]
03. Trackman Lafonte & Bonquiqui, "Fortunes of the Lord" [white*]
04. The Abstract Eye, "Nobody Else" [Valentine Connexion Records]
05. Unknown artist, "Tristate Cruising" [white*]
06. Jon DaSilva ft Donald Waugh, "Love Is All We Need"
[Hour House Is Your Rush]
07. Hieroglyphic Being, "So Much Noise To Be Heard" [Mathematics Recordings]
08. Xosar, "Zephyr" [white]
09. Omar-S, "Nites Over Compton" [FXHE]
10. Legowelt, "Days of Persistance" [white]
11. Big Strick, "Fear No Fear" [7 Days Ent.]
12. Unknown artist, "Leeward Islands" [white*]
13. Recloose, "Tecumseh" [Rush Hour Recordings]
14. Trackman Lafonte & Bonquiqui, "The Feeling, The Force" [white*]
15. Unknown artist, "Voice of Triumph" [white*]
16. Unknown artist, "San Diego Marine Biology Center" [white*]
17. Hell Interface, "Trapped" [Skam/Musik Aus Strom]
18. Armando, "151" (Terrace Mixx) [Djax-Up-Beats]
19. Aphex Twin, "Untitled" [unknown]
20. Exit, "Detroit Leaning" [Superior Elevation Records]
21. Danny Wolfers, "Microkorg string outro" [white*]
* denotes tracks which, as of the time of publishing, are unreleased

You're famously in possession of one of the most saliva-inducing array of analogue music equipment known to mankind. Can you remember the first piece you ever bought?
Danny Wolfers: Well there are a lot of people and studios that have way more stuff, I just have a bunch of synthesizers and I really don't care if it's analogue or digital. You know, people call everything that has a knob or slider analogue these days or probably even if it's just hardware. Last week this guy told me he heard someone praising the great, real analogue sound of the AKAI MPC! The first piece I got was a Commodore AMIGA computer; that thing has been more important than any synthesizer I bought. With a copy of the OCTAMED sequencer and a sampler cartridge you basically had a pretty good sampler sequencer workstation. A lot of my stuff, like from The Nomium Syndrome EP to Beyond the Congo, under the names Gladio and Polarius, that's all made on an Amiga 1200.
Are there pieces you particularly favor over others, that will more often end up being used on your tracks?
Sure, the Roland Alpha Juno 2 synthesizer's a real workhorse and the Yamaha RM1X sequencer, a cheap synthesizer/drum-machine/sequencer box but one of the best hardware sequencers ever made.
Did you always have a fascination with technology, or did this gear-fetish come to you once you started making music?
I guess boys always like technological stuff, right?
Do any of the newer retro styled synths interest you, for the ease of not having to keep them serviced regularly?
Yeah, they are way more interesting than old ones because most of the time they can do a lot more and are way cheaper, too. Like those Microkorgs, I've got three of those. They are pretty battered and falling apart from all the live gigging but they can stand their ground against something like a Jupiter 8, exotic sound-wise.
Your Astro Unicorn Radio show ran for a good four years, though you stopped doing that this year. Why did you choose to stop doing the show?
It just took too much time to do it every week. I spent two or 3three days a week on a show and after doing it for a couple of years I just got fed up with it and wanted to do something fresh and new.
You had some great specials on the show over the years. What were some of your personal highlights?
I think the documentary type shows were the most interesting, I guess. With the background atmosphere sounds, the Lomax-esque This American Life-style docos on FrequeNC Records, when we went into the forests of the deep south, or the one with Ron Morelli when we are eating pastries in a Mexican restaurant in Queens while you hear the rain outside, stuff like that.
I'm interested in your Unreleased America 1976-1992 compilation. How did you come across these tracks and was it hard to track down the artists to get them to license them?
I basically had nothing to do with it, it was all the work of Will Burnett aka DJ Speculator. He found all those guys and licensed it, I just released it. That guy could be like a detective librarian or something.
Also I'm interested in how the video for "Equestrian 707" came about. The Weta people are very high-profile and I'm assuming not very cheap.
There was this guy Adam Larkin from New Zealand and he was doing some movie stuff in Holland and wanted to do a video for me. I said sure and I made the "Equestrian 707 trac"k for the video especially. So like one or two years later I was touring in New Zealand and the video was finished and he showed it to me at the Weta HQ. I didn't have to pay anything for it because he did it for fun. It's a crazy video with green pastures, horses, paranormal investigation centers, demonic creatures, etc. Pretty cool. There are two versions, one more explicit and the TV version. I think the one on Youtube is the TV version. I think they showed it on the New Zealand news after an item about Dolphin Trainers if I remember correctly.
Trawling through your discography and website I gather that apart from an obvious predilection for nature and animals you have some love also for aircraft. Any favorites you'd like to share with us, and have you ever flown on some more exotic craft than your stock standard air-planes?
Yeah, my favorite plane is the Dehavilland DHC-6 Twin otter. I also like Russian air planes like the Tupolevs and Illushins. I know Tupolevs always crash but they just look so cool. Actually for that matter the Illushin IL86 and IL96 are considered the safest planes in the world and didn't crash once.
You've been making music for quite a while now but even so, the sheer amount that you have released is incredibly impressive. How often are you in the studio?
Every day from early in the morning 'till late in the evening.
How do you generally go about writing your albums? Are they concept based or loosely based around a series of studio sessions?
Well I just make tracks, basically. I really hate the word concept album, that sounds so fucking cheesey and toe-bending prog rock style. I would rather call them exploitation albums, like "The Rise and Fall of Manual Noriega" or "Phalangius," etc. There was just this story or movie in my head and those albums were made in a couple of days in one flow. Nowadays the albums are just a collection of tracks I guess.. I don't know, man.
What sort of music do you like to listen to in your spare time?
I guess mostly old soul music and African stuff, Detroit house too, 90s ambient stuff like Mixmaster Morris and The Orb.
The press release you wrote to accompany your The TEAC Life album was not just brilliantly original but also refreshingly funny. Ever considered a side career writing press releases or reviews?
Sure, hit me up.
What was your decision behind giving the album away for free/donation?
From the moment I started making those tracks I knew I had to give it away for free. I dunno exactly why or what but I didn't want the music to be imprisoned on a piece of vinyl, these tracks needed to be free in cyberspace.
Have the donations actually financed you buying some more crap synthesizers or fixing your Juno 106?
Yes, the people have been quite generous, thank you very much for that again. The Juno has been fixed and I bought some crap keyboards from the rest of the money like a Casio MT520 and MT540 and MT640 which I already did a few projects with. They are like really ghetto house machines, like the drums are even cheaper versions of the RZ1 (Steve Pointdexter's "Work That MF" drums) and they have really lo-fi house organs and strings and stuff.
What can we expect from Danny Wolfers and his many aliases in the next year?
I really don't know, I hope to further advance my music with something fresh and new. I am working on some new material that pushes it a little bit further. Also, I started a software company called Pacific Micro International, it will release mainly audio applications and paranormal software. One of the products is called PACIFIC TAPE STATION and this will simulate the artifacts of cassette tape on your tracks, you can really push it far and make it sound all fucked up and saturated like half of your track has been disintegrated from the tape. You can also do E.V.P Electronic Voice Phenomena stuff with it because its emulates Germanium crystal diodes. Another product will be the PACIFIC LAGOON SYNTHESIZER which will be an easy to use VST plug-in synthesizer which can emulate very raw and organic analogue synthesis.