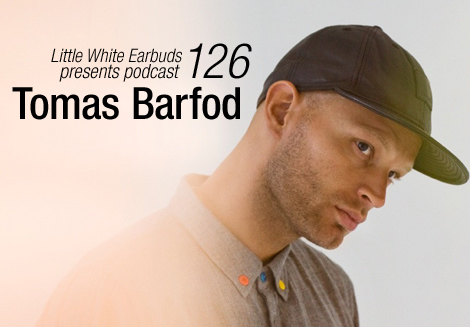 For the bulk of his artistic career, Tomas Barfod has been better known as a member of a musical group than for his individual efforts. For the most part that seems to suit him as long as the end result is good, and by and large it has been. The Danish drummer/producer/DJ has served as one half of Filur alongside Kasper Bjørke, drummed and manned the boards for WhoMadeWho, and was a creative force in the trio Jatoma. Even his solo work, whether under his own name or as Tomboy, has been highly collaborative, placing the recruited vocalists front and center while Barfod built the songs around them. If there's any justice in the world, Barfod's second solo LP, Salton Sea, will shine a light on its creator. Effortlessly catchy, laden with delightful vocal performances, and entirely relevant to dance music fans, the album is a rare example of how enticing the confluence of pop and electronic music can be. LWE caught up with Barfod about the necessity of playing live, his new project The Circle, and his relationship to the under- and overground electronic music scenes. The long-time DJ also created LWE's 126th exclusive podcast, one which places his own sound into context as it raises listeners' pulses and gets feet tapping.
LWE Podcast 126: Tomas Barfod (52:59)
Audio clip: Adobe Flash Player (version 9 or above) is required to play this audio clip. Download the latest version here. You also need to have JavaScript enabled in your browser.
Tracklist:
01. Doc Daneeka & Benjamin Damage, "No One" [50Weapons]
02. Eats Everything, "Whatever Whatever" [Dirtybird]
03. WhoMadeWho, "Running Man" (Dave DK Remix) [Kompakt]
04. Claude VonStroke & Jaw, "Le Fantôme" [Dirtybird]
05. Ribn, "Pancake" [Poker Flat Recordings]
06. Francesco Tristano, "Idiosynkrasia" (Ben Klock Remix) [Infiné]
07. Daphni, "Ye Ye" [Text Records]
08. Tiger Stripes, "Dancer Of The Dance" [My Favorite Robot]
09. Offset, "Addicted" [CORRESPONDANT]
10. Nocturnal Sunshine, "Meant To Be" [Studio !K7]
11. Tomas Barfod, "Broken Glass" (Shlohmo Remix) [Friends Of Friends]

I understand that one of the reasons you moved to LA was to focus on making music instead of gigging. Do you think the importance of playing live in order to earn a live makes it difficult to make the best music possible?
Tomas Barfod: Yes, I think it's a problem for me. It would be possible for me to live from studio work alone, but then I would start doing stuff that wasn't fun or constructive to my career. The performing money is a quick fix that makes my life nicer in many aspects and also it's a great way to see the world for free and with nice people. But on the other hand, I don't wanna be stuck in a tour bus when I'm 50 years old. Since I saw the documentary about Anvil I have been quite paranoid about that. Going to L.A. and only doing two to three gigs in six months instead of two to three gigs a week showed me how much more I can do in the studio when I have all my energy focused on that. I think I learned a lot from that process. However, if I was always stuck in the studio I would start to get bored, so I think the perfect life would be four gigs a month in exotic places.
As the producer for WhoMadeWho, it would seem you were largely responsible for how the work sounded in the end. Did that feel like a burden and a blessing at times?
I will say that WhoMadeWho is a very creative process where we have our different roles, but in general the outcome is symbiosis of us going to studio together. I can't play guitar or sing or even write lyrics, so my role is off couse drumming and programming, but also a sort of guidance in terms of our sound. Besides that I think that we are all very responsible of what goes on our records. I think we all see it both as an blessing and burden to have be a band in studio; it's a combination of a lot of hard work and a lot of fun/creative times.
The last time you put out a solo LP was 2007. How long was Salton Sea in the works before coming together?
Both my solo albums have been a very easy and fluent process, where I slowly realized I was making an album without forcing it or even planning it. I was talking to Friends Of Friends about putting out a song or maybe and EP with them, and the next thing I had five or six songs, so we agreed to do a full album instead. Some songs on the album were in the making for a year, but in general they all came very quick and easy to me. The five years I have spent since the last album I used on WhoMadeWho, Jatoma, running a label called Tartelet, and bunch of other things. But I realized I needed to focus on making music 100% if should make a long lasting career, so stopped most projects other than WhoMadeWho and my productions. I'm happy that I finally pulled myself togther and made an album, because it has been a very important step in my evolution.
While your solo stuff has always had nods to pop music, Salton Sea embraces pop songwriting structures and sounds. Was this a conscious decision? What influenced that?
It's strange because when I play as a DJ I hardly ever play vocals, I always play dark and electronic. But when I make music it always ends up being much more poppy than my DJ taste. I'm actually not a club-producer; I have always been seen as one, but I have realized that it's very hard for me to make a strong "club track." And besides, I think most club music doesn't belong on an album, so when I make albums I always wanna make songs and not tracks, and with songs often comes more poppy elements.
You've spoken about wanting to focus less on typical club music elements like the bass/hi-hats. How important was it for you for the album to be danceable/clubbable music?
I will always focus on the bass. I actually think that for me there is not cool or uncool music — there is music with bass and music without bass. Music with no bass I often don't understand. As for the hi-hat, I think the typical house off-beat hi-hat is a very simple and overused element which I have tried to tone down, however I haven't succeeded 100%. I generally get more inspired by what happens in pop, indie and urban than what happens in the club scene. I'm not saying that the club scene is not important to me, because I really love the scene. I'm just saying that, as a genre, it's made for people to dance to, which means it has to follow rules and structures and I don't think that's good for the album format.
Despite this, the hi-hats and drums sound excellent. Did you record live drums live for your tracks? When are some occasions when a record calls out for live drums rather than drum machines?
In general I like to mix it up because live drums have a lot nuances that samples and electronic drums don't have. Every hit on a live drum is different in terms of velocity and timing, even the real reverb from the room they are recorded in is something that's hard to make with a computer. On the other hand, I often try to add a live take and a track, but often I end up using programmed drums because they have more punch and even sounds that are more inspiring than the live recording. I most cases it's a mixture between programming and live drums.
You've teased a new project called The Circle which sounds like an EDM sort of thing. What can you tell us about that? Do you have an interest in reaching out to the EDM community (eg. fans of Swedish House Mafia, AVIICI, et al.)? Do you believe the popularity of EDM can be a positive thing for more underground electronic music?
Yes, I have been brewing on The Circle for a while, but I'm not even sure what it's all about. The only thing I know is that I have huge crush on harder genres like techno, electro and even trap. The only thing out there I did under that moniker was a remix I did of The Weeknd's "Glass Table Girls." It got hyped by the band and had quite a few views on YouTube, but then the guy who had the account closed and that was kind of the end of that buzz. Anyway, I'm gonna do something soon as The Circle but I'm still not certain on how "big room" I wanna go; I know it's gonna be party music.
I really have a hard figuring out what I think about EDM, because that scene has so much talent — you know stuff like Zedd, Skrillex, Dirty South and Deadmau5 is so well made, sometimes even touching and beautiful — but on the other hand there is so much bullshit in that genre. I went to Ultra festival this year and saw way too many producers on the main stage that maybe had a club hit or two but didn't have a clue about DJing. It's a big power to get to DJ in front of thousands of people. You have the chance to give them experiences for life, get them to know music they never thought they liked. But often in the EDM scene it seems like the money is taking over in some cases. I think that the popularity of EDM in the U.S.A. will get a lot of people interested in electronic music in general, same goes for indie music which now more than ever is leaning towards the electronic underground scene. So I'm sure that there is good times ahead for the scene.
The electronic music community often seems to link being underground and artistic credibility and disdain broad success. Is it important for you to feel connected to the underground, and why/why not?
Honestly, I don't give a shit about the underground. I only really respect people who are creative and adding new ideas, those people are all over the music scene. People like Kanye West, Danja, Jack White, Swizz Beatz, Deadmou5, T Minus, Dangermouse and Daft Punk have sold millions of records or won Grammies but are continently developing how music is heard and experienced, adding much more to the culture than some "underground" producers who are FX — just repeating a house groove that was already made pretty well 20 years ago. I don't think the underground vs commercial discussion is relevant any more. I think it's very interesting and important to watch what's happening in the underground but it's just as important to see where the pop culture is going.
My favorite track from your album, "Only Human," was included only as a digital extra. Why did it not make the physical version?
Sometimes in album process you can listen and work on track until you become "deaf" to it. That's what happened, I ended up overthinking it and wasn't sure if it was good or not, that's why it ended up in the semi-position.
Tell us about the podcast mix you made for us. Do you enjoy DJing to the same degree as playing live with a group?
I really love DJing. That's was why I started doing electronic music back in the days and still one of my favorite things about my professional life.