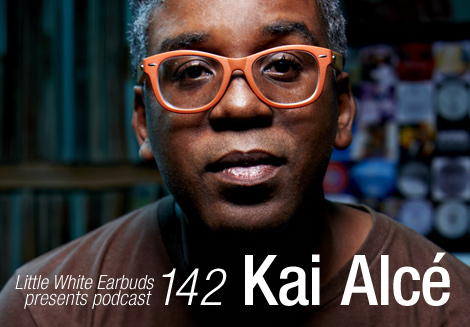 For some producers, music has been such a constant in their lives, it is akin to the heartbeat. For Kai Alcé it was there in his Haitian roots, abundant when growing up in New York — playing his parent's records at their parties. It was no less plentiful when his family moved to Detroit in 1980, the teenage Alcé eventually getting his professional start by working the lights at the famed Music Institute in the late 80's. Soaking up the electrically charged atmosphere of the club, the youngster was lucky enough to be taken under the wing of his distant cousin, Chez Damier and shown around the KMS studios. His first proper release came in 2002 with The Kaizer EP on Brett Dancer's Track Mode Recordings, with others soon following for the likes of Late Night Essentials and Mahogani Music. Setting up his own NDATL Muzik label in 2008 gave Alcé a platform for more of his own releases and those of kindred spirits, including the momentous three part homage to the club that started it all off for him in his Music Institute 20th Anniversary releases. LWE got in touch with Kai to quiz the producer about the label, whether there are any clubs that he feels stand up to the legacy of the Music Institute, and to find out if we can expect to hear more from his KGB project with Brett Dancer and Glenn Crocker. He also mixed our 142nd podcast; a beautiful collection of jazz, house classics and some contemporary favorites.
LWE Podcast 142: Kai Alcé (52:00)
Audio clip: Adobe Flash Player (version 9 or above) is required to play this audio clip. Download the latest version here. You also need to have JavaScript enabled in your browser.
Tracklist:
01. Shinji Takeda, "Blow Up" (Blaze Klubhead Extended) [Nite Grooves]
02. Montefiori Cocktail, "Anamaria" [157 Shelter Records]
03. Kai Alcé, "Feeding" [NDATL Muzik]
04. Noni, "Be My" [Prescription]
05. Kerri Chandler, "11th Hour" [Dowtown 161]
06. Sound Source, " Key Notes (A Deep Trance Mix)" [Right Area Records]
07. Rick Miranda, "808 Signatures" [Neroli]
08. Mr Lee, "I Can't Forget" [Trax Records]
09. Roberto Rodriguez, "Thinking Of You" [Fina Records]
10. Kai "KZR" Alcé, "On It" [white*]
11. Kidz Of Tomorrow, "G-Wiz Theory" [Blackwiz Records]
12. Amir Alexander, "Dark Dirt" [Argot]
13. 808 State, "Pacific State" [Creed Records]
* denotes tracks which, as of the time of publishing, are unreleased

You must have got a real education by starting out working at the Music Institute at 16. How did working the lights there prepare you for DJing or were you already DJing at that time?
Kai Alce: I knew the basics but I was still learning, and what I learned most was paying attention to your crowd and to be able to at least meet them musically.
The MI is one of the clubs that has become the stuff of legend, with many people looking back fondly on the time they spend partying or playing there. Are there any clubs that you go to now that you feel have that special bit of magic about them?
At this moment I can't think of any, but in the recent past APT in NY was a favorite. Panorama Bar/Berghain is pretty impressive, MJQ Atlanta, during my tenure there and currently The Sound Table (where I now hold a monthly residency called DISTINCTIVE). I am headed to Europe later this month to gain and give some new experiences, so this list could change.
I understand you're of Haitian descent. Growing up did your parents play Haitian music in the home? And was their music something that you appreciated at the time or did it ring more true for you in later years as your love of music grew?
Yes, Haitian, Latin, jazz, and commercial music were constantly played around the house I enjoyed it all. Whenever my parents had parties I was the music selector playing records, tapes and reel to reels, which my father still owns.
When did you start to produce music and what was it that prompted you to start doing so?
It was always something I wanted to do but I concentrated on my DJing first, residencies and whatnot here in Atlanta. But as time went along the bug grew and I bought my MPC and here I am now.
Your first release as such was a remix of Chez Damier's "Nobody's Fool," back in 1994, but then it was not until eight years later that your first proper EP came out. Were you working on music this whole time or were there other things that you were focusing on?
True, that was probably my last year living in Detroit which I began to start learning some of the machines such as the MPC and learning my way around the soundboard at KMS. But then I went off to college put the music down for a minute but resumed my passion shortly after realizing that no one was really representing house in Atlanta.
What was the hardest part of learning to produce that you faced?
The learning of each new piece, and integrating them together.
What were the reasons for starting your own label? Was it a matter of wanting to create a label that you could curate, to help push the music that you believe in or was it more to help release your own music that wasn't finding a home elsewhere?
A lot of both. I wanted to be able to release my stuff without having to sell myself, just as much as I wanted to work with other producers whom I've had respect for or have worked with before.
What have been some of the important lessons that you've learned in starting your own label?
Having a plan before you start. You don't want to have one hot track to start your label; you want to have a few hot projects so that you can concentrate on making music for the sake of making music and not because you need to put something out.
The second release on NDATL featured the vocals of Azulu Phantom, who recently also appeared on your release for Deep Explorer. Can you divulge who Azulu Phantom is?
He's a friend of mine, Jahim, from Atlanta who was always in rock groups, but I loved his voice and always wanted to work with him. But we're are both slow when it comes to producing, which works because when it hits it HITS!
Given the popularity of your Music Institute 20th Anniversary releases (and your Special Editions too) would consider repressing them?
Well, I have a Music Institute CD that has taken me way too long to curate but it's coming along well, hopefully to be done and released at next year's Deep Detroit during the DEMF weekend. The Special Editions, I doubt it, I'd like to keep them just that: special.
Can you tell us a bit about KGB? Will this be an on-going project with Brett and Glenn?
You know, that was a one time remix project that Brett curated, but you may have sparked an idea. Both of them have projects or remixes coming out on NDATL in the future so it's definitely a possibility.
There's a video of you DJing at Movement several years ago and you're dancing your ass off while you're playing. Do you think it's important to enjoy dancing in order to be a good DJ?
Most definitely. I believe if you never lost yourself in dance, how do you expect to take someone else there!?
What can you tell us about the mix that you've done for us?
Well it's been a minute since I've done one, so I tried to to express some range in the sound from some mellow rhumba to flexin' some gutter shit with some classic pieces. I hope you enjoy!
And what can we expect from you over the next year and from NDATL?
New projects from myself, Damon Lamar, Javonntte (an artist from Detroit), and just the standard quality of product that I hope my supporters have come to expect.