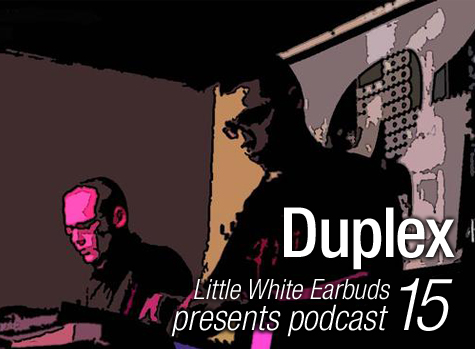 Although Detroit revivalism is presently en vogue, Europe's techno artists have long drawn inspiration from the Motor City's creative geniuses. Two hardcore enthusiasts, Chris Callahan and John J. Matze, have fused their love for America's techno roots and their own spacious vision in their music as Duplex since 1997. The Rotterdam-based duo is perhaps the most underrated members of the Clone family, with several spots (including an album) in its catalog and those of its Djak-Up-Bitch and Frantic Flowers sub-labels. Though the pair has been relatively quiet since 2007, our 15th podcast, an exclusive hour of spectacular techno cuts, is about shatter that silence in fine fashion. We haven't had a DJ mix on repeat for so long in ages, and we suspect this will keep you coming back for more, too.
LWE Podcast 15: Duplex (60:44)
Audio clip: Adobe Flash Player (version 9 or above) is required to play this audio clip. Download the latest version here. You also need to have JavaScript enabled in your browser.
Tracklist:
01. Carl Craig, "Angel" (Japanese Mix) [Planet E]
02. James Kumo, "Fluid" [Ann Aimee]
03. DJ Qu, "Air's Force" [Strength Music]
04. Henrik Schwarz, "Leave My Head Alone Brain (Mix 3)" [Sunday Music]
05. Aardvarck, "Kutparra" [Rush Hour Recordings]
06. Morgan Geist, "Detroit" (C2 remix 2) [Environ]
07. Omar S, "Psychotic Photosynthesis" [FXHE Records]
08. E-Dancer, "Heavenly" (Juan Atkins remix) [Planet E]
09. Terrence Dixon, "Cycling" [Diggarama]
10. Saturn V, "[Kontrol] Your Mind" [Relief Records]
11. Infiniti, "Game One" [Metroplex]
12. Shop, "Nitwit" [Planet E]
13. Underground Resistance, "The Final Frontier" [Underground Resistance]
14. Snoop Dogg, "Duplexual Seduction" (Callahan edit) [unreleased]

Check out our interview with Duplex after the jump.
When and where was the mix made?
Chris Callahan: Late last year, at home using turntables and Ableton.
What's the concept behind the mix?
Basically just a nice mix of old(er) tracks you don't hear that much with some of my all time favorites and newish stuff that really grabbed me. And a little re-edit thingie of my own at the end, of course.
Who are a few of your favorite DJs past and present? Why?
I-F: He is probably my all-time favorite DJ. He always has a great flow and amazing track selection. I've seen him DJ from the early nineties on and he has never ceased to amaze me, whatever phase he went through. Although I never really cared for his all Italo sets, sorry. Not a big fan of the genre.
Dimitri (from Amsterdam): One of the first guys to play the early Detroit records in the Netherlands. He had loads of vinyls given to him by Derrick May and Carl Craig (who lived in Amsterdam shortly at that time), so it was always a treat to hear him play. Sadly he got swayed to the dark side later on.
Derrick May: What can you say about Derrick… I've never seen a guy put so much energy in to DJing. He might not play much to my tastes these days, but you still have got to respect the man.
And there's lots of local guys who are amazing DJs. Clone's own Serge always has a trainspotter moment in his sets. And Pametex also has impeccable taste in music.
What's coming up from Duplex in 2009?
First thing will be a remix we did for the classic Wladimir M. track "Evil" on Eevolute. It's a remix compilation for the first two Eevolute's by Florence and Wladimir M. For the rest [of the year] we are working on new material. We recently rebuilt our studios and are in the process of getting used to working with a combination of new technology and old fashioned hardware. But we're getting there, so heads up for new material in the future.
LWE Podcast 15: Duplex (60:44)