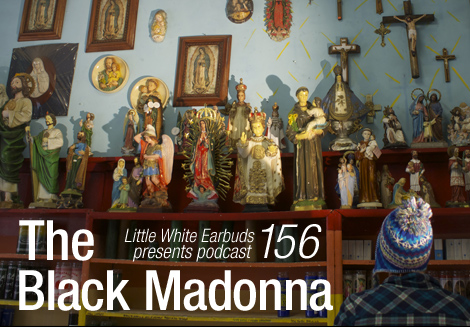 Pundits have grown fond of the term "outsider house" to describe artists whose aesthetic is rougher around the edges, but they forget that dance music at its core was created by and for outsiders: racial and sexual minorities who escaped the cruel world by getting lost in music — first disco and then house. Marea Vierge-Noire, a Kentucky-born, Chicago-based DJ and producer, knows this well. Diving into the rave scene as a teenager to retreat from bruising bullying, Vierge-Noire found herself at home dancing and selling mixtapes in warehouses around the American Midwest. Her DJing career began by chance when someone caught her practicing alone, but has earned her notoriety across three decades, most recently as a resident at Smart Bar, Chicago's reigning nightclub. Vierge-Noire's raving past landed her a job working for the mammoth (though now defunct) Dust Traxx empire and provided the knowledge base for starting producing in the mid-aughts. Initially collaborator by necessity, she can now be found producing on her own as the Black Madonna for Home Taping Is Killing Music, Stripped & Chewed, and a growing list of well regarded labels. Standing as a shining example of how outsiders are the true insiders in dance music, LWE sat down with Veirge-Noire to discuss the paths that brought her here, why disco is so dear to her, and what the future holds for her. She also mixed LWE's 156th exclusive podcast, a thrilling hour of danceable music which encapsulates her body-moving DJ style.
LWE Podcast 156: The Black Madonna (58:56)
Audio clip: Adobe Flash Player (version 9 or above) is required to play this audio clip. Download the latest version here. You also need to have JavaScript enabled in your browser.
Tracklist:
01. Rev. Morgan Babb with His King Solomon Baptist Choir, "Go On My Child" [Nashboro]
02. The Inspirational Gospel Singers, "The Same Thing It Took" [Fine Records]
03. Candi Staton, "Rough Times" [Warner Brothers Records]
04. Simba, "Three Kays" [Stripped & Chewed]
05. Raw Instinct, "Alright" [Raw Instinct]
06. Voices, "Voices In My Mind" (Minimum To Maximum Effect Mix) [Da Grooves]
07. Gene Hunt, "Sound Drome" [Rush Hour Recordings]
08. Roni Griffith, "Spys" [Vanguard]
09. X-Ray Connection, "Replay" (Street Mix) [Dance-Sing Records]
10. East Wall, "Privacy" [Elettrica Dischi]
11. Tevo Howard, "Energia" (Boogiedisco Mix) [Beautiful Granville Records]
12. The Analogue Cops & Blawan, "45 Dollars" [Restoration Records]
13. Special Request, "Deflowered" (Kassem Mosse & Mix Mup Remix)
[Special Request]
14. Jody "Fingers" Finch, "Jack Your Big Booty" (BHQ Acid Vocal)
[Let's Pet Puppies]
15. Tyree Cooper, "Ty'z N Da Middle" [Quick Release Records]
16. Horace James & Kevin Yost, "Meet Me There" [i! Records]
17. Adrienne Rich, "Diving into the Wreck" (read by Anne Waldman) [no label]
18. The Black Madonna, "Stay" [white*]
* denotes tracks which, as of time of publishing, are unreleased

Tell me about how you got into dance music.
Marea Stamper: I always loved dance music, even as a little kid. My first LP that I ever owned was Talking Heads, and I was obsessed with the song "Burning Down the House," and I played it over and over and over again on my Fisher-Price record player. Because I had an uncle who gave me that. But serious dance music? When my mom and dad broke up and my mom got together with my future stepdad, he liked things like New Order and the Pet Shop Boys and those things, and so that was my first "dance" dance stuff. And I loved those things. I was obsessed with the Petshop Boys.
And after that I got into dance music the way that a lot of people do, which is through sort of popular-culture dance. There was a show called "Club MTV" with Downtown Julie Brown, and they would have a lot of garbage, but then every once in a while they would have a real dance song and I would get really into whatever that was. You know, like Technotronic or LaTour or those kinds of things where there was this sort of 1990 pop-dance — Black Box. You know, those were real dance records. And even stuff like "Gypsy Woman," which is a perfect record. Those were big "Club MTV" songs, and I was really into them, and I would beg my mom to buy me the cassette single. But the real transition, for me, where it was like, "OK, dance music," as an idea was — there was this feature on MTV they had, called "the Buzz Bin." And they featured "Groove Is in the Heart," and I saw it, and I begged my mother for a CD copy of World Clique, one of my first CDs that I ever owned.
Because it was like, "This is a thing. There are people that do 'dance music.'" Because MTV sort of described some of the culture a little bit more. And that was it for me. I was so into it that it was like, "You're not going to have friends in middle school." And from there, I really pursued it and found dance parties in Kentucky and got into early American rave culture way earlier than I should have and was by 1994, '95, had dropped out of high school to sell mixtapes. And had my own apartment doing that. And traveling all around the country to go to various raves and stuff. So it was very fast. Once I figured out it was a thing, I pursued it and found people who were serious about it, and everything that came before was put away. And I got real serious about throwing parties, being involved in them, traveling every weekend to St. Louis, Chicago, Detroit, wherever. I mean this was literally — first part in 1991, out of high school by '94. Three seconds, and I was done. You know, no messing around.
That's a pretty — for some people — unbelievable commitment to dance music.
Well, there was no other option. I was so miserable in high school. I had been miserable in middle school, when I first started going to parties — I had a year of middle school where I was going to parties, and then I went to high school, and I was basically bullied out of high school. This was the other thing that was happening. So I find parties, and it's this wonderful wonderland where there are people that are everything: gay, straight, black, white, whatever — weird. And then I'm going through this really incredible five-year period of bullying from middle school to high school. And this is such a thing that people talk about now, but it was really bad. Really profoundly bad for me. To the point that by the time I got to high school, I was taking some of my classes in a teacher's office — instead of in the regular classes — to prevent disruption. So my mom, who is the coolest woman on Earth, would always say, "Just wait till you get to college; everything'll be OK. Just wait till you get there. Life is not actually like this. This is completely fucked up; these people are assholes. You're right; they're wrong. You're too smart for this. They're just jerks; they don't like anybody." You know, she was totally on my side, and I was going through this terrible thing, to the point that people were mailing stuff to my house to harass me. We involved the Postal Service to try to make it stop. It was unbelievable.
I totally get why kids freak out, because I've been there — to me, the answer to that was dance music. You could go, and everyone was an "other." And it's not like that now. But at the time, it really was. I was given the option between being in high school and being shoved down a flight of stairs by some asshole, or going and working on these enormous, three- or five-thousand-person raves. Well, that was it. And my mom, she wasn't going to make me stay in that world. You know, what, I didn't read books? [She said] "You're fine. You'll go to college when it's your time." And that's what I did.
Who taught you how to DJ?
Myself. I learned alone, in secret, in my college radio station. I did not tell anyone.
Where'd you go to school?
I went to the University of Louisville, which has a great AM radio station called WLCV, where many DJs have learned how to DJ. I taught myself, listening to mixtapes for years and years and years, I had a very solid idea of what something should sound like. I'm a person that has a really, almost — "photographic" isn't the word, but — if there were a mixtape I loved, I could probably diagram it for you, when one record comes in and that kind of thing. My mom actually bought me my first set of records. She bought this funk DJ's collection in a junk mall in Somerset, Kentucky. I don't know how it got there, but it got there. I had been at my grandma's house on Thanksgiving. And my mom woke me up holding a Roger and Zapp record over me and said, "They have a lot of these. Do you think you'd like to have more?" And I said, "Yeah, of course." So then I took them back to college, and I started messing around with them, and I accidentally mixed to records together, and I thought, "Holy shit, I could do this!" Like, it's not just a thing that other people could do. So then I started messing around in private. I would put an album or something on on the radio — I was the general manager at the time. So I would put it on to broadcast, but then I would bring the turntables up in audition and practice alone. And I did this for two years straight, until I got caught and somebody made me play a party.
What a punishment.
It was. It was. I was scared, you know?
But you ended up becoming almost notorious on the sort of Midwest rave circuit.
I did, I guess.
How did it escalate to that point? I mean besides the fact that you were already there selling tapes and being involved.
Yeah well, I think part of it was that I knew people already, and it was like, "Oh, you're playing records now? You can come play for us." But one guy, this dude Brandon Perry, and I don't remember how we connected. But there was that first, "OK, you're going to go to Ohio, and you're going to play this party." And I went there and I was so scared I threw up in the booth — I mean I was really paralyzed with stage fright for almost three years. Like, really would have to be begged. Really, it was not something I had intended on doing. Which sound like such a cliche, but it was me. I was never a person who was like, "Oh, I'm going to be a DJ some day." Like, I was never like that. And he threw a bunch of parties. There's always that moment in any little region where one promoted runs shit, and he ran stuff, and he let me play a lot of his parties and slowly would let me get closer and closer to headlining. And then what eventually happened was that I was booked for a party for him that Paul Johnson didn't show up to. They said, "You have to fill in for Paul." There was this room of a couple of thousand people in gymnasium who were expecting Paul Johnson, and I had to walk out and say, "I'm not Paul Johnson, but I'm me, and I'm going to do this thing." That introduced me on a larger scale to them. I played a lot of raves. All through — for a decade.
And what kind of music were you playing during this time?
Mainly house, in the beginning. Very straightforward Chicago house. Like Dust Traxx house. Eventually I went on to do some other projects. I had another one that I did where we played all kinds of stuff. You know, we played bass stuff and even things almost like Underground Construction, stuff like that. I always went into techno, always did that, but mainly house. I would do tricks, turntablist stuff, which I don't do as much of that anymore, but it was certainly a thing I did at the time.
How would you say that those days have influenced who you are now as a DJ and maybe even as a producer?
Oh, well, certainly I am most interested in making a room move. I am not a cerebral — I have one mission. And it's not to say that you let people be in charge to the point that you play a bunch of dumb shit, but you have to be a diplomat and figure out how to make the smart thing into the thing that people want to dance to. There is no worse feeling than having a room full of a thousand people who don't want to dance to what you're playing. At the same time, you don't want to be a jackass and play something that's completely stupid. So you figure out what those records are that are brilliant and make sense to everybody. Some records are beloved because they're great, and they make everyone move, and they're smart. And you find those things, rather than finding a record that makes everyone move but is kind of dumb, or whatever. And so that was a real thing for me. I was a person who would play, Squarepusher at a rave, or whatever, at the time. Whatever I was into, but I wanted to figure out a way to make it translate to them. But more than that, finding — as a producer — finding those records that were perfect and huge and worked for a lot of people, but didn't compromise anything. Those are the records you treasured, and so as a producer, I want to be that kind of person.
Would you say that you look to those records for inspiration beyond just the fact that they're difficult, but poppy and enjoyable?
More than is appropriate. I've got to tell you, I'm going to get so run out of techno for this. I think about the way that "The Bomb" by The Bucketheads is organized constantly — the way it has these two sides, and you have this one thing that happens and then it breaks, and it's this huge moment. It's one of those records that ate the world because it was just so good. And it's such a pop cliche thing now, but I do, I think about that. And I don't make that kind of record at all, but I think about that moment.
So what was your introduction to making music?
Well, I had a friend who said, "You're only going to be able to DJ so long unless you start producing records."
When was this, by the way?
Oh man, 2005? I had a friend who said, "Good job, kid, but you better start making records now, or — that fuse is lit, and it's going to go out." And I said, "What do you mean?" And he said, "There's only so much of a lifespan for people who DJ. You reach a point, and then you're not going to do anything else. Nobody makes it just as a DJ." And I thought, "Oh my god, I'm going to have to go have some terrible job. I better get on this." And so very begrudgingly, you know. I'm not a gearhead. Naturally, I've become one by force, but I'm not a person that — I'm a very ham-fisted producer. It's just get the sound that I want out of my head out, or whatever. It was necessity at first; now I have really loved producing, and find pleasure in a way that I never thought that I would. But I don't think I would have done it unless someone had really encouraged me to.
Yeah, that's fair. I know personally you also worked with other producers, as well. Given the fact that you had just gotten started — how did that come about?
When I moved to Chicago, I had a roommate — by coincidence, we both had moved into the same house at the same time — who did a lot of production for himself. Eventually through him — I had somebody who had been a client of mine at a distro ask me about engineers and who he could talk to, and I said, "This guy that I work with — " we had been doing some production together, and I said, "This guy I work with, he's great. I'm no good."
Who was that?
Angel Alanis, who is a very good engineer. And I was the low lady on the totem pole, and I — apprentice is not even a low enough word for what I was. I was somebody who was sitting with him throwing ideas at somebody who knew what they were actually doing. So I suggested to someone that they use him. That person was over one day at our house, and I was listening to what they were doing, and I said something to the effect of, "Oh, you guys should da da da da da," you know? "You guys should do this to this track," which was sort of how Angel and I had been working together, was I would come in and tell him very specific things that I thought, and then we would work together to make that happen before I had any skill whatsoever. And the person who was over said, "Wow, you guys are great together! This is great!" So we started doing that for that person, and we —
You keep saying "that person."
Well, we did engineering work for DJ Pierre, who is, no question, certainly a very capable producer in his own right. But we did engineering work for him on — well, the main thing that we did for him, we worked on his remix of Simian Mobile Disco's "Cruel Intentions." We engineered that for him. I did a lot of that kind of work where someone would come in, and Angel was the main engineer person and then I would kind of shoot ideas into that mix, and then we would try to realize an idea for a third party. We did some of that work. And then I did quite a bit of that alone, as well. Pierre's the one who I can talk about because we're actually credited on the CD. For the most part, that's a thing you do for a third party, and it's what it is.
Right, yeah.
But for that one, we're on the CD; we certainly engineered the remix, and it was a good thing. It ended up being an Essential Tune of the Week.
So before that moment came that you were told that you needed to produce you were involved quite thoroughly with the business of house music already. Tell me about that.
Well, I certainly was a pretty serious house DJ, and I was getting ready to — right at the time I was offered to come to Chicago. I worked at Dust Traxx. First I started in the digital distribution wing as, basically, almost a data-entry person. I knew Radek [Hawryszczuk, owner of Dust Traxx] from selling mixtapes. Most of us of a certain era started in mixtapes and t-shirts and stuff. So Radek had one of the other major mixtape companies, and I was the employee of another one. We had crossed paths and kind of been around each other for a long time. We had somebody mutual who was really close, and she left to go be Felix Da Housecat's assistant. She left Dust Traxx to go do that, and then I took her place. I came in October of 2006.
And what was that experience like? What were you in charge of?
Well, it was a weird situation because I got married two days earlier, and I left my husband and our house and our dogs and everything to come to Chicago. And I was working with the newly developing digital side of Dust Traxx's distribution wing. Dust Traxx and Sole Unlimited were one company. Sole Unlimited was a vinyl distributor. They were related companies, sister companies. So I came as digital was becoming a thing to go and handle that for them. Which is funny because I don't play digital at all now. But I came to help sign labels, manage their content, all that kind of stuff. Basically do what you would do for a vinyl label, but for digital. And we didn't know what we were doing, and I hung out for a while, and eventually all of those companies sort of fell apart.
What did working in all those situations teach you about the music-making process and industry more broadly?
Well, the music-making process, what I can tell you is that the second you start thinking about what people want and trying to tailor what you're doing to that, you're fucked. So you can't think like that. You have to fight that feeling off. I went through that in many ways, but in general, anytime somebody thought, "Oh, this is it. We've got this thing that's going to appeal to this group of people. This is how it's going to work," there's just something about that kind of thinking that just — people know when the emperor's not wearing any clothes. I saw it over and over again, when somebody thought that they would have a big thing. I knew I didn't want to do that.
The other side of it is just — well, a couple things: patience, on one hand. Knowing that there's this process that works. People who are making great records who are not compromising, who are coming from a true place. Not to say that it happens for everybody, but there's always going to be a good audience for good music. That's a really relieving thing, to me. No matter what it is, if it's real hard or it's real serious house music, whatever that thing is, if you do it really well, someone wants to hear it. We saw that over and over again, too. There are people who were really persistent, they came to us in 2006, who pushed and pushed and pushed and kept their sound, who are just now breaking through. And the one's who stayed consistent and did the right thing over and over and over again, that's a really relieving thing, to me. It's sort of the anti-cynical approach. But I've seen it work. People who work hard, make good records, give those records to people who also work hard and make good records. If you work that process, you know, it's not a mystery. And I like that it's not a mystery. Just relax and do the thing that means something to you. I mean this sounds like the baseball cliche section of "Bull Durham," but the idea that you don't have to panic, and you don't have to rush. The process still works.
You've worked under a couple different names, as you and Angel have collaborated —
Oh, I've got a million different names.
So how did you end up choosing The Black Madonna? And why did you choose not to take any of the previous names that you had?
The old names were stuff that I was doing when I was learning with someone else, you know? I wouldn't say that it at all represents — I mean certainly there were points of view, aesthetically that were mine that made it into working with a group or whatever, but those things were not personal for me. It was kind of like getting your training wheels. And I do not regret any of that time, and I am so grateful that Angel let me work with him when I was utterly unqualified to. Same thing with Noise/Floor Crew, there were things that we did — I hesitate to even say what these things are because people are going to go back and look at it and be like, "Ugh, you did a Justice remix?" A real one. But those things were good — they were a period in time, but a certain point came where all of that stuff wrapped up, and it was like, "OK, nobody gives a crap about any of this stuff, and you're just working alone, and you know how to turn the computer on and make sounds come out of it and what do those things sound like?"
The Black Madonna is just a thing that I've always loved, I've always been fascinated with her as a — the Black Madonna is a tradition in, particularly, Polish Catholicism. But she ends up in Haiti and all of these places. When I was a teenager, I read a really fascinating book called Longing for Darkness that does a really good job of explaining her origin and meaning. And I've always felt a closeness with that and always felt like if I ever worked alone and was going to do anything for myself that that would be the name that I would do it under and I would take her name and sort of stick to that aesthetic. I like her because she's sort of a darker manifestation of — what's the word I'm looking for? The divine feminine. Even though I'm not particularly religious, I feel very close to that idea.
So what got you to first make music for yourself that was aside from those other people and really represented you?
The first real thing that I did alone was kind of on a dare. I have a friend named John Singer, who was living in Kentucky at the time, who — both of us were kind of thinking about producing but not really doing that much stuff, and he said, "You need to be producing alone." And I said, "OK, I'm not even that great. I barely know how to — " he said, "You know what? You have until tomorrow. We're going to make tracks, both of us, and then we'll send them." And I did this little thing, and it came out really well. So we did it again, and I made this — actually the last track that's on the mix. I made it and I really liked it. I sent it to some people, and I was not laughed out of the Internet. Then I just started messing around. About six months later, something happened. I realized this is going to be a real thing for me. Instead of going to pick up the phone to call someone, I was going to the studio. I wanted to cry to my mom on the phone, but instead of that, I would go to the console. And I knew something had really happened, and it was good.
The first track that we got to hear from The Black Madonna, if I understand correctly, was "Exodus." "Exodus" makes use of Celestial Choir's "Stand On The Word," as famously remixed by Larry Levan. And I'm curious, what made you decide to choose and stick with a pretty recognizable sample?
Well, stupidity. At the time that I heard it, it was the August before I moved to Chicago. I heard it the first time on a Lady Miss Kier radio broadcast, and if it was well known, I didn't know. And so I Googled the lyrics to try to figure out what it was. Because sometimes it's listed as Celestial Choir and sometimes it's listed as the Joubert Choir. I found it as that, and I found a copy of it that way. But I didn't know. I found out way after the fact. So the first time I heard it, I knew I wanted to do something with it. I was like, "Oh my god, it's so good." Which, of course, it is. You know, duh. But I sat on it forever and ever. Actually, "Exodus" was the last track I had to get Angel's help with the engineering part of it. I was starting to learn how to use Logic, and I laid it out in Ableton at first on the beach with my mom when we were — our first and only family vacation, I was sitting there with my laptop, messing with it and cutting it up. I was so incompetent that I had to bring it back after I did it, and try to figure out how to get the pieces into Logic. I'd sit there and do something, and Angel would be like, "No, you're fucking it all up! Get Up!" So that's the first time that I started to work in Logic, but then he would like kick me off and yell at me and I'd go back, and whatever. So that was sort of the track that I kind of learned how to use Logic on.
And how do you feel about, generally, reusing well-known samples?
Really it all comes down to if you're fresh, doesn't it? How many times has "Is It All Over My Face?" been used? But every couple of years somebody does something with it where you go, "Fuck, it's so good!" That's sort of the challenge. I do love the idea of working within the parameters of a sample. Your challenge is to take this thing that is completely crusty and do something really fresh with it, and if you can do it, you're fresh. But while "Stand On The Word" is certainly a famous record, there is no turning-point house record that samples it. It was one of those things that I think it was sort of such a good record that people backed away from it. Like, I'm not going to mess with this. I was so dumb that I was like, "Oh my god, this would be so great!" I was too stupid not to mess with it. Now, I would never mess with it now. I would never dream of touching it now, but at the time, 2006, I was a brand-new producer.
So that track's been sitting around for a while before…
Oh, the finished track sat around. The track was done in 2008, maybe early 2009, but I want to say 2008. And didn't come out until — it was three or four years old when it came out.
Sampling also plays a big part in one of your other records on the same label, Stripped & Chewed, "We Don't Need No Music (Thank You Rahaan)." I want you to tell me a little bit about that story and why you chose to capture a moment as much as you wanted to make a song.
Sure. Well, it was just complete obsession with the video. If people haven't seen it, there's this video from a Bring the Heat party here in Chicago, which is a really great party series — in the video Rahaan turns the music off, and the crowd stays on time and just goes off for, like, five minutes. Then he brings the record back in completely on time, and they lose their minds. People just go ballistic, and it's so exciting. And I watched that video like 150 times. And I thought, "This is my favorite DJ, and I've never seen him. I've never seen this guy! Where do you find him?" So I Googled him and looked him up, and we looked for Rahaan for forever, and for a while he was during a lot of stuff in Europe and he wasn't around that much. And then finally, I got to go see him, and I thought, "Oh my god, this guy's just as good as I'd imagined."
But when I saw the video, I always had the idea to do this little tribute record to that moment, which is such a Chicago moment. So I ripped the audio right off the video, and just that little bit. We only made a handful of them, but it seems to be something that has resonated with people. It was really just my tribute to him. And when Rahaan agreed to participate in the record — it wouldn't have been the same if he didn't. But when he agreed to remix the record that he's actually playing in the video — not remix, but edit the record that he's playing in the video, we knew that it was going to be something really special, and it was. It was a really great experience.
Disco is clearly dear to your heart, even though you've made a fair bit of house and techno. What about that sound appeals to you on that deeper level?
Well, disco is the saddest music in the world, and I always kind of relate to it from that point of video. Disco is music that is for outsiders and the heartbreaking side of dance culture is something that is really close to me. We need that inclusiveness because — well, at least at one point, dance was place for outsiders, and disco especially. Disco is a music that is, at a certain point in time, made largely by outsiders, whether you're black and gay, or whatever it is. However you get there. I really felt close to that. Aesthetically, it's just such an exciting, transformative sound, for me.
I have loved disco since I knew that was a thing. My beloved family in Nashville, I have a lot of astoundingly awesome gay men in my family who loved everything from, you know, the Salsoul stuff, to whatever. And so I heard a lot of that stuff through family members. Part of it is maybe an association with that, too, but I still feel, to this day, like disco is probably the most perfect music. It does everything right. Even when it does everything that techno and house can do, and more. You want the drum-y techno stuff, we'll that stuff's in there. You want that sort of transcendent house moment, that's in there. Disco has room for all of those things. It's hypnotic in moments, if you want to get into the more Italo or Euro disco. To say "disco," disco is so big. But to me, disco is probably our most perfect music.
Taking that a step further, the stuff that we've heard from you so far has been either a little bit more house or a sort of disco-house. When are we going to get to hear the disco?
While I have loved very much working with samples and I think that that's — I do not mean to demean that. I think we have a real tendency to demote people who work with samples, and I think that that's ridiculous. You're going to tell me that Public Enemy or Paul's Boutique or Endtroducing aren't in the top 10 greatest albums of all time? Of course they are, and they're just full of samples.
Having said that, something happened a couple of years ago. I suddenly started writing without samples and just really, honestly, very influenced by people who were making disco that was current. People like Morgan Geist and Metro Area and — really, I can't really probably state there influence enough. If I ever make any money off this, I should probably just send them a check because they were just so inspirational to me. All of the things they were listening to, like even going backwards and listening to the Unclassics series and thinking about periods in time where people were really making fresh disco. And Sylvester, listening a lot at that time to Sylvester — just this really pure, emotional disco. I started working on writing all original stuff with no samples, vastly more melodically complicated than anything that I had worked with. I have some background in music before all of this, before mixtapes and everything. I went to an arts elementary and middle and high school, while I was there. And so some of them world probably creeps in. I started writing disco that has 20 sections in it. And so those are the things that will be coming out on Argot, later this year.
What's coming up from you for the rest of this year?
My next release is something completely different — I have a thing that is sort of a tweaky, grindy, slow techno thing coming out on Home Taping Is Killing Music called "We Still Believe." It sounds like DBX, but really slow, or something. I don't know what it sounds like, but, you know, that kind of 101 Detroit sound. Maybe someone else will think it sounds completely different. But it's really slow, and that's got a remix from The Revenge. And that's coming out any moment. I think they're promoing it right now. I have a remix coming out on Derrick Carter's label, Classic. And I have a bunch of other work that I have to get done for other people that I probably shouldn't talk about until I get it done. Let's see if I actually finish it. But those are the main things that I have coming, and I will continue doing stuff on Stripped & Chewed, of course. And then, last but not least, I think this year I'm going to do my own imprint.
Cool. Tell me about the mix you made for LWE.
It's sort of reflective of the period of time that I've been going through. I'm always sort of interested in the light and the dark part of dance music, and this has been a really crazy time for me. I just lost a parent, and I lost a really dear friend a few months ago, and I think this was the mix where I was kind of working some of the stuff out. I really love gospel, and the first couple of tracks on it are gospel. And I think this, like most of the original stuff that I've done, is about just kind of leaning into that hard stuff and trying to tunnel your way out through dance.