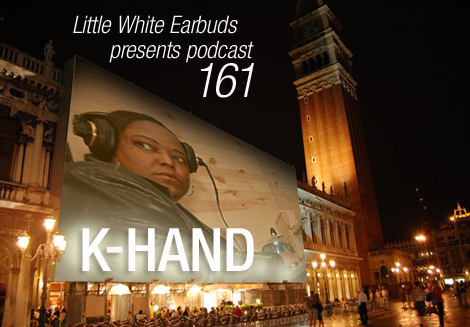 Releasing "Think About It" as Etat Solide on her own UK House Records in 1990, Kelli Hand became one of the first female producers of house and techno in the world. To avoid the confusion of origin that the label name created, Hand re-titled her imprint Acacia Records after a street in her hometown of Detroit. On Acacia she championed her own early work with Claude Young as Rhythm Foundation, her solo productions as K. Hand, as well as giving talents like Sean Deason and Wamdue Kids a home for their first releases. Continuing to also release on other labels around the world, she became the first artist to release an album on the lauded Studio !K7 label, and has gone on to release more than 50 singles and seven albums in a career that spans three decades. LWE tracked down Hand to find out more about her career, her formative influences, and what's going on with Acacia Records. She also mixed our 161st exclusive podcast, which shows off her particular tastes and incredible skills on the decks.
LWE Podcast 161: K-HAND (110:25)
Audio clip: Adobe Flash Player (version 9 or above) is required to play this audio clip. Download the latest version here. You also need to have JavaScript enabled in your browser.
Tracklist:
01. Doruk Ozlen feat. Raquel Dwyer, "I Love You" (Doruk's Bonus Tribal Drums) [Gotsoul Records]
02. Zoo Look feat. Amy Lyon, "Over Me" [Morris Audio]
03. K-Hand, "Love Games" (K-Hand Dub Mix) [Acacia]
04. Andy Rojas, "Talengue" [Vamos Music]
05. K-Hand, "Outta Yo Mind" [Third Ear Recordings]
06. Audiowhores, "Chains" [Noir Music]
07. J Paul Getto, "Different Folks" [Guesthouse Music]
08. Startraxx, "I Feel Nu Luv" [Mena Music]
09. Strokin, "Disc Jockey Snack" [white*]
10. Lauer & Canard feat. Max Williams, "Looks Like Love" [Porno Star Music]
11. Greg Stainer, "Keep It Real" (David Jones Mix) [Stained Music]
12. Miss Divine & Jon Kong, "No Grace" [Nocturnal Groove]
13. K-Hand, "Feel" (Original) [Acacia]
14. Adam Port, "Someone To Love" [Keinemusik]
15. Toby Montana & Dan Caster, "Mama Say" [Light My Fire]
16. Daniel Stefanik feat. Cassy, "Keep On" (Version II) [Cocoon Recordings]
17. Tale Of Us, "Another Earth" [M_nus]
18. Gonzak, "Rock Bend" [Bedroom Muzik]
19. Carl Cox V Yousef, "I Want You (Forever)" (Deadmau5 Remix) [Cr2 Records]
20. Rework, "Werewolf" (Magda Remix) [Meant Records]
21. Daniel Portman, "Something In The Air" [Unreleased Digital]
22. K-Hand, "Dusty" (Andrew Duke Remix) [Gorsch*]
23. Gaiser, "Some Slip" [M_nus]
24. Valentino Kanzyani, "Woodoo Samba" [Cadenza]
25. Adam Port, "Black Noise" [Cocoon Recordings]
* denotes tracks which, as of the time of publishing, are unreleased

What was it that originally made you want to be a DJ?
K-Hand: Frequenting the Paradise Garage and Shelter in New York back in the day.
Did you have any girlfriends doing it as well?
Saskia Slegers (Miss Djax) from Holland and Queen Latifah, although she's in a different genre.
And what was the moment where you decided to start producing your own tracks?
My moment began when I became a resident DJ in a small Detroit club. It was a good time to test our $50 acetates, ha!
Did you have anyone mentoring you at this stage?
As far as the club scene, the late Ken Collier. Derrick May was the first person I can remember asking a whole bunch of questions. Then later I was introduced to Mike Banks. I already knew Jeff Mills from a couple of residencies in Ann Arbor.
I understand that Jeff Mills had spoken to you about releasing on Axis or UR, but you chose instead to start your own label. What was your reason for doing this rather than having your first release out on an already established label?
Ha! Yes… that was so long ago, however, thinking back, I wanted to see exactly what the full process entailed in releasing my own first record.
I'm interested about the vocalist on a couple of your Etat Solide releases. Who was Zoey? It looks like those are the only records she performed on; do you know what happened to her?
Not sure what happened to Zoey. She probably still is walking down the streets of Acacia in Detroit waiting in line to record her next record. Etat Solide was the first release on my label… it's still around.
Another of your early releases on Acacia was by Broad Mix Music. Was that an alias of yours?
Not at all, it was a company name I founded, at the time to use for forthcoming music projects collaborations, with other music and DJ producers based in Detroit.
Things have been quiet on the release front for Acacia for some years. Is the label still active?
We Just finished revamping Acacia to date, it's all a continuation of bridging the gap. Everything is a work in progress, in progression.
I've read in other interviews that you got to experience the Paradise Garage in its hey-day. Since then have there been any particular clubs you felt had a similarly magic vibe?
Yes, that is correct, and ha, no similar vibe seen yet as I travel DJing the world. If I've missed something please send me a post of the name of the club.
You are one of the first female house and techno producers in the world. You've released a crazy amount of records in your career including seven albums. I can't help but feel that you've been criminally overlooked. What are your thoughts on this?
Hahaha! Ray Charles and Stevie wonder can see this, also. As a business woman, multi-media artist, and DJ, I really haven't even thought about it. Everyone will have their time when that time arrives. Perhaps this may have something to do with an over-saturated market?
Your Rhythm Formation project with Claude Young had some great releases. Tell me about the "Flash Back" track. Did Joey Beltram endorse this release?
Thank you, appreciate the compliment for myself and Claude! Nah, that "Flashback" track was something I was just playing around in my studio and it just so happened I came up with the same sound as Beltram — although it's a great track of the "original original." Nothing was pre-planned, endorsed, or planned for "Flashback" to my knowledge.
In terms of your studio, what gear were you using for your early releases, is that what your studio set-up like now?
An Atari computer, Casio keyboard, and a mixing board with amp. You can tell by some of the wonderful tinker sounds that came out of it. No way I am using same equipment these days, ha! I have updated some of everything and actually use different equipment for whatever I like to use. It's kind of like a kid in a candy store for me, love new software, gadgets, and gear!
You featured on Jacob Korn's track 'Dance Away' as a vocalist. Had you provided vocals on any of your own tracks before, or where you mostly using samples or other vocalists?
Yes, "Roots" on R&S records in Belgium, and a few others. New projects are in progress. I use my own voice, or grab a vocalist on the Acacia team.
What can you tell us about the mix you've put together for us?
Thank you for all your support! Really look forward to this podcast release on Little White Earbuds, hope you all enjoy! The first half of my mix is housey and the second part is minimal electro. I like to give a mixture of everything, for everyone's listening pleasure to enjoy.
What can we expect from K-HAND over the next year?
Traveling touring, bridging the gap, work in progress, where progress is always work.