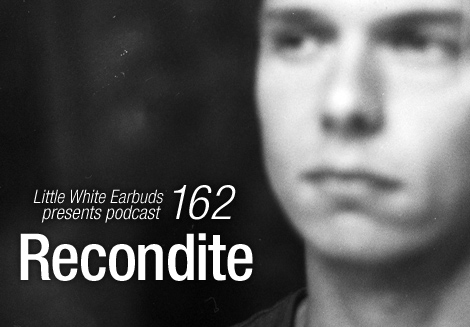 His productions may be charged with the feeling of urban decay and a certain malign outlook, but much of the incubation of Recondite's pensive style actually happened during time spent in the mountains. It was almost a decade ago that the now Berlin-based artist starting producing music. Spurred on by hearing Superpitcher's Today CD, he started amassing equipment, turned his mother's basement into a makeshift studio and began teaching himself how to produce. Initially pitching his demos to Dial, rather than being discouraged when he didn't hear back, he simply decided to set up his own label instead. The first Plangent release in early 2011 struck such a chord that he immediately become a closely watched artist. More Plangent releases followed, the artist really hitting his stride in 2012 with an artist album for Acid Test and an EP for Hotflush. It was the album that properly established Recondite, his take on acid translated in long form finding its way into many end of year lists and garnering the producer a solid following. 2013 has already seen the fifth installment of the Plangent series and an EP for the fledgling Berlin label Dystopian. Wanting to delve deeper into the world of Recondite, Little White Earbuds got in touch to talk about his studio, why he's not likely to be remixing many other producers, and just where German cock-rockers Rammstein fit into his work. He was also kind enough to put together a live set of his own productions for us that makes up our 162nd exclusive podcast. He suggests you listen to it in the back seat of a car, high on summer sun and natural combustibles, but we think its brilliance is likely to hit you no matter where you hear it.
LWE Podcast 162: Recondite (110:25)
Audio clip: Adobe Flash Player (version 9 or above) is required to play this audio clip. Download the latest version here. You also need to have JavaScript enabled in your browser.

So you first came to attention via your releases on your own label Plangent. How long had you been working on your productions before you released your first record?
Recondite: Nine years ago I got my first day job as a physical therapist in Munich, and I moved there from the countryside. It was a good clinic, but for me the job was not easy to handle. The time, the environment and the work itself was very difficult to deal with. I went to Austria to work in a five star hotel; after eight months as I desperately wanted to get out of the city again. Up at 1400m I had enough nature and the environment I needed at that time. I had been collecting hip-hop and electronic music like a mad man for a couple of years at that time. Anyways, I was able to save up some money (awesome tips) in that hotel to take a small world-traveling trip.
After I came back the first thing I did was move in to the basement of my mother's house and built a studio in there. To be honest, since that day EVERYTHING I did was tailored towards being able to vent and concentrate certain moods into music. A couple of months later I got my own place with an awesome sounding garage, put a studio in there and had great days/nights in there. It was so far out in the sticks — 100% nature — it was awesome. I had the perfect surrounding to learn the techniques to be able to produce music in a way that does not really feel like work. Actually most of the time when I do a "good" track it is the product of a soothing and calming session for me.
In 2009 I had to be in Berlin, as is a very common step for people with my vision. It was the right thing to do. Although I have to say that I miss my home quite a lot and I go back there AT LEAST every season, as it's only a six hour drive. In late 2010 I had the first test pressing of Plangent 001 in my hands.
Tell me about setting up Plangent. Was it out of necessity to release your own material? Had you shopped your tracks around to other labels?
I shopped a couple of tunes towards one other label, yes. That was Dial. But there was no response, so I said screw them, let's set up something new. Plangent was a logical step.
Are you planning to release other artists on the label or is it strictly for your own productions?
I hope I won't get killed by a couple of people who sent me promos, whom I told that Plangent is Recondite only at the moment 😉 as it is almost safe to say now that Plangent 006 will be done by one of my best friends. Actually he was part of the "Unterholz" track on PLAN001!
I understand you kind of got your start in producing via your mother's boyfriend. What happened there?
When I set up the studio in my mom's basement, in the house her new husband had a studio also. He does productions and compositions for commercials mostly and he had this old school set up with a huge outboard mixing console and a tape machine. It's stuff he does not use anymore as they moved to a smaller place now, which forced him to minimize his set up. But yes, he was a huge help! He gave me Cubase and a keyboard, I think it was some old Yamaha sampler, but I used it as a midi keyboard mostly. I started working with field recordings right from the start, and it was passionate from the first day. I just enjoy doing tunes so much. I spent an enormous amount of time with doing music since 2007.
From there what was your own first studio set-up like?
At my flat I got after that time my set up was a Jomox09 an Access Virus A, still that Yamaha sampler, two Yamaha HS80M which I still use, and some M-Audio midi controller.
Tell us about the recording of On Acid. How did you find working within the parameters set out by Acid Test?
That was pure fun! As at first we intended to do an EP I did not have any pressure to come up with a load of tracks, so I just enjoyed myself with the 303 sounds and put my mood stamp on there. So basically it was my personal take on acid.
To date you've only remixed Scuba's "The Hope." Do you have any more remixes coming out soon? Has it been a matter of not being asked so far or that you don't want to remix too many people?
To be honest I do not like doing remixes so much. I feel limited sometimes. I get to the point where I find the remix not sounding like the original at all very often. There will be some more remixes out though. I think I will do one for PLAN006 and also for another artist.
So you've just been on a bit of a tour. Where have you been and how did it go?
The last couple of weeks have been busy but up there with the best times of my life. My girlfriend and I went to Asia. I played ORGANIK festival in Taiwan which was mesmerizing; Taiwanese rain forest, mountains, and pacific — ALL IN ONE SPOT. It was a great experience to get to know the country and especially all the persons around SMOKE MACHINE. Smart, friendly, tasteful and honest people. After that laid back I played on a Sunday morning with all my deep, chilled, cerebral tunes; it was a total contrast to play in Singapore. First I had an awesome host again, the guys behind Midnight Shift — the record label that hosts two of my recent tracks. They showed us around and they took us to the good spots, then introduced us to great food and made an awesome party work at Singapore's very new up and coming club called KYO. Obviously there I did not play chilled and laid back. I sensed I had to generate some action on the floor, which perfectly worked. Shortly after that I played to the biggest crowd I have ever played to, in Lyon at Nuit Sonores on an outdoor stage again. 5000 people vibin' — what an experience! Now Output NYC and the Klockworks party during Movement in Detroit is the next thing!
Do you generally play live when you do a show? Did you start producing or DJing first?
Yes, I generally play live at the moment. I started out with DJing though and who knows what happens in the future. Right now I love the idea of being a DJ with my own productions. Obviously I do edits of my tracks and add a sample here and there, but I'm not a big fan of not respecting the intentions of a track I did, with all its architecture, by rearranging it on the fly just for some dogmatic cause. At this point I can act as a DJ with his ability of adaption and flexibility (Taiwan and Singapore was the best example) without being boring and still play for 90-120 mins. That is a huge achievement, and that lets me enjoy my sets a lot!
What were some of the producers or tracks that you remember that first got you into electronic music?
I think it was MF Doom, RZA and J Dilla as their MPC skills generated interest in beatmaking in general!
And what are some of the less obvious musical influences we might hear in your tracks?
Rammstein definitely, I think you can hear that in my track "EC10," for example.
What can you tell us about the set you put together for us?
I was thinking about it for a couple of days, whether I should do a set like I would play it to a big dance floor or not. In the end I decided to make one that comes in very nicely when you sit on the backseat of a car with a decent sound system — after a long summer bathing day on a nice lake, maybe a little high of the sun or some herbs and you sit back and enjoy a deep ride with minor peaks, an occasional fist pump here and there included 😉
And what can we expect from Recondite over the next year?
This year there will be the first genuine non-concept Recondite album in the second half of 2013. An LP which I'm very proud of as it is the most personal thing I have done until now. That does not judge the subjective quality of the tracks. It's just that the content, the used sounds, the atmospheres, the cover, everything, is basically me. It will be released on Ghostly International in the 2nd half of 2013. Next year should also hold releases for Dystopian, Hotflush and Acid Test.