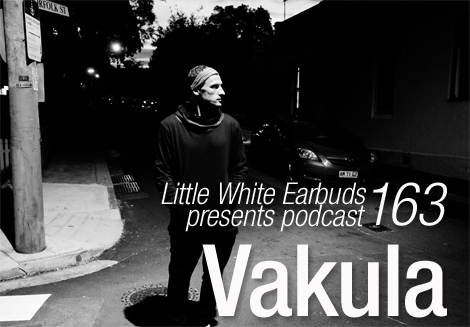 When Vakula emerged in 2008 with the instantly arresting Night In Konotop EP, it was a minor hit for the burgeoning Quintessentials label who had already featured an early EP from the hotly-tipped Anton Zap. There was no doubt that the four tracks on Vakula's first release owed a debt to the likes of KDJ and Theo Parrish, but as a steadier stream of releases started flowing from the artist in 2010 it quickly became apparent the Ukranian producer was never out to ape anyone's sound. It somehow didn't seem possible, but as his discography grew, it seemed so too did the impressive nature of his production. Ranging from raw, subterranean house tracks through to erudite, mechanical techno, Vakula's output is ardently anticipated, but fortunately for his fans there has thus far been a steady stream of it, whether under his Vakula handle or as V, Vedomir or Vedagor. A long time fan of the producer, Little White Earbuds set out to conduct an in-depth interview with the artist born Mikhaylo Vityk, but with language differences getting in the way this proved to be a somewhat fruitless task. His sentiments however shone through via his preferred method of communication: ethereal, tripped out house that makes up LWE's 163rd podcast.
LWE Podcast 163: Vakula (110:25)
Audio clip: Adobe Flash Player (version 9 or above) is required to play this audio clip. Download the latest version here. You also need to have JavaScript enabled in your browser.

First of all can you tell us about your association with the band MySpaceRocket, of which Nina Kraviz was also a member?
Vakula: I do not have anything to do with this group. Initially, I was involved with it with Nina Kravitz but she acted dishonestly and in my absence this track has been published under a different name. I do not like it when people do that.
When did you start working on your own material?
About eight years ago.
Where does the name Vakula come from?
The roots of the name Vakula are from a story by Nikolai Gogol. I love this Ukrainian writer. He was a profound man, full of mystery and mysticism.
Right from the start you were releasing on some very respected labels. Did you have contacts with these labels through DJing or were you sending out demos to them?
These labels found me on MySpace, I do not like imposing. Even now, having two of my own labels I never send demos out.
Certain releases of yours seem to follow a certain aesthetic. For example your Leleka releases seem to have a jazz and funk undertone throughout them, whereas your releases on Shevchenko seem to be more about dub. Can you tell us about what these releases represent to you?
The desire to experiment, to not stand in one place, and to be in motion. I lose interest in artists who each year keep the same style.
What is the bird on the Leleka labels? What meaning does that hold for you?
It is the bird of happiness. It makes sense, naturally. I want to give happiness to people, like this bird does — an aist (stork) is mythically, the creature that brings babies into the houses of those who need them.
Your tracks often make use of samples — and from the sounds of it, from a pretty incredible wealth of jazz, funk and soul records. Are the samples taken from your record collection? If so how did you get into buying this stuff?
I rarely use samples. To be more precise, I have done in the past. At this time for about the past three years I have been writing with live musicians.
How would you say your sound has progressed, or perhaps how do you feel you've grown musically since your first releases?
I was just experimenting in the past, it's so different now.
Can you tell us about your different pseudonyms, Vedagor, V, and Vedomir? Your work as V is obviously musically quite different to your other material, but does the music you produce under the other names differ for you from the Vakula tracks?
Aliases appeared only because the old tracks are not like me and I did not want to publish them under the name of Vakula.
On your Vedomir project, you've got a few people playing instruments. Is this a direction you want to pursue more, to have live elements in your music?
Yes, my music tends to a more acoustic sound and I like this direction.
You have put out an incredible amount of music in the last few years. How often are you in your studio? Do you have a fast work rate?
Every day that I'm not on tour, I spend in the studio. But to create a lot of tracks doesn't mean anything to me. It is better to focus on a single song and get it right.
What can you tell us about the mix that you have put together for us?
In my mix I wanted to reproduce the memory of my last dream that I had before recording the mix. At this point I was in the apartment with friends in Sydney. There was a really good mixer E&S DJR-400 (thanks Karim), and two turntables Technics 1210 + my DJ bag clogged with vinyl for a tour of Australia and also about 12 records that I had bought recently in Melbourne.
What can we expect from you and your many musical aliases over the next year?
Music.