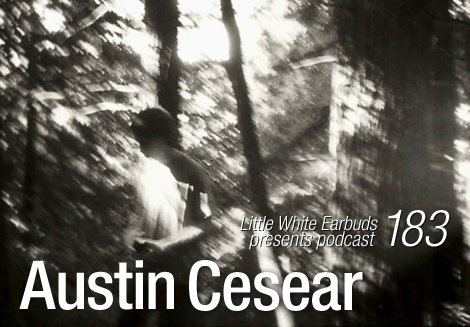 With the wealth of record labels and producers growing seemingly exponentially, it is no wonder when the occasional releases slip between the cracks and go unnoticed at first. It happened a few years ago when Seattle producer Jon McMillion released his astounding, self-titled, full-length debut. And just last year the quietly achieving Public Information label issued an album from the hitherto unknown Austin Cesear, with his Cruise Forever long player. Its granular, analogue-sounding jams embraced experimental house and techno and was stitched together with ambient vignettes. Perhaps the slow uptake on Cesear's remarkable album was due to its medium and its limited run (only 400 vinyl copies were pressed), but when the right ears did finally happen upon the record, it received its overdue acclaim. Previous to the album, Bay area native Cesear had been part of a band called Range Rover whose sound joined the dots between drone, rock and dub techno, and he had also dabbled with production for the bass-wise project Drop/Dead. LWE sought out the young producer to find out whether his other projects were still active, how his jammed approach drives his sound, and if he feels any pressure to follow up his hugely impressive first release. He also provided us with our 183rd exclusive podcast, an hour long journey of house and techno to sate even the fussiest of tastes.
Download LWE Podcast 183: Austin Cesear (52:52)
Audio clip: Adobe Flash Player (version 9 or above) is required to play this audio clip. Download the latest version here. You also need to have JavaScript enabled in your browser.
Tracklist:
01. Longmont Potion Castle, "Stop Playing Harmonica" [Insides Music]
02. Huerco S., "Version 3" [*]
03. DJ Spider, "Misanthropy" (Kuru Remix) [Sublevel Sounds]
04. Swayzak, "l.o.9.v.e" [Pagan]
05. Stefan Jòs, "04" [Opal Tapes*]
06. Local Artist, "Sun Raw" [Proibito]
07. Donato Dozzy, "Vaporware 04" [Spectrum Spools]
08. Unknown, "Untitled" [white]
09. Dynarec, "Pentagon Deflector" [Delsin]
10. Rene Hell, "Var_len" [Pan]
11. Infinity Window, "Skull Theft" [Arbor]
12. Unknown, "Astronaut" [White]
13. Karen Gwyer, "Judd Drums" [Public Information]
14. Tony Allen, "Ole" (A Remix By Moritz von Oswald) [Honest Jon's Records]
15. Royal Crown Of Sweden, "Vättern" [Proibito]
16. Million Brazilians, "Untitled" [Psychic Sounds]
* denotes tracks which, at the time of publishing, were unreleased

Hi Austin. So your Cruise Forever album came out of nowhere and impressed a lot of people. I understand that Public Information hit you up about doing something when they heard some tracks of yours. Did they ask for a full album straight off
Austin Cesear: Yo Per, thanks. Originally I presented Cruise Forever as a four track EP. Then as I started sending them more tracks they wanted to make it a full length.
What was it like going through the process of making the rest of the tracks to make a cohesive album? What sort of things were you considering in that process?
It was interesting having a bunch of songs and hearing them start to develop into something. None of the songs were really made with the intention of putting them on that release, except for maybe "Peralta Palace," which I think was the last song I wrote. I just sent them tracks and mixes, then we sort of analyzed them to decide which ones worked best together. Once we had the songs I tried to make some sense of it. The songs have some meaning to me, but it's mostly just some jams that represent where I was at the time.
How long were you making the music that would come out under your own name before you released the album?
All the songs on Cruise Forever were recorded between April 2011 to April 2012. The first song recorded was "The Beast" and the last was "Peralta Palace" — I just looked it up. I've been making electronic music for a while though.
You were making music before this as Range Rover. Is that more of a band based project? Are you still doing that?
Yeah, Range Rover was a band with me and my two friends. We started it while we were living in San Diego but then we all moved to different cities, so what can you do? We're still good friends and I work with them occasionally on different things but we don't make music as Range Rover anymore.
How often are you in your studio? Do you do music full time or hold down a job too?
I work on music pretty often, almost every day. If not I'll be listening to some mixes from the previous day or something. I do have a job to pay the bills though.
There are some obvious influences that shine through in your music, but what would people be surprised to hear that you listen to and that influences you?
I'm not sure, man. Probably not many surprises really. I use to think I knew a thing or two about music, but the more DJ guys I meet I realize I just know the basics. I was listening to a lot of Gucci Mane this summer, I don't know if that's a surprise or not.
Do you listen to a lot of current music? Is that a sounding board for you in any way in terms of what you do? Or is most of your time spent with music, making your own?
I love new music, but I don't listen to a lot of it. I like listening to my friends' music; something about getting to know someone and hearing the music they make, it can tell you a lot about a person. I think that's had the most influence on me lately. Some friends just opened a record store called RS94109 in San Francisco, and they've been showing me a lot of great music, all kinds of stuff. Been super grateful for that. But yeah, to be honest I spend a lot of time listening to my own music.
What can you tell us about the mix you've put together for us?
The mix is just a little bit of what I've been listening to lately. The Stefan Jos track is forthcoming on a split with me for Opal Tapes. Not sure if that Huerco S. track is going to be released. I recorded it with a laptop, DJ mixer, and delay.
What can we expect from Austin Cesear over the next year?
I've got a few releases lined up. That split for Opal Tapes I just mentioned should come out this winter. I have a 12″ coming out soon on Proibito, Anthony Naples' label. And I just finished my next record for Public Information, it got mastered yesterday I believe. Will probably play some more shows as well. We're setting up some shows in Europe with the other Public Info homies, Acteurs. Good times my man!