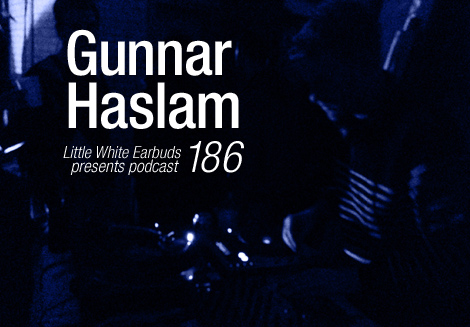 It's hard to think of a record label in the past few years that has charted success quite like New York's L.I.E.S. Yes the trusted institutions like Delsin, Rush Hour and Clone have continued to go from strength to strength, but when you consider that L.I.E.S. Is still very much the new kid on the block and add to that equation that the majority of their signings have never appeared elsewhere, it speaks volumes about how well the label is doing. Gunnar Haslam is one such signing, coming to attention with his Mimesiak LP released in July of this year, the collection of rude, often experimental tracks harnessed perfectly the ethos of the label. As impressive as the long player was, his just-released follow up EP for LWE editor Steve Mizek's Argot label revealed that the producer is learning on the job; the three tracks that make up the Bera Range EP showing a marked evolution in his abilities. Without any real information on Haslam, LWE sought to unearth some vital facts about the New Yorker and charged him with putting together our 186th exclusive podcast. The resulting mix is 85 minutes of top notch techno that reflects both the dance floor and more cerebral sides of Haslam and is a vital listen no matter what your personal preference is.
Download LWE Podcast 186: Gunnar Haslam (85:46)
Audio clip: Adobe Flash Player (version 9 or above) is required to play this audio clip. Download the latest version here. You also need to have JavaScript enabled in your browser.
Tracklist:
01. Max Loderbauer, "Gamshag" [Non Standard Productions]
02. Various Artists, "6" [Chain Reaction]
03. Planetary Assault Systems, "Tap Dance" [Peacefrog]
04. Gunnar Haslam, "Kohle (beats)" [L.I.E.S.]*
05. Claro Intelecto, "Hunt You Down" [Modern Love]
06. Vladislav Delay, "Neo" [Max Ernst]
07. nsi., "Dual" [Non Standard Productions]
08. Norman Nodge, "Homology" [Marcel Dettmann Records]
09. Levon Vincent, "Early Reflections [Novel Sound]
10. Mike Dehnert, "Deep Route" [Deeply Rooted House]
11. Conforce, "Vacuum" [Delsin]
12. Sounders Department, Cosmopolitan (mix 2)" [Sounders Department]
13. Photek, "Glamourama" [Science]
14. Damon Wild, "Avion" [Synewave]
15. Studio 1, "Rot 1" [Studio 1]
16. Pantytec, "Doubledip Uuh.." [Perlon]
17. Jasper, "The Battle" [Force Inc.]
18. Robert Hood, "Side Effects" [Music Man]
19. Nuel, "Aquaplano ltd 01 b2" [Aquaplano]
20. Circuit Breaker, "Overkill (F.U. +8)" [Probe Records]
21. AFX, "Boxing Day" [Rephlex]
22. Sandwell District, "Grey Cut Out" [Sandwell District]
23. Autechre, "Basscadet (Bcdtmx)" [Warp]
24. Entro & Terri, "The Cap" [L.I.E.S.]
* denotes tracks which, at the time of publishing, were unreleased

Hi Gunnar, can you give us a little information about yourself. Are you born and raised in New York?
Gunnar Haslam: Yeah, born in Manhattan and raised just outside the city. I lived in Manhattan for as long as I could, now I'm exiled in Brooklyn like everyone else.
And do you have Scandinavian heritage or is that a nom de plume?
It is an assumed name, though I do come from a line of Icelanders and Germans.
So musically, and pretty much in terms of all kind of information on you we just know that you have released your album on L.I.E.S., a newer EP for Steve's Argot label, and you did the first podcast for L.I.E.S. as well. There's a lot of gaps to fill. First of all can we talk about your album? How long in the making was it?
Mimesiak was made over the course of a couple months.
And bigger picture, what has been your musical upbringing and when did you start getting into making music?
I got into techno when I was 16 or so and have been working my way down the rabbit hole ever since. I don't come from a musical family or anything, but I've been DJing and buying records for a long time. At some point it made sense to give the production thing a shot, so after fooling around for a couple years with whatever hardware pieces I could pick up, I started to focus on making music and see where it would take me.
L.I.E.S. has gone from strength to strength with its roster of largely unknown producers. Did you approach the label with your music with this in mind or did you already know Ron?
I already knew Ron; I lived a couple blocks from A1 Records and would see him at the shop all the time. The A1 regulars will know that it can sometimes be a pain in the ass to find the gold amidst the hundreds of terrible post-'94 Strictly Rhythm records no one wants, so having Ron as a guide is pretty key. Some time in 2012 I was out seeing Ron DJ and I was really impressed by what he was playing. I had heard him play before, but that particular night was on a totally different level and it just made sense to start sending him some of the music I was working on.
At what stage where you in touch regarding releasing? Did you already have an album full of material or were you commissioned to make one?
Ron was digging what I sent him and proposed the idea for an album. I suppose it was "commissioned" — over the next couple months I worked on tracks with the idea of an album in the back of my mind, and eventually we sat down at A1 and put the album together over some north-western Chinese noodles.
Your EP for Argot is distinctly more dance floor orientated. Given that your only other output to date has been the album, is this something you focussed on specifically for the EP or is it more of an evolution and growth in your capacity as a producer?
I suppose a bit of both, really. Mimesiak consists of the first music I've ever made, so naturally everything that comes after it is the result of evolution and growth, and it's rewarding to sense your own progression in both a technical and creative fashion. I would say that about a third of the music that I make is suitable for the dance floor while the rest is maybe better listened to in bed or in a park or something. I guess the differences between Bera Range and Mimesiak reflect the fact that I enjoy making music for various situations.
When trends start to take place in modern culture, whether it's something like everything referencing a certain era or there being a label like L.I.E.S. presenting a more raw, embryonic view of dance music, people (usually journalists) start trying to mash the square peg into the round hole as it were. What is your take on that? Do you think it's a complete media fabrication to try and create an exciting new genre or is that also something that artists can play up to?
Genres are helpful guidelines for people to find/buy music and discuss it; and as those discussions most visibly take place in the media, it makes sense that the media is also where those genres are created. However, any good journalism reflects what's going on in music both accurately and with clarity, and when music writers create genres and lump artists into those genres to fit their own pre-conceived narratives, that's a problem. But as you say, it's a two-way street: just as some journalists can create their own nonsense genres to further their own careers, so can artists then play into the bullshit to try to be on-trend or whatever. I'm all for new styles and new genres, even those with silly names, but no one wants to be pigeon-holed, or lumped in with something they don't feel they're a part of.
With an exception of some of the drum kit used across both releases, there is a pretty wide stylistic gulf between your first two releases. This seems to suggest you're capable of making a variety of dance music styles. Where would you say your style is going and do you feel yourself developing into a more focused aesthetic?
It's going everywhere and nowhere. Some days it sounds to me like my music is all over the map, stylistically, and other days it seems to all sound similar to me. Most of what I've been making recently veers quite radically from what's been released so far, and I don't see these shifts in how I approach and create music abating any time soon. I tend to make music as a response to the records I'm listening to and I buy a lot of records.
Considering how much you've already put out in a year's time, would you consider yourself prolific? Does it take you long to finish a track? What are the pros and cons of being prolific?
I'm pretty quick with making music; most of it is finished in a couple of hours. The most important thing, for me, is the idea, and once I've made a loop or something that I find interesting there isn't a whole lot left to do. I really don't like sitting around and adjusting snares or whatever; if the idea is there and I like it then it's done. I don't think there's anything wrong with being prolific as long as you keep yourself in check and don't feel compelled to release everything. If it's good and you're happy with it I don't see a reason to hold it back. But some music I make is just for myself to listen to, and some are experiments that didn't quite work out — neither really need to see the light of day.
What is the last artistic performance you saw/heard that really inspired you?
Musically, I'm mostly inspired by the people around me. I see fellow L.I.E.S. artists like Jahiliyya Fields and Shawn O'Sullivan pretty often and always dig what they do in a live setting. And as a DJ, I don't really think there's anyone better than Silent Servant.
What can you tell us about the mix you put together for us?
I suppose it's a pretty straightforward example of me as a DJ. I recorded it at home with two turntables and one CD player for some unreleased stuff. There's a new cut by me in there, which is coming out soon.
And what can we expect from Gunnar Haslam over the next year?
I'm closing out this year with a track on the L.I.E.S. Music For Shut-Ins compilation called "Aisepos." Other than that, I can say that I have another L.I.E.S. record on deck for early next year, another EP in the works for a different label, and some new stuff coming out under a new name. There's also a collaborative project that should hopefully be coming out soon. So yeah, 2014 is already looking pretty busy release-wise. Other than all that, just trying to sort out the music that I'm sitting on and play out more.