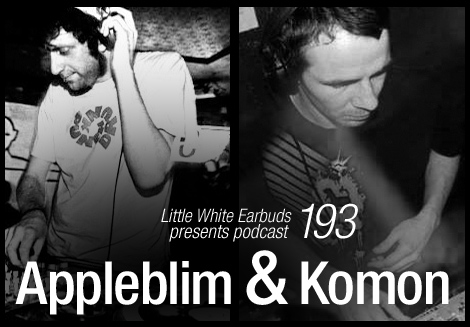 It is often said that the UK music scene is an exciting place to be. Such is its nature for innovation and perpetual evolution that it consistently throws up new styles and twists on existing genres. Undoubtedly one of the most inspirational mutations to have taken place in English music culture in the last twenty years is that of dubstep, with its many protagonists all branching out from their early forays into the sound and going on to explore a myriad of new pathways. The influence that Appleblim and Shackleton's Skull Disco label exerted in its short, three year life is not directly measurable, but it is undoubtedly one of the most unique stables from the era. Appleblim's next venture, Apple Pips has charted one strain of the post-dubstep mutations that have been echoing throughout the world for more than five years. The label has gradually shifted focus since its 2008 launch, showing also the evolution of some of the artists who have appeared regularly on there.
Keiran Lomax, who started out as Komonazmuk but is now under the slightly abridged Komon title, has been one of those artists, going from making proper dubstep to house, techno and off-kilter permutations of all three. Laurie Osborne (Appleblim) has a long list of collaboration credits to his name, but chief among those he prefers to share studio time with is Komon. Their original productions are few at this stage but they have been notching up remixes for the likes of Bonobo, My My, Beat Pharmacy and Paul Woolford for around five years. Their latest EP for Aus is a solid three-tracker of house music that you'd never have once expected to hear from either of them. LWE jumped at the chance to speak to the two producers, in the process finding out more about their personal studio habits, their outlook on their music and how a view of constant discovery has emboldened their productions. They also put together our 193rd exclusive podcast, which at a staggering 32 tracks and nearly two hours is going to keep fans of the pair very happy for a long time.
Download LWE Podcast 193: Appleblim & Komon (112:28)
Audio clip: Adobe Flash Player (version 9 or above) is required to play this audio clip. Download the latest version here. You also need to have JavaScript enabled in your browser.
Tracklist:
01. Julianna Barwick, "One Half" [Dead Oceans]
02. Donato Dozzy Plays Bee Mask, "Vaporware 04" [Spectrum Spools]
03. Otkay Uzcan, "Haunted (Lo Shea Remix)" [Tamed Muzik]
04. No Smoke, "Abele Dance" [Warriors Dance]
05. Komon & Appleblim, "Jupiter" [Aus Music]
06. Komon, "Walk The Walk (17.45 Edit)" [Aus Music]
07. Kindimmer, "Mental" [Telefonplan]
08. Graze, "Ripley" [New Kanada]
09. In Flagranti, "Outsider House" [Phonica]
10. Luke Vibert, "Acrobot" [Hypercolour*]Â 
11. Rivet, "Bear Bile Pt. 3" [Kontra Musik*]
12. L.B. Dub Corp, "Take A Ride Ft. Benjamin Zephaniah" [Ostgut Ton]
13. Radio Slave, "Tantakatan" (Mr. G's Nightwatch Dub) [REKIDS]
14. Fela Kuti, "Shakara (Ossie's Bump Edit)" [Somethink Sounds]
15. Taras van de Voorde & David Vunk, "Need You Tonight" (Alden Tyrell Remix) [Moustache Records*]
16. Sideshow, "If Alone feat. Paul St Hilaire" (Chateau Flight Dub Mix)
[Aus Music]
17. Organ Grinder, "Spanner In The Works" (Alden Tyrell & Gerd Remix) [4Lux]
18. Midland, "For (Yacht) Club Use Only" (Leon Vynehall Remix) [Aus Music]
19. Dubspeeka, "C Remix" (Komon & Appleblim Remix) [*]
20. Minimal Man, "Coyote Flux" [Trelik]
21. Komon & Appleblim, "Key Vision" [*]
22. Psyche, "How The West Was Won" [Applied Rhythmic Technology]
23. Moritz Von Oswald Trio, "Blue Dub" [Honest Jons]
24. Gadi Mizrahi, "Can't Stop This Feeling" (Sideshow Remix) [Aus Music]
25. Acre, "Trace Loops" [Cold Recordings*]
26. Infiniti, "Game One" (OV 2013 Dub Remix) [Opilec Music]
27. Komon & Appleblim, "Beach Trek" [Aus Music]
28. U.R., "Biosensors In Complex Tunnel Africa" [Underground Resistance]
29. ALSO, "Raves" [*]
30. Donato Dozzy Plays Bee Mask, "Vaporware 03" [Spectrum Spools]
31. Om Unit, "Healing Rain" [Civil Music]
32. Cliff Martinez, "Rubber Head" [Invada]
* denotes tracks which, at the time of publishing, are unreleased

Okay guys, there's been enough written about your early years I feel for us to gloss over most of them. You first started collaborating via remixes didn't you? When did you first meet each other and were you attempting to write tracks together before you tackled remixes? How did it work?
Appleblim: We first met through my mate Wedge (now Bleecker of Lrusse & Bleecker) who had a radio show on Sub FM. He knew Tony Addison Groove (who was then Headhunter) who I was linked to through my work with Tempa & FWD>>. Tony was tight with a crew of Bristol producers and MCs: people like Tech Itch, Jakes, and Ice Minus — one third of which was Kieren Komonazmuk! Along with Pinch and Peverelist they were some of the first people we met in the Bristol music scene and they were very welcoming and friendly. Kieren even helped us at 1 AM when we were moving house to Bristol — no questions asked, he was there! A friendship was struck up and we played on each others' radio show, us on Bristol pirate station BS1 (then on Frontline, a pretty gully street in St Pauls!) and them on Wedge's show… that's how it all began! And yes, the first music we worked on together was a remix of Sideshow featuring one of my fave vocalists, Tikiman of Rhythm & Sound fame, on Aus Music, who we are both still affiliated with, so it's all very fitting I think!
Komon: We met through mutual friends as they were on the same course and we were all making the same sort of tunes. When we met we didn't really talk about working on tracks; we just got on and played music to each other. Over this time we built up a good friendship and this naturally led to us writing together. Laurie and I worked on a project for Aus Music and it all went on from there really. We were both wanting to write original material so in 2012 I think we started jamming and the end results were "Silencio" and "Gas Jam."
For both of you the music that you were initially best known for is not really what you make any more. What do you each feel were some of the factors in your sound growing/evolving/mutating?
Appleblim: I guess we've always loved all different music. Komon was from d&b but always loved rave and hardcore and garage music. I came from a band background and going through the rave thing through to jungle and grime and so on. So really it's a natural progression to keep switching and changing. We just met through the very vibrant dubstep or bass scene when really only a handful of peeps were making it, going to the raves, and as that scene has morphed — which I think we both had our small part in — then we have morphed too. People can think, "Oh people jump on scenes," but really, have you ever loved an artist who has done the same thing over and over again without changing? Borrrrrrrring. I think that's what's so amazing about the UK music scene. You can never predict where it will go, and people are always mining the vast bunch of influences we have and twisting it into new forms. That is fascinating to me and I hope in some small way we keep adding a little something along the way or inspiring someone else to.
Komon: Coming from drum & bass and dubstep, my sound was quite aggressive and on the deeper side. I grew up around hardcore and the early rave scene and love a bit of garage. I always wanted weirdness in my productions, but found I was writing tracks to get bookings I wasn't really enjoying. I was bored of all the noise and wanted more music. It's hard to change direction when you're getting lots of bookings and you are associated with a sound or crew.
Largely it sounds like the stuff you both make now is a bit more chilled out in terms of vibe or energy. Is this also indicative of the type of gigs you now play and what you enjoy DJing?
Komon: Yes definitely, I have more fun DJing now. It really is a challenge. You know I had 99.9% of tunes at 140bpm for a good six years! I wasn't practicing at home; the first time I'd play tunes were in clubs. I bought Tracktor, but that wasn't for me. So I bought CDJs and now I'm trying to up the levels.
Appleblim: I guess yeah, I don't make much "dark" stuff these days. I mean, the stuff I tried to emulate back in the day was Vex'd, DMZ, Skream, et al. — not what I would call dark music but definitely intense. I guess I still want to move people with music and emotion. I guess it just depends on how you channel it on any particular day in the studio. DJing wise I've always tried to give people a mixture and blend of vibes, working through ambient, abstract, more experimental through to dance floor genres of all descriptions. My favorite gigs are where you have the time and feel the freedom to switch and turn and twist, though I think sometimes you just have to do that and be brave. That's what provides people with unexpected delights.
Laurie, I've read an interview with you where you indicate most of what you produce (or were producing) is (or was) sample-based as your knowledge of synths was limited. Is that still the case?
Appleblim: I am learning, and I am experimenting with synths more and more, both VSTs and analogue, though I have just gone back to sampling more and am really enjoying it! I guess you can get led by things at certain times, but I think you should never forget the power of manipulating samples.
Actually I read the same of you, Keiran, but you indicated you were teaching yourself as much as possible to make everything from scratch. What do you both do to learn more about musical composition and engineering? What do you feel is the most important part of production at the end of the day?
Komon: The vibe of the track is most important. You can write a tune in a day, mix it, the lot. If you come back to change the mix another day, chances are you'll ruin it. I don't care what I use to make tunes; Mac, PC, iPad, Atari. As long as it makes a sound, it's cool. Then make that your sound. The reason I synthesize most of my drums, etc, now is because it offers so much freedom for the way I work. I can do it with a sample but it's not as fun. Saying that though, getting a balanced mix is important; not every track needs to bang or pump. Compare but don't copy. For me, mixing this newer stuff is a very new approach. I'm trying to dirt it up; I got my analog kit going. When I was mixing dubstep and d&b I was trying to make everything super crisp and clean. Don't think I will go back to that way. It kinda sounds fresh to me now. I never stop watching tutorials and going through manuals. It's all part of the job.
Given that the two of you have done quite a few remixes together and have a couple of 12s to your names as well, is there an established way that you work together? In one of your studios? Together the whole time? Or is it more casual and a matter of passing a track back and forth to each other?
Appleblim: It's in Komon's studio, and Komon is the engineer in every way. He has the technical skills to realize some of the things I find hard to do and we both bring lots of stuff to the table in both realms, playing and jamming stuff, and also effects and processing. It's a very fruitful partnership and it just seems to work!
Komon: We mainly work from my studio as I've had a dedicated space for some time now. These studios have changed over the years from full studios with lots of outboard gear, running Logic to a laptop just running Live. My new place is a hybrid of Live 9 and outboard. We don't have any set way; we have started all remixes together to make sure we're in the same vibe etc. But original tracks have started from ideas either of us may have started at home or elsewhere. Again, with doing tutorials I'm always starting new loops and sometimes these tutorials go wrong, but in a good way.
How lengthy was the process in deciding whose name went first on your releases together?
Appleblim: Hah! My policy in every situation in that the person whose studio it is comes first! Simple!
Komon: I don't care about that. We just make tunes.
Laurie, judging by your discography it seems you get most of your inspiration from working with others. Are we likely to see a solo Appleblim album at some stage?
Appleblim: Blimey, I barely have enough faith in my tracks to finish any at all, but I have lots of ideas and sketches. I will get someone to set me a deadline soon and maybe a group of tracks will emerge this summer.
And Keiran how was the experience of making your debut album? Cathartic? Piece of piss? Something you wish never to repeat?
Komon: I'd do it again. I put a lot of time into the album and enjoy working on big projects. I was in a different head space; I wasn't taking things too serious. Gigging and partying was non-stop. My sound was evolving and I wanted to show that but I think it wasn't what Hench was expecting. I enjoyed the whole process and it's a goal achieved.
What can you guys tell us about the mix you've put together for us?
Komon: It's a mix of stuff we like. We started by just having a couple sessions on the turntables and work out what worked. We knew tracks we definitely wanted to use and some not so traditional ideas, so planning out these took a few sessions.
Appleblim: I guess it's a bunch of music we love and groove to and would like others to do the same! I definitely wanted some older stuff, some newer stuff, some more abstract, some of our stuff, some bassy stuff, some ambient stuff… pretty standard really!
And from each of you separately and together with remixes and releases what can we expect from Komon & Appleblim over the next year?
Komon: We just finished a remix for Dubspeeka that is exclusive to this mix that will be going to mastering as you read this. I just finished a new collab with Will Saul for Aus Music later this year. Done several remixes with him, also forthcoming on Ninja Tune and other labels. Can't really say much else or I'll lose my tongue!
Appleblim: We have both have various tracks nearing completion that will see light of day soon, but I don't wanna give too much away! All very exciting.