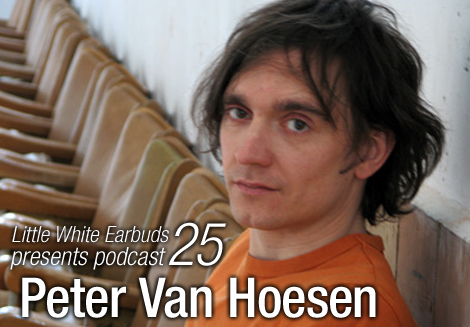 His name on the tip of many a techno aficionado's tongue, Brussels' Peter Van Hoesen is accountable for quite a few of the year's most heart-racing records. With their reanimated bass lines, unremitting kick drums, and penetrating atmospherics, his productions have a functionality that can't be denied and a presence that can't be shaken — the perfect pairing for the "dark, sweaty venues" he mentions in the interview below. Meanwhile, choice remix recruitment and the recent release of Donato Dozzy and Cio D'Or collaboration "Menta" have upgraded his fledgling Time To Express imprint from Van Hoesen home base to a growing leader in harder techno. The busy producer, DJ, and sound engineer generously took the time to talk with LWE about his label, his work with Brussels' contemporary dance community, collaborating with Donato Dozzy, and his upcoming album. Our 25th podcast, meanwhile, offers a fine example of Van Hoesen's propulsive live sets and an ideal primer on the producer's latest work.
LWE Podcast 25: Peter Van Hoesen (65:41)
Audio clip: Adobe Flash Player (version 9 or above) is required to play this audio clip. Download the latest version here. You also need to have JavaScript enabled in your browser.
Tracklist:
01. Peter Van Hoesen, "Attribute One" [Time To Express]
02. Peter Van Hoesen, "Liss01" (Fuse mix) [Time To Express]
03. Peter Van Hoesen & Donato Dozzy, "DP3" (Tryout mix) [*]
04. Peter Van Hoesen, "Continued Care" [Komisch]
05. Peter Van Hoesen, "Untitled" [*]
06. Peter Van Hoesen, "Empire In Decline" [Time To Express]
07. Peter Van Hoesen, "Strikethrough" [Morse]
08. Peter Van Hoesen, "Untitled" [*]
09. Peter Van Hoesen, "Untitled" [*]
10. Peter Van Hoesen, "Face Of Smoke" [Komisch]
11. Peter Van Hoesen, "Above 90" [Time To Express]
12. Peter Van Hoesen, "Casual Care" (Fuse mix) [Komisch]
13. Peter Van Hoesen, "Untitled" [*]
* denotes currently unreleased tracks

This mix was taken from a live set, no?
Peter Van Hoesen: Yeah, that was a live set at Fuse Club, Brussels, about two or three months ago now.
How is the music scene in Brussels today?
It's actually quite good at the moment. Quite a few young DJs have started to play proper techno again. There's a lot of people picking up on the… let's say the harder sounds that are being pushed forward these days. And beside that, there's quite a bit of interest in other styles as well, like dubstep is doing quite well. There's always been a healthy house/electro-house scene here. So there's quite a bit of variety at the moment. And yeah, there's still Fuse Club, which is probably one of the best clubs in Europe. So I think we're quite okay, actually.
Looking over your blog and your twitter feeds, and listening to your music, it's clear that you have a real passion for techno that's both aggressive and forward-thinking. When did you first become interested in techno?
I sort of gradually worked into it, coming from a disco background that was always, for a big part, electronic. Probably the first Detroit techno records — when I finally got ahold of them — those were the ones that were sort of a moment of revelation. Because I'd been listening to electronic music for a long time, but these guys were doing something different. And then in the mid-90's there was a very healthy techno scene in Brussels that was actually, at times, really hard. I mean, these parties would take place in dark, sweaty venues. Lots of DJs were interested in playing the harder side of Detroit. We were also inviting people from the UK over — people like Kirk Degiorgio or Space DJz. And most of the music that was played was quite hard. For me, that was a very influential period, musically.
You've also been pretty vocal about your enthusiasm for a lot of EBM, New Beat, and New Wave synth stuff. What interaction do you see today between these styles and techno?
Well, I'd say there is a common element within the techno I'm interested in these days, and New Beat or EBM from, say, the end of the 80's or beginning of the 90's. And that's clearly an obsession with bass and a good kick drum, and not being so overly interesting in melodies, but just getting a groove going. Whereas, in my opinion, techno is a lot funkier than EBM and New Beat ever was. But there is this common element. There's also a bit of a tendency within techno to strip things. And for me, the EBM and the New Beat that I liked listening to, those were the stripped-down tracks, the one's that didn't have too much going on, not too many vocals, just a very solid kick drum and a good groove.
Speaking of which, I hear you used to play the bass. Were you in a band?
Yeah, I was in a band. I think we played about any style imaginable over a period of about five or six years. I remember we ended with some sort of New Wave/funk style. We were actually getting pretty good at it, but then people moved to other cities, and it stopped there. And I think I'm basically the only one who's still doing music of the five people in the band. But my main instrument back then was the bass guitar.
What was the name of the band?
We had several names. The last name was the Bedroom Party. I don't think there's anything online. I found a tape years ago, which was basically our last recording. I think that it's only thing that's still there from that period.
To cover another background detail, we're always quick in reviews to mention your background in sound design for theater. Whether it's a mood or a texture, I often feel I can catch a whiff of this experience in your records. What sort of work is this?
I did several things. First of all, there's my work with a contemporary dance company, for whom I did part of the music for the last piece, and the sound design for it, which is basically a 7.1 sound design composition. I sort of, with my electronic sounds, was interacting with the music that was used, which is very varied. It goes from flamenco to classical Rachmaninov music — a very eclectic combination of things. And my sound design pulls everything together, if you want. So I'm basically working with a dance company, but I also did audio-visual installations where people were basically led into a space and fed visuals and audio that somehow had a link with each other and with the space. I'm very interested in the direction of sound in space. I find it very fascinating to hear how a certain sound has an impact on people in a certain space, in a certain setting. It's all these things that are… those interests are handy if you have to work within a specific framework like a contemporary dance piece or a theater piece, where someone asks you to do sound design that has to complement whatever goes on onstage. It's much wider than that, but yeah, it's basically making music for a specific context. It's not only the music…. Like when I do techno, the music is there — that's it. The thing is 100% about the music. You work in the theater, your music is just a part of a bigger whole. It's trying to make the music fit in with whatever is going on onstage, or whatever is going on in a space. That's interesting, because you have to be a bit more flexible, I say, than when you're just working by yourself.
How did you get into that field?
I was doing sound engineering for a club and concert venue here in Brussels. And I think a friend of mine knew of a job that was available within that scene. So basically that's how I rolled into it. And I also did a lot of projects by myself, with other artists, friends of mine. It was basically an interest that developed over the course of the years…. Maybe one thing to also mention is that there is a very healthy scene here in Brussels, as far as dance and experimental art is concerned. The most important school for contemporary dance is in Brussels. Performance-based art is big here, and of course that scene needs music, in some way or the other. So there's a lot of people I know that are working as musicians or as sound engineers within that scene, and that scene is quite big. So there is a demand for the things that I do.
As far as your recorded output goes, you had a healthy run of material in 2008, but we've been treated to a deluge of new records in the first half of 2009. Will we hear more material this year, or have we tapped out your supply?
Well, I think it's important to say that the fact that so many things came out in the beginning of this year, and they all were released quite closely together, is more a coincidence than anything else. I mean, there were releases planned but, somehow because of delays in production, suddenly all these things just appeared, one after the other it seemed. I was a bit scared of what the result would be, but it turned out to be quite okay because it really got noticed. As far as new material is concerned, I just finished a couple of remixes, and they will probably be released, I guess September, October, something like that. I'm working on some new tracks for Lan Muzic in Berlin. But I have absolutely no idea when that will be finished, even less when that will be released. And I'm continuously working on my album, which is due next year sometime.
Right. You mentioned something to Get The Curse about slower tempos. Will the album be a significant departure from what we've heard in the last year?
I think so, yeah. The first EP on Time To Express has two tracks that are like 120 or 123, and that's the only time that I was experimenting with those BPMs. With the album I think it's a much more interesting format to be a little more experimental. And so there's a couple of tracks now that are finished that are really slow, that I suppose aren't really danceable tracks. But I don't see the album as something that has to work on a dance floor. I see it as an album, really. There's some tracks on it that will have the uptempo style that you know, but at least half of it will be different.
I'll be excited to hear that.
Yeah, me too. I'm taking my time. I wanted to release it these year, but I felt that it would have been too early. I want it done properly.
Well, 2010's not too far off anyway.
No, it's not. These things usually go very fast.

PVH at play. Photo by Hans van Houw
Your Time To Express label just put out the new record by Donato Dozzy and Cio D'Or. How did you hook up with Mr. Dozzy?
I met Donato last year in Japan. We played at the [Labyrinth] Festival together. It was funny, I had a connection with him before that, because we both released on Lan Muzic. The guys from Lan had been talking to him about me, and had been talking to me about him. So we kind of knew about each other, but we'd never met. So basically in September last year we met for the first time, and immediately hit it off. And so, when Donato sent me some stuff, there was one track that I really wanted to release — that was "Menta." Last December I also went to his studio in Italy and we worked together for a year– for a week!
A year, ha!
A year would've been nice. We did like a week studio time together, and there's a couple of tracks that are finished. We're trying to release them. We're negotiating a deal right now.
Is this what we hear in the podcast?
Yeah, there's one track in the mix that will probably be released sometime this year or early next year. It's like a test mix that I tried out at Fuse, just to see if it worked, and I was pretty happy with the results. Donato is an extremely talented musician and a very good DJ. I was really excited to be able to work with him. He has a very specific view on music and on techno. And, a bit like me, he likes a lot of different styles, so there's a large background there. The week that we spent in the studio, that was really nice, that was a very good week, and it passed very fast. I'm very happy with the release on Time To Express, and the last results I got is that it's selling quite well. ["Menta"] is a different tune from what we've been putting out so far. That's kind of interesting as well, I find, to not do the same thing all the time.
You also chartered a remix from Norman Nodge and, of course, you've got the relationship with Lan. Do you have much of a connection with Berlin?
Well with Lan, the connection is clear. They were the first to put out a techno record of mine. That's partly where it started for me, because it was the first time that someone told me, 'Look, this techno that you're doing, we're kind of into it. And we're going to release it.' And for me, that was a very big step. I had released music before, but never techno. So then there was the second release on Lan. The relationship is still there, and I still respect them a lot for having released that first record. And then with Norman, it's very simple. I heard his EP on MDR — the first one that he did. I heard that one and I said, 'This guy is just awesome. All of these three tunes are incredible.' So I basically approached him for a remix on the grounds of that record. I didn't know who he was, I mean, as a person. I knew he played at Berghain, but that was it. It was just through the music that I got in touch with him. So there is definitely a connection to these people in Berlin. I've actually asked Norman for a second remix now, so this relationship is continuing.
A remix of something we already know? Or of a new track?

It will be a remix of "Above 90." We're planning the release for September, but it might be October.
You've kept your fans very well-informed on new and upcoming Time To Express releases, and your records are promptly available in digital form. Whereas, lately, more and more labels are sticking to vinyl-only product lines, maintaining low profiles or even anonymity. Is there any attraction for you to that sort of thing?
I think it's a very difficult question, because there is no clear-cut answer. The way I'm doing what I'm doing is not so much planned as, for me it just seems logical to do it like this. I've never had any huge expanse of strategies. It just makes sense to me to keep people informed, and it makes sense to me to keep them informed about who is making the music, because these days it seems like the only reason for putting out records for a lot of people is to… How can I say this… There's a lot of music being released these days — there's too much music being released these days — not for the right reasons. And if you release music anonymously, that sort of neutralizes that fact, because you don't care about that market, you don't care about the profile. You just have the music speak for itself. I kind of sympathize with this way of doing it. But at the same time, it's not the way I do it, because I'd never really thought about it in that sense. And with digital distribution, there as well, it's more a case of my distributors saying, 'Look, maybe it's just better that you release these things close together, because that's what seems to work best these days.'
I've heard some labels say that digital distribution hurts vinyl sales and, ultimately, means less money for the label and artist. It's something we've definitely discussed a lot lately but, on this end, we really don't know.
One day I will think I shouldn't do digital because, as you say, it cuts into the vinyl sales. And then the next day I'll think, if people want it like that, I'll make it available digitally. So I really don't know what the best option would be. I can fully agree with Serge from Clone, who's my distributor now, who says, 'Look, if they want it digital, just give them the digital files. If not, someone will probably rip the vinyl, put the digital file online, and then you don't make any money at all.' I really don't know what to say about these things. Does it work, doesn't it work? For a small label like Time To Express, I think the volume that we sell is not big enough to be able to spot trends. So I'm just releasing it and trying to reach a wide audience — as wide as possible — with music that's somewhat obscure at times.
One last question. This month we've been doing our Second Quarter Reports at Little White Earbuds. Any particular favorite or memorable records for the year so far?
My favorite records… there's a lot of good stuff that came out, actually. Donato's "Aquaplano" series I liked a lot. I'm also a big fan of the Deuce release on Ostgut. That's really a mean dance track if you play it out. One other really nice record is the last STL, I find. He's still doing his thing… And another really interesting record is — I think it's the A-side that really got me — the last Margaret Dygas record on Perlon. It's extremely spooky and deep and funky at the same time. A very interesting record I find.
I've been wanting to hear that. Her record on Non Standard from last year is great.
Yeah. That's the really good minimal techno, for me. That's the minimal techno I like. It challenges you, and that's very interesting.
LWE Podcast 25: Peter Van Hoesen (65:41)