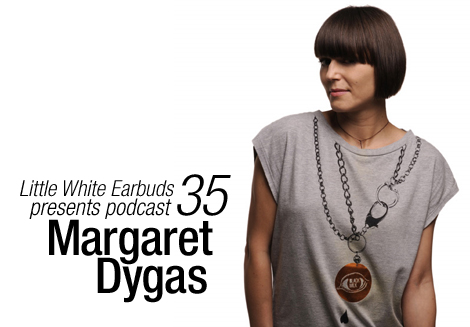 Margaret Dygas' position as an avant garde techno producer has been achieved with only three proper releases to her name but backed up by years of formidable DJ sets around the world. Born in Poland, she spent her formative teenage years growing up in America and now, like so many other dance music producers, lives in Berlin. Her exquisitely executed tracks have been released on Contexterrior, Non Standard Productions and Perlon, each showing a progression in her abilities and slowly revealing a distinctive type of sound. LWE hoped to learn much more about the budding artist in our interview but it turns out that Miss Dygas prefers to let her music do the majority of her talking. Read on for the words we managed to glean out of her and check the stunning podcast after the interview for a more revealing glimpse into the world of Margaret Dygas.
LWE Podcast 35: Margaret Dygas (78:17)
Audio clip: Adobe Flash Player (version 9 or above) is required to play this audio clip. Download the latest version here. You also need to have JavaScript enabled in your browser.
Tracklist:
01. Daniel Stefanik, "Reactivity 8" [Statik Entertainment]
02. Cirkel, "Cirkel003.1" [Cirkel]
03. Murmur, "Barrier" [Meanwhile]
04. Intrusion ft. Paul St. Hilaire, "Angel Version" [Intrusion]
05. Luke Hess, "Reel Life" (cv313 Dimensional Space Mix) [Echocord]
06. Bernd Maus, "Tell Me" [Statik Entertainment]
07. DJ Joey Anderson, "Oval" [Strength Music]
08. Terrence Dixon, "Emergency" [Meakusma]
09. Peter F. Spiess, "Wortkarg" [Adjunct]
10. Moritz Von Oswald Trio, "Pattern 3" [Honest Jon's Records]
11. Baby Ford, "Westway" [Autoreply Music]
12. Avus, "Boute Diabolique" [Stolen Moments]
13. Theorem vs. Stewart Walker, "Too Distant Images" [M_nus]

Judging by your bio you've done lots of moving around in your life from a young age. Musically did this help you discover a lot of different types of music?
Sure, traveling helped a lot, but I know I've only scratched the surface so far.
Having experienced the laid back lifestyle of California, the club-kids era of New York, as well as living in London and Berlin, what place do you feel has shaped you the most, both creatively and as a person? And are the sounds that you assimilated with in those different parts of your life and love of music creeping in to your current productions?
Every place left a mark in different ways. If I have to point a finger, it would be New York. I loved that place! Amazing times with lots of great memories, as with London and Berlin. There are very specific sounds that remind me of New York, for example, but I'm not sure if they are creeping in to my current productions. I will check it out.
You're known for having a distinct sound of your own. A DJ's sound is one that is always evolving but also there is a moment when it clicks for them. When did you think to yourself that you'd found a unique sound and what were you doing at that time in your life?
I don't look for a specific "sound" as such, so it's very nice to hear that people think I have a unique sound.
What has been your most enjoyable residencies to date?
Panorama Bar, a very, very special place for me!
Where did you get the vocal samples from for "Invisible Circles"?
From an Internet radio station.
Your productions have a very free form element to them. Rather than regular floor tracks which tend to be more predictable with their arrangements to the point of knowing when the bass/kick/synth is going to come in etc, how do you write and sequence your tracks so that they are cohesive and resolve themselves?
I don't have a "formula" as far as arrangement. Listening to it over and over and over again (with some tea breaks in between) helps to see if something is annoying or doesn't belong. I keep playing around until it feels comfortable somehow — and in a way, because it's never really finished, or am I alone on this one?
You have spent a good many years based in London and are now residing in Berlin. What do you feel are the differences in the working patterns of producers and DJs and how have you operated in each city?
Some have studios at home, some like to go to another location to make noises.I would guess there are quite a few night birds around here, like myself. I don't know the patterns and operations enough of those two cities to compare.
What are the pros and cons of living as a DJ/producer in each city?
That "cons" can be "pros" and sometimes "pros" may be "cons."
Tobias Freund has helped out on a couple of your releases with some mixing and production. How did you two meet? What did he bring or unlock in each track he helped out on?
I met him at a party in Berlin. Tobias helped me with pre-mastering and levels in general. Made the sound warmer, more detailed. [He has a] very cool pair of ears.
Your output so far is somewhat teasing to those who are encountering your music. Can we expect more frequent releases from you soon?
I'm sweatin' ova' here, workin' ova' time. There will be something on Power Shovel Audio, in the spring.
What can we expect from you next year?
Maybe some gray hair?! Wishing you all lots of warm vibes out there! Give earth a kiss!
LWE Podcast 35: Margaret Dygas (78:17)