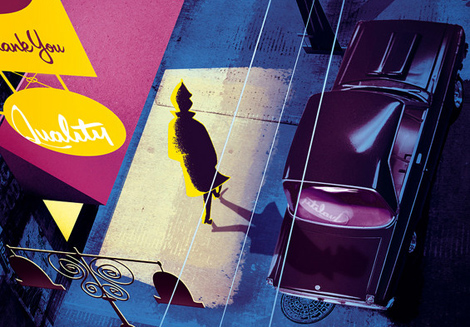 Artwork by Jonas Bergstrand
In his LWE interview with Will Lynch, Seth Troxler let this morsel slip about Berlin's famed club scene: "…it feels like people are going through the motions sometimes, you know?" When he comes to America, he goes on to say, "it's a lot easier to blow people's minds." I haven't partied in Berlin since the fall of 2006, so I can't weigh in personally. But I got to thinking again about Troxler's bittersweet observation while listening to the latest Ostgut Ton mix, Tama Sumo's Panorama Bar 02. Unlike Cassy's epochal Panorama Bar 01, mixed at the height of Berlin's mythical status among underground club music heads, or Marcel Dettmann's techno masterclass Berghain 02, Tama Sumo's mix feels less like a codification of a local sound than a nudge towards getting a legendary dance floor excited again. Those of us across the Atlantic have had our minds blown endlessly by sounds imported from Berlin this decade; is one of that city's most respected house DJs now trying to scramble brains with sounds brought over in the opposite direction? America is heavily represented, as are Canada, Russia, Ireland, the Netherlands, the UK, Norway, and a sizable contingent of Berliners bearing exclusives. But regardless of an included producer's place of residence, it's the sounds of Detroit, Chicago, and New York that cast the widest shadow over Sumo's vision of house music.
Audio clip: Adobe Flash Player (version 9 or above) is required to play this audio clip. Download the latest version here. You also need to have JavaScript enabled in your browser.
She opens the mix with its most recognizably Teutonic moment — "Constant Confusion," Tin Man's grooving anthem in the Perlon style. But she quickly springboards from that mode into effervescent deep house from John Daly (his gorgeously dubby "Birds" from 2006) and UQ's white-hot Nina Kraviz (Jenifa Mayanja's soaring, sexy remix of "Voices"). The string of new Ostgut material material that follows — fellow Panorama Bar resident Steffi's "24 Hours" and Lerosa's "Plesso," which were both recorded specially for this mix, and Prosumer & Murat Tepeli's current single "U & I" — sounds straight out of New York's decidedly laid-back contemporary house scene, less an invitation for weekend-spanning debauchery than the kind of thing you'd drink a bloody mary to on a Sunday after a decent night's sleep. Tracks from John Roberts ("Blame"), Trus'me ("W.A.R. Dub"), and Kassem Mosse ("Zolarem") continue to build a danceable vibe without really ramping up the mix's energy much, letting Sumo's first act close with good vibes not too far removed from their launch pad.
I like Sumo's subtle build quite a bit, but I really start to love Panorama Bar 02 when Shed's tragically unreleased "Stiff Job" starts to blow things up. Continuing to prove his worth as one of the best producers in dance music right now, Rene Pawlowitz lends one of his lightest, funkiest, most difficult-to-pigeonhole tracks in some time to a critical moment in the mix, tugging into ecstasy the steamier house that follows. We get a beefed-up and jagged remix of Newworldaquarium's seminal "Trespassers" care of Redshape, a career highlight from Levon Vincent in his mix exclusive "Late Night Jam," brilliant Chicago machine music from Marcus Mixx and Ron Hardy ("Without Makeup," from the rare first release on Let's Pet Puppies), and even a couple of excellently goofy singalongs (The Oliverwho Factory's "Together" and Ost & Kjex's "Continental Lover"). Sumo herself, with an assist from Panorama Bar colleague Prosumer, shows up on production duties for part one of her victory lap. Undoubtedly indebted to the aforementioned Marcus Mixx but with a tracky tidiness that's pure Ostgut, "Alien Mutts" helps bring the mix back to its Friedrichshain digs. And Soundstream, Berlin's to-the-point and clubbed-out cousin to Moodymann, offers up one last indicator of Sumo's musical thesis.
Audio clip: Adobe Flash Player (version 9 or above) is required to play this audio clip. Download the latest version here. You also need to have JavaScript enabled in your browser.
On her excellent (if we do say so ourselves) LWE podcast from 2008, which included transmissions from the stables of Underground Resistance and Ibadan, Tama Sumo proved she's no Berlinist. But she's resisted the urge, in a year when Europeans are complaining about how expensive our 12″s are to import for a change, to stitch together some cash-in American house pastiche here. The tracks certainly pay homage to generations of North American dance music, but the presentation — effortless, patient mixing with an emphasis on the music itself, not on the selector's ego — has the touch only the world's most talented circle of residents can deliver. Has U.S. house gotten the Berlin treatment, or did Berlin get the injection of American swagger it's been craving? Either way, it's tough to imagine minds aren't getting blown somewhere.