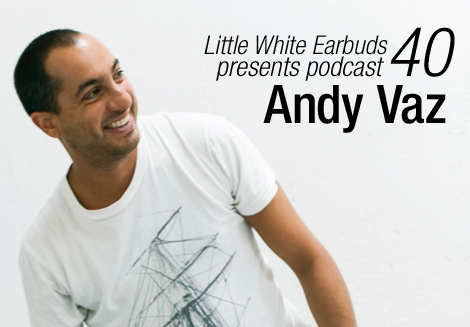 Years before he'd released a single record of his own, Andy Vaz had already left a conspicuous mark on electronic music as the man behind Background Records. When he finally started releasing music, he garnered a good deal of attention for the "clicks, cuts, and a 4/4" sound exemplified by the cult Soundvariation series. In the last three or four years, though, both his music and his A&R focus have increasingly mined classic house influences. More a shift of priorities than an outright swap of musical templates, house has always been a part of Vaz's program, and his morphing live sets retain much of the abstract and experimental qualities that characterized his first records. Yore Records, the label he runs with Alessandro Vaccaro, is the focus of another Little White Earbuds interview feature. Today, though, our exclusive podcast focuses on the sometimes silky, sometimes jazzy, and very often jacking music Vaz produces himself. Live sets, as discussed in the Q&A below, are where Vaz feels most comfortable, and this percolating mix certainly finds him in very fine form.
LWE Podcast 40: Andy Vaz (59:52)
Audio clip: Adobe Flash Player (version 9 or above) is required to play this audio clip. Download the latest version here. You also need to have JavaScript enabled in your browser.
Tracklist:
01. Andy Vaz live. All music written, produced, mixed and recorded by Andy Vaz. Courtesy of Yore Records, 2009

You'd been in the scene for a while before you finally started putting out your own records. What was it that finally got you making and sharing music of your own?
Andy Vaz: It takes time to develop a sound and define a language of your own. It's a learning process, and I allowed myself enough time to be able to express what I had to say.
You're doing a lot of live sets these days. Is there a particular attraction to this kind of music-making for you right now?
That's what I do. I don't DJ! I never have! I have five thousand records plus, but I don't play them out in clubs. I only perform live. Currently stepping it up with the Akai APC 40 and a live 808 (Miami Acidlab 808 clone, a lovely hardware drum-computer). It makes things way more interactive. APC helps me not having to focus so much on the screen, and the 808 is just really putting it on top. Being able to change beats and patterns and program random beats on the fly really makes it much more of a real live performance, and it's giving the audience a better understanding of what's actually happening.
Your music has shifted toward house over the years. In this mix, I detect a lot of Chicago influences. What's led to the change in your sound?
I got bored of making "minimal techno." Done it when it was fun and when I thought I may have something to contribute, and now it will be house. Let's see where it will shift to next (laughs). However, to me even my first and only longplayer, Repetitive Moments Last Forever, was house, rather than minimal techno, so it's not that new to me to make house music really. That came out in 2006, and I made it in 2005.
There was a time when you weren't interested in using samples in your music. What changed your attitude on that?
It simply suits house music. House has always, not entirely of course, been sample-based music. So it seemed logical to try things out. However, I have now shifted to working with real musicians and vocalists. Way more organic and fun! Makes it more human too, working with real people.
Who are you working with these days? I know you got Alton Miller to sing on a couple tracks this year, which we hear in your mix.
Yeah, Alton, Eva Soul, and stuff coming up with DJ Mix (Woman on Wax).
How does this work? How far along is a track before vocals enter the picture?

Track first, totally isolated from the vox. Then the vocalist goes wild on it. If they feel the track, it goes somewhere. If not, then that's it.
You have more of a presence as an artist on Yore than you did on Background or A Touch of Class. Is Yore the primary outlet for your own music right now, or will you use the Vazbit platform again in the future?
Yore is my new home now!
Do you think you'll ever revisit sounds along the lines of the Sound Variation series?

Haha, that's the most frequently asked question. The answer is clearly NO. It makes me really happy though that so many people ask me about that, and seem disappointed this had come to and end and will not return. I think a set of eight records (plus two remix records) was just the right amount. I don't like to repeat myself over and over. I get bored and then I cannot make it any longer.
Any favorite records from the past year, aside from the stuff you've put out on Yore?

Floating Points, "Love Me Like This." And I really like the latest Scott Grooves doublepack "Riddum Collection!" Some deep as hell stuff there, and heaps of plain killer 808 drum patterns!
I love that Scott Grooves record. As for Yore, you guys finished 2009 with a second record from Kez YM, and you're opening the new year with your own "Shadow City" record. What else is in the pipeline for 2010?
We have the latest split EP between myself and Patrice Scott coming up next, and we've just launched our own webshop for both digital and vinyl and for all the labels under my belt — Background, A Touch of Class, Vazbit, Sound Variation, Deep Night Essentials (anybody remember this? Haha), and of course Yore. We offer 98% of everything digitally. However, we are missing audio masters of a few releases. Besides that, it will all be there, plus some special items, exclusive unreleased stuff, and Yore releases available a month prior to hitting other stores.
Is Yore's web store operated in-house?
I personally will be in charge of it, and I have another person helping with the mailouts of the orders and such, and who will run it when I am on tour or producing. Getting it all together sure has been a hell of a mission. Me and my crew worked on it for three months straight and of course it massively kept me away from making music. So now since it's done, I am happy I can get back to work and do something for myself in the studio again.
I recall that last year around this time, Kompakt closed its mp3 store, saying that it took a lot of time and distracted them from the music.
Since we will only handle our own label catalog, I don't expect the maintenance on the site to take away from whats most important: the labels and the studio.
I've got a couple of random questions to cap this. I understand that hip-hop was your first love. Do you listen to much of it these days?
Yes! All day long! For real!
Greatest MC of all time?

KRS-One in his early days!
"Days of yore," indeed! Okay, last question. You've got ties to both Düsseldorf and Cologne, so I've got to ask: kölsch or altbier?
Kölsch all the way and also all day long!!
LWE Podcast 40: Andy Vaz (59:52)