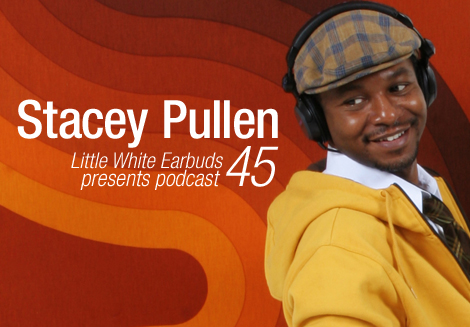 As an ambassador for Detroit, Stacey Pullen has been flying the flag for over fifteen years; DJing vigilantly around the world with a grueling schedule that has brought him a dedicated fan base and releasing sought after, kinetic explosions of Detroit techno and house. His productions filtered out of the various labels through the early to late nineties came under a number of guises but all were imbued with an unmistakable soul and current of exploration. His talents were such that Virgin records gave him a major record deal in 1998, which lead to the recording of his first album under his own name, Today Is The Tomorrow You Were Promised Yesterday. In anticipation of his March 12th gig at Chicago's Smart Bar (part of the D25 concert series) LWE spoke to Stacey Pullen about that album which lead to a bleak period of disillusionment, the early years at Transmat and feeling reinvigorated again with a basket-full of new music to unleash on the world. He was also kind enough to put together an exclusive mix for LWE of tracks he has been feeling lately.
LWE Podcast 45: Stacey Pullen (61:03)
Audio clip: Adobe Flash Player (version 9 or above) is required to play this audio clip. Download the latest version here. You also need to have JavaScript enabled in your browser.
Tracklist:
01. Layo & Bushwacka, "The Longest Day" [Olmeto Records]
02. Pirahnahead, "Self Con-Science (Opus 72- #37)" [Third Ear Recordings]
03. Guido Schneider & Jens Bond, "Eijeijei" [Highgrade Records]
04. Jamie Anderson ft. K-Alexi, "Cyclone" [Mija Recordings]
05. Alessio Mereu & Andrea Ferlin, "Walking On The Forest Path" [Contexterrior]
06. Autotune, "Dirty" (Woody remix) [Fumakilla]
07. Seth Troxler & Matthew Dear, "Hurt" (Martinez Dark Soul remix)
[Spectral Sound]
08. Stacey Pullen, "Alive" (Hi Tek Soul mix) [Black Flag Recordings]

You were one of many DJs to be influenced by hearing the Electrifying Mojo. How did this open up your mind the possibilities you saw in music?
It was incredible hearing him because nobody had played stuff like that before all next to each other. And it would be some things you already knew but then all of this new stuff that was coming out and he'd make it all fit together. You could hear one of Juan's new tracks come on but right after that you might hear some Rod Stewart or something like that. He was crazy with how he put music together but it really worked. I wish there was programming like that on everyday radio, man. They don't understand how good it would be, all you hear is the same kind of thing all day. And the thing is, I know that when I listen to the radio these days, I may not like the songs I'm hearing and then I'll go off with it stuck in my head all day. A friend of mine has some of the few surviving tapes of some of Mojos' shows — I've got to get them, I just loved it.
Your career got under way after you started hanging out at Transmat a lot. How did that come about?
Ha, the funny thing is man, I met Derrick May one night because he was trying to pick up on my girlfriend. But I was hanging out at the Music Institute a lot and I saw Derrick and those other guys play there and be there all the time. I went and told him I'd been working on some things and he said he wanted to listen to them.
What was some of the advice that Derrick gave you when he was mentoring you?
Just be an artist first, don't worry about the fame, just be an artist and work hard at being innovative within that. This was from someone who was my mentor, you know I grew up listening to his cassette tapes and listening to what he did in music. It was frustrating at those times when he would tell me to go work on things a little bit more because I'm thinking that I'm doing this but all I'm doing is mimicking what he was doing because he was my mentor. So I had to learn my own way and find my own voice. So he would listen to my stuff and be like, 'Yeah I like that but that sounds like a drum pattern that I would have used,' and it pretty much would be because I would get on his 808 and press play off one of the drum patterns that he already had in there. But at the same time I was still learning my way around the studio and finding out what all this equipment did. So he was telling me to go back and work on it some more, when I was thinking I wanted to have a record out in three months time not knowing anything about the business or finding my own style and it was two years later that I got my first release. That's when I realized why he told me to go back and keep working on it because it was about being innovative and finding my own voice, not just about banging on some drum beats and pressing on some keyboards, you know?
So when your stuff finally came out, you hit the road with Derrick for a while and played around Europe.
When I released that first record in like '92, Derrick would be coming back from travelling and tell me how these gigs were in London and Paris and all these places around Europe. I would be studio-sitting for him while he was out of town so I would be getting inspired by his coming back with these stories. Once I got out there and got a taste of it and saw just what an effect Detroit was having on the global music scene, it really opened my eyes to things that weren't coming to Detroit. Because for us at that time Detroit was all about sitting in the studio and making music, because the Music Institute was closed at that time so there was really no outlet for us to feel how the music touched people. So once I got over to Amsterdam I realized it was much bigger than I anticipated. I was almost a household name there and Derrick was living there and it was a great time because it was really at the beginning of the whole global dance music scene kicking off. I was like a teacher and a student at the same time because I was teaching the European community about what we did in Detroit but I was also learning about all this other music that we didn't have access to in Detroit.
How did you feel about the fact that Detroit techno was bigger everywhere else in the world than where it came from?
It hit me by surprise, but then if you know the history of music and the history of black music — you know I can go anywhere in the world and people know about Detroit. A taxi driver in some small city in Europe will know about Detroit through Motown and that will be something very special for him. It's the same with what we do, and also with jazz musicians — it took a long time with the artists being exposed outside of the U.S. for people to realize that this music was a big part of today's culture. So it was strange seeing this music touching people all over the world and then coming back home and seeing that it was almost non-existent, and it's still like that today to a certain extent.
You also started out at the end of a stage where a DJ could make it big solely as a DJ. You happened to have the production to back it up but there are a number of your peers (perhaps in slightly different genres) who have made a career just out of DJing.
Yeah, I was very lucky in that respect, especially now with this saturation of DJs and music within the digital era where there is so much out there that it's difficult to make an impression. A lot of young guys come up and ask me what they can do to make it in this world. I mean, right now it's about making the music first and then supporting your career through DJing. When I started it was about being a DJ first and making music for me was something I only discovered later. But it's a different ball game for young guys now because you have to know your history first of all. You can't just go and buy a laptop and make some music and expect it to be heard you know? You've got to have a vision. Now it's all about this marketing game instead of just being about the music.
Tell me about some of the names you've used. Let's start with Bango.
Bango came from when I did the "Ritual Beating System" track. I was inspired by this drummer Babatunde Olatunji. So Bango was an offspring from the word bongo, it just seemed natural because I was inspired by a lot of African percussion at the time. Todd Terry had also done something under that name back in the day and I was also inspired by that.
OK, how about Kosmic Messenger?
Kosmic Messenger came from me listening to Jean-Luc Ponty. He is a French violinist who hooked his violin up to a lot of on-board effects and he got different sounds from his violin and harmonized it over three octaves. He used a lot of space references to make his point with what he was doing and "Cosmic Messenger" was one of his tracks which inspired me while I was doing a remix of The Prodigy. It was mix that they rejected and I used that as the start of Kosmic Messenger. You see, Kevin Saunderson and I had this remix team going on and they commissioned him to do this remix so he told them he would get me to do the other side. I had maybe only had one record out so I was still learning, but he gave me this opportunity to get my name on a record and I took it.
So you released your first album under the name Silent Phase. Was the plan to record albums under all of your various monikers?
Well you know from Detroit, us being mysterious people as we are, that was what we did. All of us had these different pseudonyms because that was considered what was underground. It was a way to keep people guessing too, and to keep each with its own identity so people would be able to recognize if it was a Stacey Pullen track or a Silent Phase track or whatever.
Tell me about Black Flag and why you set up the label, what direction you wanted to take it in.
I wanted to have Stacey Pullen come out of the shell of all the different monikers as the soul bearer for that label. It was going to be run like Jeff Mills' Axis or Robert Hood's M-Plant; no other artists, just their own music. It was also going to be about sampling, because one of the things that Derrick said over at Transmat was "no sampling, Detroit is all about innovative music," and all that sort of thing. So Black Flag was about me trying other things and expanding my horizons by exploring other things I was interested in. So I was sampling and trying different kinds of music, it was a way for me to do these things without hiding under different names. But I did this album through Virgin in 2001-2002 and that was in conjunction with Black Flag. But there were some contractual things that I couldn't do because I was under contract with Virgin, which slowed things up. All that is done now. It was a very good deal at the time.
Did that stop you wanting to create music? Would it have all been the property of Virgin?
Pretty much. I mean I got disgusted the business when my album never got a full U.S. release. I mean, not being able to get a release in my home country, that was very defeating there. To be appreciated in other countries was all good but when I didn't get that release and people are coming up to me saying they had to buy the album on import. So it got me kind of depressed with the industry. My father told me when I got in to the business to watch out and that there were certain things you just had to live and learn. At that time I was still doing a little bit of music for other labels and being part of different things but at that same time I was flying everywhere DJing. That was before the time of making music on laptops while you're flying. It kind of took me out of my element a little because I was so involved with it. But at the same time it was an amazing way to see the world, I've gotten to see some beautiful things and had great experiences. All this time I'm thinking that was cool but knowing that I had to get back in to my music. It took me a while but for the last year I've been working consistently on developing new material and now I'm back and I'm alive, which is the name of my new single, by the way. I was working on it last year but I'd work on it a little, and then… I'm really critical of my music. I have a hard time playing it when I'm DJing and of putting my music out because I'm so critical of it. I know that's what got me hear but I'm just so critical of that and myself. But I got some good feedback from some of the few people I let listen to my stuff and they liked it. Also because the way technology has changed things I didn't want to put out a sound that was dated. I wanted to make sure that if this was the last track I ended up releasing that it would make an impact, that it would make a statement. It's always been my goal to make a statement when I put something out, not just to release for the sake of it.
Have you consciously decided to move away from the sounds that made up your earlier stuff?
I mean Detroit is always gonna be in me so whatever I make is going to be under that tag. But at the same time we have been pigeon-holed on playing and making only a certain kind of music. And I have issue with that because there is so much music out here and so much being made. And as much as I always rep my city with what I do, there is so much else out there that influences me when I produce or when I DJ. Being from Detroit I always have people ask me to play something Detroity or to make something like that. But man that's in me, it's a spirit, you can't define the spirit.
Tell me about the mix you've done for LWE.
It's only about eight tracks, but they are things that were inspiring at the time I did it. For me I don't like to play the same set and the same music. I hear a lot of DJs and they play a lot of the same music they did the night before. But for me I think there is so much music coming out every day, I like to test myself by playing stuff I don't even know how people are going to respond to. That's how I get my energy and my inspiration. So these tracks are tracks that are a mixture of some things I've played before but then some things I haven't really touched before in my collection. I just like to keep it fresh. I'll record some of my sets and listen to them after gigs to work out whether certain songs have worked or what I need to do with them. I always want to keep a lot of new stuff in there to try and stay ahead of the curve a little.
What can we expect from you in the next year?
A lot of music man. I already got two tracks that I've finished, two tracks that I'm working on that will be finished soon. I just did a remix for Samuel L. Sessions, for Gene Farris, for some guys out of Norway, all sorts of things. I'm also collabing with Shlomi Aber from Be As One. These are all immediate things that are finished so they'll be out soon. It's also the 25th year celebration of Detroit techno, so we're doing all these D25 parties with people like myself, Carl Craig, Kenny Larkin and some other guys too. Then I'm executive producing some other guys I will put out as well as re-releasing some of the older Silent Phase and Kosmic Messenger stuff, so I got a pretty big year man, a lot of good things lined up.
Download: LWE Podcast 45: Stacey Pullen (61:03)
Audio clip: Adobe Flash Player (version 9 or above) is required to play this audio clip. Download the latest version here. You also need to have JavaScript enabled in your browser.