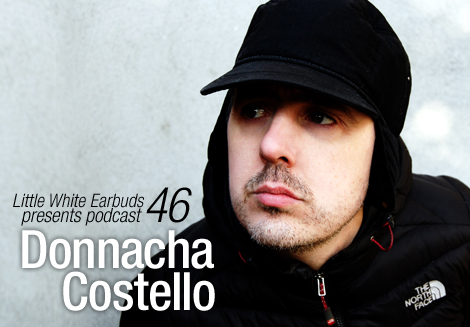 Having a label called Minimise can be a tough gig these days. Yet Donnacha Costello has always been in it for the long haul, launching the imprint in the late 90's before minimal became a fad with the understanding that minimalism is an approach, a characteristic — not a genre. First coming into prominence with an album for Force Inc. and the ambient classic Together Is The New Alone for Mille Plateaux, he unleashed the Colorseries upon the world from January to October in 2004, a now classic succession of 12″s that ranks with Studio 1 and Concept 1 as one of the most intriguing concept series in techno. Throw in another series entitled 6×6=36, a new label called Look Long and numerous records released throughout and Costello's back catalog grows in both quality and quantity. Today sees the release of Before We Say Goodbye, his fourth album and a wonderful journey through his melodically charged sound. We caught up with Costello for a quick chat a bit about the album as a format and his love for old gear while he provided LWE with its 46th exclusive podcast, a trip through his early influences and favorite records.
LWE Podcast 46: Donnacha Costello (57:00)
Audio clip: Adobe Flash Player (version 9 or above) is required to play this audio clip. Download the latest version here. You also need to have JavaScript enabled in your browser.
Tracklist:
01. Farley "Jackmaster" Funk, "Love Can't Turn Around" [Trax Records]
02. Plastikman, "Plasticity" [Plus 8 Records Ltd.]
03. G-Man, "Quo Vadis" [Swim ~]
04. Hugo Moya, "Move" [Relief Records]
05. Neal Howard, "Indulge" [Network Records]
06. Chaz Vincent, "Dream Wave" [Planet E Communications]
07. Neil Landstrumm, "Pirate" [Tresor]
08. The Other People Place, "Let Me Be Me" [Warp Records]
09. Jeep Grrlz, "El Magnifico" [El Chocolates]
10. Paul Johnson, "It's House!" [Dust Traxx]
11. Neal Howard, "The Gathering" (Club Mix) [Future Sound R & R Records]
12. Jacktripper, "Basement" [Jack]
13. Neal Howard, "To Be Or Not To Be?" [Future Sound R & R Records]
14. Rhythim Is Rhythim, "Emanon" [Network Records]
15. Model 500, "I Wanna Be There" (Edit) [R&S Records]

First off tell us about the mix. How was it recorded and what did you want to say with it?
It's a mix made up exclusively of old tracks that had an impact on me when I first heard them and that still mean something to me. So I guess what we're listening to here is a mix of some of my earliest influences when it came to making techno/house. It's a mix of old scratchy vinyl and tracks coming from the computer. It was actually recorded with a pretty clumsy method and without a mixer but it worked out fine in the end

There are some effects on there which help to gel things together a little better.
Before We Say Goodbye is your first proper album in quite some time. What do you like or dislike about the album format?
That's true. It's my fourth full length (I did an album for Raster-Noton under the name Modul of which which many people may be unaware) but my first in seven years. It felt like the right time for me to do this and I felt that I had something to contribute, which is the only time you'll really see me releasing anything. Regarding the album format, I don't like albums which are simply too long for me to listen to comfortably. By that I mean that I find myself tiring of the sound and wishing the album had been shorter or that the artist has opted to use the full capacity of the CD and I simply don't often have the chance to listen to 80 minutes of music without being interrupted. My preference is for an album 40-50 minutes in length that has variety, flow and takes you on a little journey. An album of this length can be listened to in total on a train ride, on a typical commute or on a short haul flight. These are often the only situations in which many of us have uninterrupted time these days.
Last year saw pretty major shakeups with your labels. Minimise was closed with Look Long born in its wake, and now Minimise has been restarted. What's the status of both these labels now? Do you see the two labels creating their own distinct sound profiles?
Yes, MINIMISE is shifting back in to high gear because I have a conceptual project I want to work on and I also got some really great demos via our Soundcloud dropbox on Minimise.com. Look Long is still going and we will release some more music later this year. This was intended as a new space in which to create, away from the expectations that had been built up around MINIMISE; it was a fresh start and it did re-invigorate me and give me a new appetite to create. Had I not started Look Long, we would probably not be discussing a new album right now.
Speaking of labels, Before We Say Goodbye is being released on Poker Flat. What was behind that decision?
I had become friendly with Steve over the past five years or so. He was a big supporter of the Colorseries and he's one of the most genuinely positive and helpful people I've met though the music business. We hung out quite a bit when I lived in Berlin for six months and we collaborated on a track for his album Collaboratory. Taking that experience together with having done some releases with Poker Flat in the past and knowing that they were a great label to work with, it really was a very natural home for the album.
You seem to enjoy imposing limits on yourself, whether it be time limits as in the 6×6 series or the few pieces of equipment used on Before We Say Goodbye. Why do you impose these restrictions?
Well, I guess given my past people really picked up on the fact that I had only used a few pieces of equipment on the album and figured it had a conceptual significance or as one reviewer stated they actually thought it was the main aim. In fact, I always used to love reading equipment lists of my favourite artists, so I wanted people to know what had been used to make the album. The three synthesizers I used (101, Prophet 5, Synclavier) were selected for their unique sonic characters which I tried to faithfully record with my Pro Tools rig. I then applied processing and treatment only where I thought it was really necessary. So, this time around it wasn't real a conceptual limiting but simply a wish to use great sounding synths quite simply and thereby achieve recordings which had character and physicality that would stand the test of time.
What are you up to next?
I have a conceptual project I want to release on MINIMISE and I'm collaborating with two friends on an audio visual project. I also hope to finally collaborate with a Berlin-based producer of steely, intense, dark techno. We've been talking about it for a long time so it would be great to make that happen.
LWE Podcast 46: Donnacha Costello (57:00)