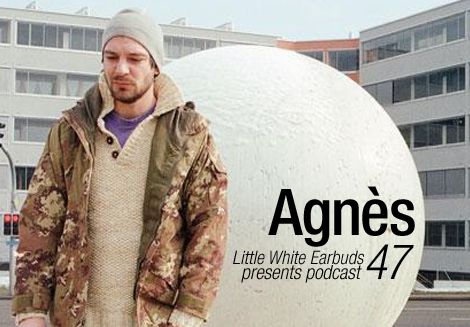 When I think about the Swiss house scene, my mind skips past visions of clubbing alongside the Alps and lands on Agnès (alternately known as Cavalier, Ray Valioso, Modeste or Benelli). Not only has he nurtured the Swiss scene with his Sthlmaudio Recordings imprint, home to releases by Baaz, Cabanne, Chaton, Peter Grummich, and Azuni, this many monikered producer is a shining example of an artist who is steeped in house music's past but aims his own tunes squarely at the future. Agnès' music began on the minimal side of the house spectrum and has since come into full bloom across his records for Perspectiv, Resopal Red, Lomidhigh, Plak Records and his own label, exploring the many possibilities of dub sonorities and embracing his deeper side in equal measures. Lately his focus has been on a string of incredibly strong remixes for everyone from Sebo K and October to dOP and Niggemann & Poppcke, but 2010 holds in store more original material. For LWE's 47th exclusive podcast, Agnès brandishes his considerable DJing talents across an hour of achingly well mixed house music, including a clutch of hot unreleased tracks and remixes.
LWE Podcast 47: Agnès (57:21)
Audio clip: Adobe Flash Player (version 9 or above) is required to play this audio clip. Download the latest version here. You also need to have JavaScript enabled in your browser.
Tracklist:
01. Djaimin, "Open The Door" (DJ Shorty's Zanzibar Stomper Mix) [Slip 'n' Slide]
02. Ly, "Back 2 Zanzibar" (King Street Mix) [Nite Grooves]
03. Agnès, "Got To Be Strong" [Ornate Music*]
04. Blakkat, "Faux" (Agnès – South London Boro Mixx) [Variance Recordings]
05. Inner Soul ft. E Scott, "I'm In Need 4 U" [Power Music Records]
06. Le Loup, "Sistaaa" (Brother Agnès slightly kickedclappedhat'd up edit)
[Wolf + Lamb*]
07. Makam, "La Fem" [Sushitech Purple]
08. Lisa Shaw, "Let It Ride" (Herberts Strength Inside Dub) [Naked Music]
09. ZoëXenia, "Cravin'" [Bass Culture Records]
10. R.I.P. Productions, "Bugsy's Theme" [4th Floor Records]
11. Agnès, "Hudd Traxx Demo v0999.999" [Hudd Traxx*]
12. Cavalier, "Drumpoet Demo v0987.654" [Drumpoet Community*]
13. Agnès, "Got That Music In My Mind" [Hudd Traxx*]
* denotes tracks which, as of the time of publishing, are unreleased

Tell us a little bit about your mix — when, where, and why you made it like you did?
Agnes: Ahhh yeah it's funny you'll never believe what I've done in order to get there. As always with me, I have to get deep into the things I'm doing. So I thought about getting the "click" in the pitch bend of my old really old MK2's out from there for some time. Then we came up with the idea of doing an LWE podcast and guess what: you've found me dismounting my MK2's, unsoldering my original MK2 pitches, removing the small iron ball clicking at zero pitch, cleaning them, and you know what it's so much smoother now =) Seriously, all this to be perfectly honest, I'm playing most of my sets with regular vinyls and Traktor Scratch through time code control vinyls. Traktor doesn't like the central pitch bend zone on the older MK2's, you've got maybe 0.5 centimeters where it just goes off really weirdly sometimes dropping down or up by a full BPM. On the mix itself, I just really wanted to show what kind of beatz I'm into, what are the tracks I'm digging, snatching in there some of my personal stuff and hopefully providing something personal.
Here are some links for the hard headed out there willing to finally get rid of their "click" pitches:
SL1200/1210 MK2 Service Manual (in German I think, but gooood):
Some interesting links for your pitch faders & MK2 in general:
http://info.bergenteknomafia.com/tech/1200pitch/
http://music.hyperreal.org/dj/pitch_slider/
http://music.hyperreal.org/dj/sl1200.html
When we were discussing the mix earlier, you described the first artist, Djaimin, as a "real house hero here in Switzerland." Who are some of your other favorite Swiss house producers, new and old?
Yes, sure Djaimin and Mister Mike where running a radio show on Couleur3 called Pump It Up Live, and at the time the radio station hadn't yet discovered computers. So basically we where immersed in their view of house music every weeks. It was a really good time for me, we were anticipating the next shows very much. Recently we where sitting at Ripperton's place and he played some of their sets from back in the day and we literally wanted to know what track has been played every six minutes — they played incredible records, really. I think there are only just a few things that are being brought back to our attention but there is so much to still discover in the old — it fascinates me.
Tell me about your experiences in the Swiss house scene — how you got involved, where you went, early residencies, etc.
It really all started up in 2003 when I launched my label, Sthlmaudio Recordings, and strangely, success came from beyond the Switzerland's borders first. So I've never really been involved into a local scene except in my home town of Fribourg, when I was spinning more hip-hop and abstract hip-hop stuff.
What were some of your first pieces of gear? What are your current gear favorites?
Hum well, first of all I think when I started with electronic music as a producer I probably was more on a minimal vibe somehow, always dubbed out but that was the sound of those years and I'm not denying it now. I think I've always been ready to explore many different paths in music, being house or ambient or more techno productions. But my roots, if I'm honest with myself, comes from the Mo Wax area, the first Portishead [album], DJ Vadim, DJ Cam, DJ Krush, DJ Shadow and all that scene. This is where it all began for me, the DJing and the attraction to electronic music in general. Concerning house, what I dig in it is the groove — things have to groove for me or I don't care about them. Onto gear, I've just recently bought an Akai MPC1000 and JJOS2XL; it's fat, there is no emulation, there are things that are close but nothing like the real thing. I'm playing my live sets with it now on top of the laptop and all my recent beatz are out of that box.
You seem to enjoy playing with the concept of artistic identity, using a handful of pseudonyms for your releases. I wondered how you distinguished what was going to be released as whom (beside Modeste, which is quite distinct from the other guises) and why you opted for the many names in the first place?
Indeed I love names; I think names are totally cool. I wouldn't like very much to be doing what I do under my real name, let's say; Jean-Pierre Vaucher. To some folks this might sound weird but to me it's an extension of my art, providing me another way of pushing something I firmly believe in. Each time I'm taking on a new name I can build a totally new world or extend something I've already explored. This is powerful and harmless. I was reading a review from a journalist having fun about this with me and I just thought he didn't get it. In two years I wouldn't be surprised if the Dj playing the track you hear would be the only one to know who did it, if he does; this is to me where it all started with electronic music:, anonymous records done by god knows who and damn they slam right good. I'm totally into getting back to this.
In the last couple years your number of original releases has grown smaller while your remixes have blossomed. Will you tell us about your thinking behind this?
I'm glad you asked about this, it means you've been really and carefully checking what was going on with me and you're right — I've been doing more remixes lately. I don't know how to explain why it happened this way and so on but here is what I can tell you: I love to remix. I love to have someone else's materials I would have probably never chosen to use in the first place and do my own sauce with it. It is challenging to work on sounds you didn't choose. On top of that, I've worked onto my own music a lot but I didn't thought about releasing anything yet. If the things I've done in, let's say 2008, are still releasable in 2010 then it might be wise to do so, if not they better stay on my hard drives. I've had this discussion with Quarion and he told me something a known record store owner in Berlin told him: producers should have a maximum of three releases a year; we would have less but far better music. I fully agree with that.
There was also a good deal of consistency between your Agnès remixes — slightly dubbed out, old school arrangements, very thoughtful hi-hat patterns — yet your own releases are rather varied. Have you thought of making more original tracks in this vein, and what explains the consistency between those remixes?
Honestly I don't over think my music. I do what I do being who I am using what I'm using at the time I'm making it. As I've said earlier, I really like all kinds of music and sometimes maybe my own things express this a little more then my remixes; although I'm always striking at making something real for me, something I can be proud of — in a very humble way.
A number of your remixes have locations in the title. What do those denote?
It's like my use of names; I like to sign things, being in my music or with the naming and wording I use. Within the music industry, what you've got to express yourself is a cover and a back print (if you signed on a rich label), label stickers, a name and track title and your music. Very often in the scene, remixes aren't even recognized as being work on its own from the remixer. People would go, 'Oh yeah, I love that B1 track on this guy's record' without even noticing it is someone else's work. Still though, I like to remix haha.
Who have you not yet had the opportunity to remix that you would jump at the chance to edit?
This is a hard question. To me there are no goals; it's more about the contents of the original materials. If I think I could do something with it then I'll try. Furthermore, I really think the originals I didn't liked that much turned out to be decent remixes of mine so I'll probably first accept something I don't like that much instead of remixing one of my heroes, which I'd probably turn down. Also, lately I've just done a remix for a Swiss hip-hop artist from Zürich called Big Zis and this was very interesting for me, something else, different sounds, tempo, vocals. It'll come out soon on Nation Music.
With old school house motifs coming back in style, what do you think are the most overlooked elements of older house records that could stand a revival? (drum patterning, certain synth sounds, etc.)
To me what is killing house at the moment are those producers taking a full bar loop of a groovy beat they never programmed a single hit, EQ'd it out on the low end, add a kick, add a clap and there you go, groovy wacky house for losers. I've spotted some of those kinds of tracks in my own collection and you know what? Shift delete, ciao ciao, bye bye. I'm programming my drums, every single hit you hear in my music is from me; I program everything and this is my only chance to stand out.
Is there another Agnès album in you?
Funny you should ask about this, the wicked team from Drumpoet Community asked me for a sophomore Cavalier EP maybe, and as I mentioned earlier, I've got many sleeping things on my drives. Well, as I've sent them loads of materials to select from in order to make a four track EP they came back at me asking if we could maybe release a long player, so this will be my next album and I'm currently polishing it up.
What's on tap for you in 2010? What about Shtmlaudio in 2010?
I think 2010 is an introspective year for me, releasing less but hopefully good things. The Modeste long player for example: it wasn't a huge press success, I didn't saw much press attention around it but I'm glad I could release that music and I will be continuing in the future with a CD series on Sthlmaudio aimed at electronic music with a broader view. Also, Baaz is working now on an abstract hip-hop long player which we will release later on this year. Next is my home boy Quenum coming with a stunning house tune remixed by my all time friend Ripperton. We've got also some more records in the pipe but there is absolutely no rush at all.
Regarding myself, I've got en EP coming out on Ornate Music called Got To Be Strong and another EP I'm finishing right now for Hudd Traxx, and of course the Cavalier LP later this year on Drumpoet Community.
LWE Podcast 47: Agnès (57:21)