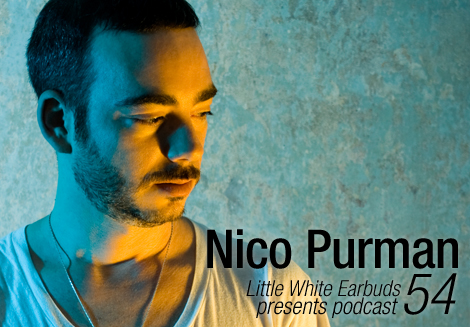 Photo by Steffi Rossol
When Nico Purman discusses his production style he attests, "I don't think too much, I just feel." If that's indeed the case the Argentinian producer/DJ has impressive instincts for etching nuance into viscerally appealing house music. Perhaps his early interest in dance music at age 12 offers some explanation, especially in combination with alternating periods as a rock drummer and house DJ. From his first release on Modelisme in 2005 he's shown a level of rhythmic and textural sophistication many only aspire to, and his subsequent platters for Curle Recordings, Mule Electronic, Crosstown Rebels never failed to intrigue on some level. Now based in Berlin, Purman seems to be coming into his own with the support of frequent label home, Vakant, exploring a slightly looser, housier side that's positioned him well in today's dance music climate. In this rare interview, Purman discusses his dance music education, his hands-on approach to percussion, and the music trio he'd most like to show up at his studio. And in LWE's 54th exclusive podcast he exhibits the dynamic DJing style that continues to win him fans over an hour's time.
LWE Podcast 54: Nico Purman (63:25)
Audio clip: Adobe Flash Player (version 9 or above) is required to play this audio clip. Download the latest version here. You also need to have JavaScript enabled in your browser.
Tracklist:
01. Anonym, "Trust Me" [Sushitech]
02. Willie Graff & Tuccillo, "Give You Up" (Chez Damier Interpretation)
[Freerange Records]
03. Lee Curtiss, "The Glow" [Cityfox Ltd.]
04. Heaven & Earth, "Prescription Every Night" [Running Back]
05. K Boys, "Got the Love" [Everything]
06. Cole Medina, "Red Hot" (The Mole's MMD Remix) [Internasjonal]
07. Levon Vincent, "Double Jointed Sex Freak" (Part 3) [Novel Sound]
08. Unknown artist, "Untitled B1" [Midnight Hours]
09. Lewie Day, "That's the Thing" (Lee Curtiss Remix) [Murmur Records]
10. Nico Purman, "All That Glitters Ain't Gold" [Vakant LTD]
11. Norm Talley, "Cosmic Waves" (Delano Smith Remix) [Pariter]
12. Skudge, "Convolution" [Skudge]
13. Claro Intelecto, "Back In the Day" [Modern Love]

Mathias Kaden said in an interview that he's seen you DJ multiple times and that you vary greatly from set to set. What sound were you representing on your LWE podcast mix? Is it fairly similar to what you would play at a club gig?
Nico Purman: The sound of the this podcast is deep at the beginning, more house, funk/disco and some deep techno at the end. At a club sometimes it's different because it really depends at what time you play, and if the club is big or small. I really prefer to make things deeper where the people enjoy more the music in itself, than to overexcite the crowd with banging beats and noises. I play some old tracks mixed with new; I like to share feelings, emotions, and influences at the same time.
What was your local Argentinean dance music scene like as you were growing into being a producer? What was it like when you left for Berlin?
The scene in Argentina is not as in Europe, of course, but there are a lot of talented artists and DJ friends who are doing a great job. Some are following the ones who had success and try to copy the formula, and some are really creative people who don't go with the flow, and this is interesting. But about the club scene, there are big clubs that spends thousand of euros on commercial acts and the trance scene was really big, so there are not too many options for the good music. There's some small clubs that are trying for years to keep the underground alive and they're doing a great job, like Cocoliche in Buenos Aires or any other small venue that tries to focus the party on the music.
From what I've read you were introduced to Belgian New Beat and Chicago acid house more or less as it was happening. How did you get ahold of these imported records in Argentina? What was that like for your young mind? Hearing them, did you know you wanted to make music like that at some point?
I used to go to a record store in the city I lived, Rosario, and they brought white labels compilations with this music, the pirate vinyl. It was made by DJs who had the original vinyls and pressed vinyl compilations with four tracks — it was dance music at 110 bpm and all the people liked in the clubs. I used to go to some clubs with my brother and we knew all the tracks and loved the music when we were kids. And then I ordered
some records from someone who traveled a lot — he worked for an airline, and he brought me some good stuff.
I understand you were a drummer in rock groups. Did you start out DJing or drumming? At what point did you begin producing your own music?
First of all I started djing, then learned drums and when I stopped playing drums I decided to buy some stuff to produce my own music. In 2003 I bought my first computer, a synth and a drum machine, plus Logic 5, and I started making my first experiences with it.
How have your years of experience as a drummer influenced your production process? That is, do you work on drums first and build from there or do you mostly work out the overall rhythmic structure, or…?
I think it's important to know about rhythm when you try to emulate some acoustic percussion — drums needs to have a naturalness about them. I don't like quantized percussion by a robot. I don't have any structure, I can start with drums, or a melody from the synth, or a bass, or some other atmospheric sound that trips me. But I think it's more a question of how I feel the music: I don't think too much, I just feel.
Do you ever miss getting behind the drum kit? Have you had the desire or opportunity to record live drums for any of your tracks?
I really miss it, but its impossible to have real drums in my studio now, my neighboors would kill me. But some electronic drums could do the job as well. I didn't play real live drums for my own tracks yet, but all the drums in my tracks are played by me, with the midi keyboard, with my sounds loaded in the sampler. I arrange every part of the drum kit or percussion in different channels. I used some percussion stuff from Brazil in my last productions, like pandeiros, handmade shakers and other different instruments made by the Amazon Indians, they're made with materials they found in the forest. Just to add a color to the music, or add
some details. I don't use drums loops or any sampled percussion loops. It would be really easy to sample the best drummers and the best conga players from CDs but I don't like to do it, so I prefer to use the ideas I have in my head.
Personally I don't hear many sonic references to Argentinian culture in your music. Is this a conscious thing or is it just much more subtle than most non-Argentinians would notice?
I don't think my music represents the music of my country, but I'm really influenced by modern tango (like Astor Piazzolla) and the melancholic melodies. I think my first releases like "Lunatique," for example, has some sort of tango/piazzolla feeling in the synth melody which sounds like a Bandoneon to me.
Listening over your tracks I get the impression that over time you've sort of lightened up musically and favored swinging house tracks over the more serious tech-house sound of your earlier work (eg. from "Desiree" to "All That Glitters Ain't Gold"). Have your production tastes changed much in the last few years? Are you working with different moods/goals in mind when producing these days?
The thing is, I make music for periods of time, and I start doing what I feel in the moment. It could be ambient, dub, pop, house, and then later I open these projects and see what is more suitable to release.
What is one instrument, trick or method you've always wanted to use in a track that you've not yet attempted?
There are lots of instruments I really like, but it really depends on how is it played or the character of the sound. But I'm not a multi-instrumental player, so I start with a sound in my head and try to design the sound, and it never sounds exactly as I imagined but close to it, and sometimes it turns into another sound. I would like one day for Prince to come down an angel and play some guitars and vocals. Miles Davis and Hendrix are invited as well.
After shuffling between a varied group of labels (like Mule Electronic, Modelisme, and Crosstown Rebels) it seems you've mostly settled down with Vakant. What was your reasoning behind this decision? What do you like most about the Vakant group?
It all started in late 2007 when I sent a demo to Alex from Vakant and he instantly replied that he would like to release it. And then invited me to play at Watergate where I met him. We became friends, he helped me to find a booker, and then to move to Berlin. What I like about the Vakant group is that every artist has his own style and personality, but at the same time I'm feeling inspired by all these artists, too.
What's coming up from you in the rest of 2010?
There's one track coming out on a Vakant compilation which is new and really different, but in the vein of "All That Glitters Ain't Gold," and couple of more EPs not only on Vakant. And DJ gigs, of course!
LWE Podcast 54: Nico Purman (63:25)