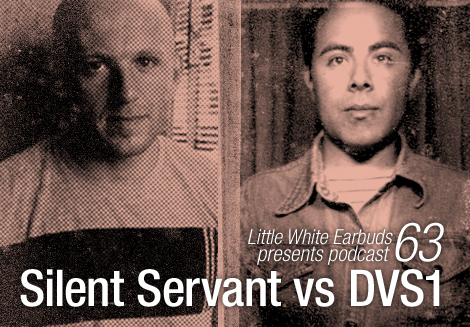 Contrary to popular belief, America's Midwestern dance music scene is much more than Detroit and Chicago. Two of its most vital contemporary talents, Silent Servant and DVS1, hail from Minneapolis, a city with a modest but quite vibrant techno community not beholden to any specific traditions or influences. Juan Mendez got his start under the guise of Jasper with steely, abstract techno sounds for his labels Cytrax and Delay. He reemerged again in 2006 as Silent Servant, a member of the shadowy Sandwell District collective which hosted many of the forceful, dub-damaged tracks that rebuilt his devoted following. Mendez is friends/neighbors with Zak Khutoretsky, an old techno hand who recently found acclaim under the moniker DVS1. Having impressed Ben Klock with his live set while the Berghain resident was playing Minneapolis, Khutoretsky's debut release soon landed on the Klockworks imprint. His oily, classically-influenced techno tracks have since garnered the attention of Transmat Records and hordes of followers on both sides of the Atlantic. In anticipation of their performances on November 5th at Oktave's debut Chicago party at Smart Bar, Silent Servant and DVS1 have teamed up to create a truly unique and pulse-quickening techno mix for LWE's 63rd exclusive podcast. We also solicited a few words from the guys about their respective projects.
LWE Podcast 63: Silent Servant vs DVS1 (93:39)
Audio clip: Adobe Flash Player (version 9 or above) is required to play this audio clip. Download the latest version here. You also need to have JavaScript enabled in your browser.

Tell us about the mix, how it was recorded and what you contributed. Was there a theme?
Silent Servant: No theme, I mixed it live in one take and just tried to do what I do when I DJ live. Both Zak (DVS1) and I still play mainly vinyl, so the mix is very accurate to what you get from us live, in my opinion.
DVS1: Unfortunately due to both of our busy schedules recently we decided to try something different than actually get together and mix this in the same location. Silent Servant starts off the mix until minute 42 and then I jump in and finish it off. He basically sent me his mix, I rolled around with it in my head for a few days and then pulled some tracks to add my half. In terms of a theme, I would say no. What works for us is that we appreciate much of the same music when it comes to techno. I tried as best I could to play tracks that I don't normally play out, or at least haven't in a long time. I also added a few unreleased tracks that I haven't tried anywhere. The issue for me is that I don't do studio mixes. All of my podcasts and mixes on my site are all recordings from live sets. I really need the crowd's energy and the feeling of the sound to get into my mixes.
What are you planning for your performances at the Oktave party?
DVS1: No planning… I don't plan. I just bring a couple bags of records and see what happens. I can say that John and I are excited to play together and especially in Chicago at Smart Bar. I have a feeling it's gonna be a good night!
SS: We'll see the night of the party.
LWE's questions for Silent Servant:
What inspires your personal aesthetic and what inspires your work with Sandwell District?
The Velvet Underground, Gregory Kepes, Marshall McLuhan, Daniel Miller, Karl O'Connor (aka Regis), Claude Eden, Camella Lobo, David Sumner, Richard H. Kirk, Luke Slater, Yves Klein, Marcel Duchamp, the Bauhaus school, "The Leather Boys", Joe Meek and Hammer Horror films.
Sandwell District seem to be increasingly defining themselves as a collective rather than a label. Is this a fair assessment?
Yes. We have to work together to be productive and balance each other's insanity. So a collective yes, but by necessity.
What was behind the decision to put out a collective album?
The first Where Next? zine was being done and Karl (Regis) thought it would be a good idea to make a record to accompany it.
You've recently put together a mix of 80s post-punk as well as a mix celebrating Tresor in the 90s. Clearly you enjoy revisiting the past; do you feel like looking at the past is an important way to progress?
The past informs the future and some of the music was better.
Function mentioned recently that Sandwell District are "situationists." Can you explain a little more about the situationist bent of the label/collective?
Situationists or circus clowns. We go with what happens. Nothing is planned, we just do what we want.
Despite cultivating an aura of anonymity around Sandwell District, the collective and its releases have a solid sonic and visual identity. As the person behind most of those visuals, what role do they play in getting across the SD message?
The visuals are there to guide the identity and we hope the message is honesty in art and music.We never try to hide what we do. It is in circulation and liked and disliked equally.
What's up next for you, Historia y Violencia, and Sandwell District?
For me, a new Tropic of Cancer 10″ with a Richard H. Kirk remix on Downwards and a full length For Sandwell District at some point next year. H&V has two new split 12″s, one by Roque Hernandez and Raíz and one by David Alvarado and Santiago Salazar. Sandwell has a few 12″s planned after the album but nothing we can really discuss yet.
LWE's questions for DVS1:
Most people who think of the American Midwest tend to focus on Detroit and Chicago. What are the positives and negatives of being part of the more isolated Minneapolis scene?
I wouldn't say we're that isolated. We get plenty of great talent that come through here and we definitely take pride in our sound systems being better than most other major cities in the US. Minneapolis has always been one of the Midwest's best kept secrets. The good is that Minneapolis doesn't have to live up to any reputation or history of influence. We take the best of everywhere and mix it up into our own little Midwest niche. We've always been influenced by everyone from Chicago, Detroit, New York and abroad, but we never just stick to one of those sounds. We find the best tracks from everywhere and beat them all together. The bad is that all though we have strong support for good music here, it's a bit small in terms of multiple events on the same night. Luckily most of the promoters, DJs, et al. stay in contact behind the scenes and communicate so we don't overwhelm our audience with too many places to be on one night. It really helps make all of our events successful. Although it would be nice to have our community double in size so that we could do multiple events without anyone losing.
Many producers in America end up leaving for places that are more accepting of techno, like Berlin. Does that hold any allure for you?
Of course it's alluring, but for now I'm happy to be here and traveling when possible. Too many people have made that jump prematurely and not been ready or had to really struggle to make it work. If things continue at the rate they have been, who knows. Check in with me next year!
Your first two releases have arrived on hugely noteworthy labels, Transmat and Klockworks. What have those signings done for your confidence? How do you feel now that you've set the bar so high for yourself?
I couldn't have asked for two better labels to do my first releases on. I still feel extremely humbled and excited by the reaction those records got from my peers as well as my audience. I'm still just as excited to make music now as I was when I made those tracks. As far as confidence, I've always been confident in my approach and honesty in what I do. If anything this puts the pressure on me to stay honest and keep going the way I have been for all these years. I do well under pressure, it's when I get comfortable that I get lazy, so setting the bar high was exactly what I needed to keep things moving.
Who are some contemporary producers who you see as leading the way in dance music?
Honestly, too many to name. In the history of house/techno you read about the different "waves" of producers that hit during different periods of time. I really feel that a new but well established wave of artists who have been working hard for the last 10-15 years are now getting their time in the sun. A lot of my peers have a very similar story to mine. They've been a part of the dance music culture for years and they stuck with it out of true passion and perseverance. They are now out front leading the way and telling stories about their personal experience and history through the music they make and play!
What's next for DVS1?
Releases and touring. I've got another Klockworks coming in the next few months as well as a record for Luke Slater on Mote Evolver. Also, some remixes for Joris Voorn, Perc Trax, Darko Esser and Sian. I've been working on remixes for a while now and I'm almost done with all my obligations. I really need to make time to focus on getting some more original material done. Also, Enemy Records (run by Dustin Zahn) just licensed my digital-only release on Timefog and put it out on vinyl: DVS1, Flight to Nowhere EP.
I gotta say that I have been really lucky and a bit pushy to make sure that my music is released on vinyl labels! I still play all vinyl and to be able to play my tracks on wax makes all the difference.