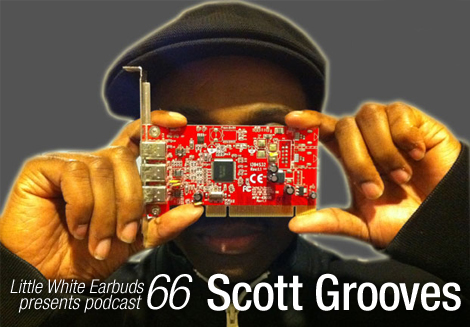 Scott Grooves is a tinkerer. Hand the man an instrument or a piece of music equipment that doesn't come easily to him and he's liable to make it his next personal project. He says it's because he doesn't want to be limited. And yet, he perpetually imposes restrictions and challenges on himself, setting the parameters of each musical project a little to the left of what's come naturally in the past. Grooves is a master of musical synthesis — for proof, look no further than his 1998 album Pieces of a Dream, which brought the drum machine rhythms he heard on early Chicago house records into harmonious unity with the sounds and musicality of Wes Montgomery, Roy Ayers and George Clinton. But lately he's been just as interested in focusing the listener's attention on an unadorned drum program, as he did on last year's paeans to the Roland TR-808 and TR-909 rhythm composers. Toss the title of his 2008 track "It Doesn't All Have To Be Techy" into the mix, and it may seem like a heap of contrasts. But Scott Grooves wouldn't have it any other way. The Detroit mainstay even operates three record labels to handle the divergent threads of his work. In the interview below, the multi-instrumentalist, producer, and DJ simply chalks it up to keeping busy. And while you're reading, be sure to check out the LWE exclusive mix that Scott Grooves put together for us, which certainly isn't going to do any damage to his reputation as your favorite DJ's favorite DJ.
LWE Podcast 66: Scott Grooves (56:37)
Audio clip: Adobe Flash Player (version 9 or above) is required to play this audio clip. Download the latest version here. You also need to have JavaScript enabled in your browser.
Tracklist:
01. Soul Center, "Sweet" (SG Edit) [W.v.B. Enterprises]
02. Norm Talley, "The Journey" [Third Ear Recordings]
03. Kotey Extra Band & Bottin, "Hot Ring" (Fernado Remix) [Bear Funk]
04. Rick Wilhite, "Playcism" (Mike Huckaby Reconstruction)
[Third Ear Recordings]
05. Salz, "7 : 0 Sieben" [Salz]
06. Reggie Dokes, "First Manifestation" [Psychostasia Recordings]
07. Karizma, "33rd Street Anthem" [ITH Records]
08. Terry Callier, "Love Theme From Spartacus" (Roy's Steppers Delight)
[Talkin' Loud]
09. Scott Grooves, "Electrifying Mojo talking to Prince, 1984"
10. Hardrive, "Deep Inside" (Mr. V Sole Channel Remix) [SG Edit Overdub]
[Strictly Rhythm]
11. Isolée, "Beau Mot Plage" (Panther Mix) [Classic]
12. Men From the Nile ft. Peven Everett, "Watch Them Come!!!"
[Undaground Therapy Muzik]
13. Greg Gow, "The Bridge" [Transmat]
14. Master-H ft. Alice Orpheus, "Out Of This Life Take 1" ep. [Komplex De Deep]

I understand you come from a jazz background. Could you tell us a bit about that?
Scott Grooves: Yeah. Jazz, rhythm and blues…. My father was a rhythm and blues and jazz guitarist. He had a band and also played with some Motown artists. My mother's side of the family was more rhythm and blues, Motown. My uncle was an organist. My auntie sang. My mother was a singer. Music was definitely around me.
So then were your first musical activities more oriented toward jazz and soul and that sort of thing?
Oh yeah. We always get asked like, 'Did you listen to Jeff Mills? Did you listen to Electrifying Mojo?' Most people think a lot of us picked up with that. Sure, I listened to Mojo, I listened to Jeff Mills, I worked at a record shop. I did what a lot of people did in Detroit. But well before that, the beginning point for me was growing up at home. It was like the family business, so to speak. If your uncles and aunties are in the circus, what do you think you're going to do when you get older?
So you were a young guy, with all this music around you. What was your plan back then?
Well, I knew early on that I really didn't relish the idea of working at the factory and building a car. I guess my plan for music was, uh… just to be somehow involved in music. At first it was a pastime, like my recreation. Other kids were outside riding their bikes; I was in the house learning how to play different instruments and listening to music. So it was like a hobby. When I was really young, I hadn't had it in my mind to make it… a career. But I did have aspirations to learn to play different instruments. That took up my early years, just learning to play the instruments that were in the house. My life was really simple back then: go to school, come home, TV, music.
And how did that lead you to KMS, Inner City, and a place in the burgeoning dance music scene?
DJing, that was the gateway. I started DJing, and it seemed like it was just a natural migration, having a musician background. It was only natural that I try to make some of the records I was playing, that I was fond of. Like another note on the musical scale, it was an obvious note to hit. So that's how I got into production, and it was fun because I reconnected with what I initially liked doing — playing instruments. I got away from playing instruments once I started DJing, because a lot of my time was spent buying records, looking for records, working at a record shop. DJing overshadowed, at that point, making music. But it was related, because then I started to want to make music. I would buy a twelve-inch and I would listen to it, and try to learn how to play what I heard. Eventually I made a little demo cassette, and went down to the offices of KMS, which was only like five minutes from my house. Kevin Saunderson just happened to be coming out of the building, and I gave him the cassette. The next thing you know, I was in a studio, playing keyboards.
Working at the record shop, I would talk to other people who aspired to be producers, or were already producers. Mark Kinchen also worked there — MK. I met the guys at 430 West when they first started, and I aspired to do some stuff with them. At this point, I just wanted to make a record. I just wanted to make a twelve-inch, Chris. That's all I wanted to do, see my name on a record.
Since you'd already had a lot of experience with a range of instruments, did you feel pretty confident that you could make that record?
Yeah, I did. And DJing helped too, because when you're a DJ, you learn about presentation in dance music. If I wasn't a DJ, I'd never even have considered things like putting a break in the record, or an appropriate introduction. And then working at a record shop helped me understand the commercial side of things. I felt I had the great trinity of experience at that point: I knew how to play a few instruments, I worked at a record shop, and I was a DJ. So I felt pretty confident at that point. I met Derrick Thompson through a friend. He'd just started Soiree Records, and he was like, 'Man, let's do it!' I told him I wanted to make a vocal tune. I had the song already in my head — the lyrics and everything. And that was my first twelve-inch, on Soiree Records, a vocal tune called "Over You." This was like, 1992. Around this time, all of us were trying to put out our first releases — Mike Huckaby, Moodymann, Rick Wade, a lot of people.
Of course there were others who were already established. Like I remember vividly, man, we were selling a lot of Terrence Parker records. Kevin Saunderson had three or four labels under the KMS tree. Carl Craig was making good stuff on Transmat. And I'd see all these people coming at the record shops.
What were some of the records that really stick out in your mind from that period?
I was into a lot of different stuff. As a DJ, whatever kind of party I was DJing, whether it was a wedding reception or whatever, you had to play a little bit of everything. It wasn't that segregated like it is now. You had to play R&B, some dance music, some funk, whatever. So I was into a lot of different stuff. But I remember hearing Adonis for the first time, and I was like, 'Man, what was that?' That was a big tune in Detroit. Larry Heard's "Can You Feel It," "House Nation…" I remember the first time I heard the word "import" was "Pacific 808 State."
But of course I was into music as long as I can remember, so I transposed it all in my head. Call it dance music, call it house… to me, a groove is a groove. The grooves I was very familiar with, the bass lines I was very familiar with. What made it different from what I was doing as a kid was the drum tracks. Going from playing live drums to learning to program drums. That was the biggest thing for me. Coming from a background as a drummer, I saw it was not so much about rhythm, but programming techniques. I found that intriguing. And it definitely imposed a learning curve. Programming and playing are two different things. I naturally knew how to play. I didn't naturally know how to program. That did not come naturally. I take my hat off to those guys back in the day who were really good programmers. They wasn't necessarily good players. But as I got into electronic music, I saw that you could make a hit record and not actually play one note. Learning programming techniques and secrets, that took…. I mean, the first time I seen a 909, I couldn't believe it was a drum machine. It looked like a data processor! I was like, 'This is an instrument?'
Did you ever wish back then that you could just play that drum track instead of programming it?
Of course, of course. But I learned over the years how to combine forces, to bring the two together. And also the technology started to catch up, to make it a little bit more intuitive. With the MPC, they had the pads on it and…
You almost could play that.
Yeah, I could play that, I could hit it. And the swing…. It could capture what I was doing live, on the fly. But when I first started, I was trying to understand how to take this rhythm and funk out of my head, use this machine as a relay, and have it sound the way it sounded in my head. You know, if I pick up a pair of drumsticks, I can do that instantly. But with a drum machine, it wasn't instantaneous. It was something I had to learn how to do. And that may not necessarily come from reading that big old, 300-page manual that comes with it. Sometimes it just came from using it. Trial and error.
So I started to listen to different records, and listened to how people programmed their drums. Being a drummer, if it feels real to me, that means it hit the bull's eye. And some records started to really feel like that, have that good feeling. And that let me know that what I wanted to do was attainable, it was possible. I just had to work at it.
You seem to be someone who likes to impose challenges on yourself.
You gotta stay busy, I think. This is just something you can't master. There's always something to learn, and ultimately that should keep you humble. You can never know enough. You can master the business side of the music business, but you can never master the music side. It's infinite. Just think about it: all the music you've ever heard came from a twelve-note scale. Everything we've ever heard came from twelve notes. That's mind-boggling. So I try to stay busy with the music side of things.
In 2009, for example, I realized it had been twenty years since the inception of the 808 and 909. So I began to peek my head into the door of the Roland and kinda highlight it. When I first started out, the drum machine was not my ally. I looked at it as something that put drummers out of business. So at first, I wasn't in love with it. I didn't even own one. But, like I say, now I have a real respect for people who mastered it. To me, that's just as delightful as somebody playing guitar or drums. And a lot of people in the jazz world kinda snub that. They can ostracize you when you don't play. Myself, I learned to have respect for what somebody else does differently. And when it's all over, can you lock me in a room with anything, and I find the rhythm in it? I don't want to be limited. I don't want a home field advantage. I want to be able to play well with anything that's put in my hands.
So was that the goal with the 808 and 909 records? To master those machines?
I don't know if I set out to master them. See, I used those sounds early, but I didn't really analyze the drum machine at the time. I was going at a real fast pace early in my career, because I just wanted to make a record. But as I got older, I had time to zero in on more minute points. You know,turn the keyboard off, and just check out the drum machine.
These days, the 808 and 909 are iconic, but mostly for for their bank of sounds. It seems like you've also really focused on their compositional possibilities.
I appreciate that question, because I did want to keep it compositional. I wanted…. Like when you listen to a lot of the early R&B records in the 80's and 90's, they were using the 808 and 909 just as much as electronic music. But they covered it up well with the composition of the whole record. They didn't just make an 808 track. But what I did, I concentrated on the drum track with just that drum machine. No other sounds. I just made an 808 track, or a 909 track, and let that lead me to some good music. For the first time, I didn't incorporate it with any other sounds.
I loved that. I loved the way the tracks worked within those parameters. And there was a real purity of sound as a result, I think, too.
Those sounds are truly classic. They have great fidelity. And even though, back then, against all the organic sounds they sounded like machines, now they sound organic in comparison to the all the synthetic sounds that are available. I mean, who would've thought back then that the 808 or the 909 would sound organic?
And that we would celebrate them for their warmth!
Exactly! I wasn't drawn to them in the beginning, because I was still clouded by the real sounds that were still popular in music — real drummers playing on real music instruments. I was very much coming from a 'live' element. See but now, with so many synthetic sounds out there, just seeing an 808 or a 909, it looks organic. It looks like an instrument. It didn't look like an instrument when I looked at it years ago. It looked like a machine. Now, when a guy tells you he can make a record from his iPhone, the 909 looks like an instrument.
Let's talk about your Modified Suede label, which is something different. It's closer to the pre-electronic drum sounds you just mentioned, a bit more like acoustic drumming. What prompted you to start this line?
Just to contrast myself. If I do something on Natural Midi, I like to contrast that, and try to come out of the studio with something for Modified Suede. And if a person goes to the record shop and buys a Natural Midi record and says, 'I like that. I don't like that Modified Suede release,' then I think I've done my job. Not that he thinks it's bad — just not what he's looking for. It's the other guy who says, 'I like that Modified Suede record.' That's kinda what I wanted. Music is varied, wide open. There's just so many different possibilities, so many things you can do. I like to do like the Boy Scouts. I like to earn different badges.
And now you're working on the Panther badge. That's a completely different platform for your music.
Yeah, the Panther thing is cool because it gets back to what I was doing before I started recording — performing. The performance aspect was first for me — playing in front of an audience. And I capture a little bit of that with the Panther productions. We take a record I like and set up different effects and percussion elements. And then I play along with the record, and superimpose things. You know, just pressing "record" and seeing what happens. It's a lot of live improvisation. Not so much recording where you're sequencing and all that, just performing. I did the "Beau Mot Plage" mix like that. I did a Panther mix of Floating Points' "Truly" that I've been playing out, and a lot of people asked me for a copy, but I can't give that out. But I did a nice Panther version of that where I just overdub, with lots of echo and reverb.
Is working with these effects new to you, or do you have some background in that too?
Not a lot. The guy I work with in Panther — his name is Kataconda — that was his forte. He'd always be showing me cool, different effects in the studio, and so one day I just gave him a Norm Talley record I had been playing, called "The Journey." And I was like, 'Tweak this!' You know, 'Take some of that stuff you're always fiddling around with, put it in that pot, and cook it.' He did, and it was really cool. So we edited it and did some other things. And I got a good response when I started playing it. I just thought of it as something to have for me to play when I DJ, but then the guy who owns the label Third Ear heard it, and he wanted to put it out. So it's an opportunity for people to learn a new side of me, and also learn about Kataconda who's very talented. And I'm working right now on a Panther mix of a tune that's out right now on the label Curle out of Belgium. It's a hot tune they got, and I'm working on that at the moment. And I'll be definitely doing more in the future. You can look for some new stuff on my website, where I gather all of my musical projects.
It seems like it's a very different outlet for you, musically.
I like to think that everything is interdependent. Whether you're turning knobs or strumming a guitar, it all can play into the world of Scott Grooves. I can take it all in. Some days, I'll go downtown and peek my nose into a jazz club, listen to a trio, and take that inspiration home with me, and approach the next record with a jazz approach. I'm always flexible with my approach. That's kind of my motto. Approach the music from a different angle.
Like, before you called I was listening to some old, like, Close Encounters of the Third Kind type of sounds. I was very much into Steve Miller and the Steve Miller Band, and he used a lot of those sounds too. The ARP, the Odyssey, the Prophet. I've been gravitating toward those sounds of late. And not just sounds, but how those guys approached the records. A lot of times I'll do research in how different artists made their records, because sometimes I'll bump into somebody who was a writer or a session musician from Motown, and they can relate a story to me about how James Jamerson would lay a bass line down, or how Marvin Gaye would do the drums. And then I'll go home and try to approach a record the same type of way, with the same sounds, and see what I come out with. And lately I've been doing that with more of, like, that Euro, Georgia Moroder-ish sound with the pulsating bass and all that.
Really? So is this Scott Grooves' next badge?
Maybe. I've been listening to a lot of the old drum tracks they used, with the LinnDrum, the Oberheim, the Roland 727. And I've been playing around with those sounds the past month or so. There's a music shop here in Detroit and all they sell is old equipment. So I'll go in there, and I don't know if this guy's caught on to me yet, but I'll have him turn equipment on and let me hear it, just to try to breath it in and get the feel, to use it as inspiration.
Well, here's to keeping busy!
Well you know, this music, it's definitely not a sprint. Being in it as long as I have been, that's what I'd tell anybody that's getting into this, that you have to know going in that it's a marathon. And that helps you. The race is not given to the swift, it's given to the person that's conditioned for change. And that's what I've tried to do all these years.