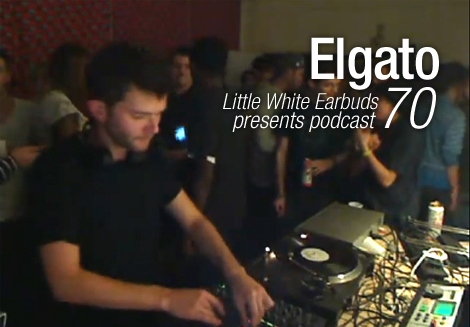 Elgato's vehement and repeatedly stated view is that club experiences are best in small venues with a direct connection to the DJ, hopefully shared between people with a passion for music and who may even be friends. One dominant theme that emerged from our chat was a desire to pursue a musical career adhering as closely as possible to that ideal. His time spent in Bristol seemed like it came close; there he helped run a night called Bruk which sold tickets without letting on who would play, relying instead on trust to draw in the crowd. But if he's keen for music itself to do most of the talking, LWE's 70th exclusive podcast is a good start. What Elgato prepared for us showcases only old U.S. and UK house and garage, genres he thinks claim a shared history, remaining closely entwined after growing from shared roots in the Paradise Garage. The fertile aesthetics of both house and garage, on both sides of the Atlantic, can also be felt in his tracks "Tonight" and "Blue" (the latter of which stunningly grabbed the #3 spot in LWE's top tracks list). That the programming of this mix makes so much room for not-always-appreciated music at the intersections of these styles might go some ways to explaining the parallel emotions of recognition and surprise that made his debut release so good.
LWE Podcast 70: Elgato (56:09)
Audio clip: Adobe Flash Player (version 9 or above) is required to play this audio clip. Download the latest version here. You also need to have JavaScript enabled in your browser.
Tracklist:
01. Classic Man, "Here's The Sample" (Bassment Jam Mixdown)
[Nervous Records]
02. Norma Jean Bell, "Dreams" [Peacefrog Records]
03. Kerri Chandler, "Downtown" (Dark Mix) [Downtown 161]
04. Oscar G, "Movin' On" (Original Vocal Mix) [Kumba Records]
05. Janet Rushmore, "Joy" (Choice Mix) [Released For Pleasure Music]
06. Rick Wade, "Harsh Thoughts" [Harmonie Park]
07. Underground Solution, "Paradise '97" [Quench Recordings]
08. Mood II Swing, Do It Your Way" [Groove On]
09. A Baffled Republic, "Sweetness (I Wanna Ho)" [Catch]
10. Tuff & Jam, "Track No Name" [Unda-Vybe]
11. DJ Disciple, "Keep On Movin" (Laid Back And Funk Mix) [Interstate Records]
12. Anthill Mob, "Promise Of…" [Confetti Records]
13. US Alliance, "All I Know" (N.Y.S.C. Dub Mix) [Locked On]
14. Groove Chronicles, "The Beginnings" [Old Dog Recordings]
15. Indigo, "Fly To The Moon" (The Mood II Swing Sentinal Dub) [Defender Music]
16. Jovonn, "Don't Wanna Let U Go" [Goldtone Records]

There's not a lot of biography about you available online so far? What do you want to tell me about yourself?
Elgato: That's a difficult question to answer! I'm not sure to be honest.
I read that you've been involved with the people behind Bruk for a while?
Yeah, although it's actually a different group than the one who publish Bruk Magazine, 'cos I've seen some confusion over that before. But yeah, we're just a group of friends who started putting on parties in Bristol, irregular things across a few different venues for about four years. We did it for the longest at this spot Take 5 Cafe, which was basically just a little cafe that happened to have a tiny basement underneath it. Our mate had a soundsystem (out to Joe!) he used to do free parties with, so we would take that down and run it out of there, do two or three pound door fee, sometimes book a DJ and have a party, all of us playing on rotation. I felt we were able to do something a bit different in that place; I loved the parties we did there. We've also been doing a show on sub.fm for a while, four of us on rotation now. It's a very loose affiliation of people, just me and my mates! A lot of my experiences of dance music have been with or from the people involved with Bruk. And all of them are heavy DJs, and we all bring quite different styles.
I also read that you've been gradually absorbed into a Hessle Audio universe?
Yeah, I've known Ben [UFO] and those guys for a while now. It's a funny thing with the record coming out though, to read how these things are perceived from the outside. I see them just as individuals really, friends, but then obviously they also have the music thing going on.
So it wasn't a case of I'll go down to the gig, and bring a CD-R…
No no, I'd been good friends with Ben and the other guys for a while before I sent them anything I'd done. It wasn't like, 'I've done these tracks, and these ones are ready.' At first I shared them unfinished, just as a friend asking for impressions and feedback on the production and that.
A lot of your sets seem to take in a lot of 90's UK Garage. As a DJ, do you see yourself as primarily part of that heritage?
Heritage is an interesting word. I think there's a lot more to heritage than just taking an aesthetic as an influence or playing records of a style. There's no doubt that music has shaped the way that I feel music, make music, but I don't know if I could consider myself as a part of that heritage.
Garage seems to be a major influence across a range of key producers in the contemporary London bass scene though. At the same time, I'm not aware of the same number of reissues of classic garage tunes, or DJs who play it on the broader club circuit.
I don't know, I suppose it kind of depends what scene you're plugged into. Plenty of DJs in London play garage, people like Oneman and Ben [UFO] have been doing it for a while. And then on the London pirates you hear it all the time, I don't think they ever really stopped. I suppose it's maybe different to the European house and techno scene where you seem to have some big names going that way and putting loads of older house in their sets. But then I bet there are guys all over Europe who never stopped playing that stuff. The reissues thing is kind of interesting, I hadn't thought of that before really.
I wondered if you'd tell me a bit more about the garage you love, whether there are any go-to producers you'll always check or that kind of thing?
The thing about UK garage is that it was running — in some ways it's still running — but what most people would call garage proper came from like '94 through 2003 or something. So there's so much amazing music from that period, and so many styles. Tuff Jam were big for me, but there are too many UK 4×4 producers. To name just a few people like New Horizons, Underground Solution, James Lavonz, Anthill Mob and all the Confetti producers, RIP Productions, Jeremy Sylvester, Ramsey & Fen, their tunes still kill it, there's nothing that sounds like that stuff. Then all the 2-step stuff, again too many to mention but a lot of the obvious ones like Dem 2, Steve Gurley, Industry Standard, Groove Chronicles, DND, have all been big for me. There are too many to name though, and that's not even really touching the grimey or darker stuff and what came after. One producer who always stands out in my mind — though not cos he's necessarily my favorite, although he is one of them, but for how unique his style was — is Wookie. His sound was so different, and it feels fresh even now in a way that I'm not sure many others do.
And then recently the original garage vibes have started making a lot more sense to me, both the vocal disco stuff and the really early New Jersey vocal stuff, stuff like early Blaze and Movin and all of that. But I've loved the more tracky U.S. garage and house for a while. With this mix I kind of wanted to show love for some of that music, 'cos it has done a lot for me.
Is there a particular feeling that helps you draw out a record that you'd play as a DJ?
I dunno really, I wouldn't say one feeling or vibe, 'cos as a DJ I tend to play quite differently depending on where I'm playing and what I'm feeling, and I've got a lot of different styles of records. It's something that having a tune out has put a point on, 'cos all of a sudden I'm wondering whether I need to have a more consistent style as a DJ. But I think I'll probably stick to just doing whatever seems right for the vibe.
In this mix, there's quite a tight focus on old UK and U.S. house and garage, do you prefer a narrower range when you program your mixes?
Yeah, I tend to try to give my sets quite a strong vibe running through them. It's not that I won't play different styles next to one another but I strive for something that holds together quite tight in terms of the feeling. I think there's still a lot that can be done within that, though, in terms of drawing in tracks from different times or places but which have that feeling in common. But this mix was slightly different, 'cos in my mind it almost became kind of a celebration of this music rather than a showcase of the kind of thing I would necessarily do as a DJ in a club.
What does the immediate future hold for you as a DJ or as a producer?
Just making more tracks, seeing how they come out, hoping they're good, and playing out as much as I can.