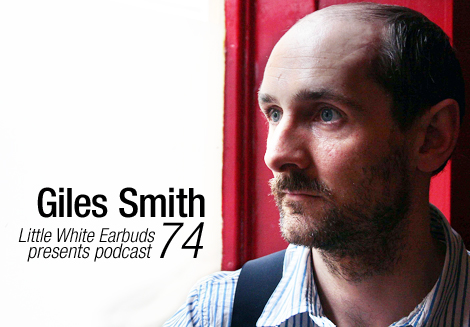 As one half of Secretsundaze with James Priestly, Giles Smith has been providing London with a soundtrack of house and techno via their bi-weekly parties for the better part of ten years. From modest beginnings, Secretsundaze has slowly grown to become an established quality brand in the saturated party market of England's capital. Their Sunday afternoon events have played a major part in day-time clubbing, drawing in guests from all over the world to play at the ever-changing, outdoor and secret venues. They have also taken the parties on the road, sharing their intimate, colorful vibes all over Europe. In more recent years Smith has also been stepping in to the studio with fellow Englishman Martin Dawson as Two Armadillos, with the pair enjoying critical acclaim for their run of deep, organic house on labels like Motivbank, Dessous, Buzzin' Fly and Sthlmaudio. With Secretsundaze about to celebrate their tenth birthday and their Secret Agency curating room three at Fabric on Feb. 19th, LWE caught up with him at a local Dalston eatery to talk about the past and future of the parties and what's up next for Two Armadillos. Smith also recorded LWE's 74th podcast, a one-take, all vinyl set that encapsulates why he's sought after around the globe.
LWE Podcast 74: Giles Smith (71:43)
Audio clip: Adobe Flash Player (version 9 or above) is required to play this audio clip. Download the latest version here. You also need to have JavaScript enabled in your browser.
Tracklist:
01. Hector Pizarro, "Agua Loca" (Gowentgone's Spreadoutintospace Remix – Beatless Version) [Vidab Records]
02. Christo, "The Trust is Gone" [Atjazz]
03. DJ Jus-Ed, "Maryland Jam" [Strength Music Recordings]
04.Wamdue Kids, "Echoes and Instruments" [Guidance]
05.RNDM, "Hideaway Lane" (Dub) [Laid]
06. Anthony "Shake" Shakir, "Travellers" (Mrsk Remix) [Rush Hour Recordings]
07. Walt J, "Reborn 1" (DJ Qu's Journey Towards Birth Remix) [Petite]
08. Spirit Catcher, "Voo Doo Knight" [Moodmusic]
09. Jovonn, "Definition of a Track" (Two Armadillos Remix) [Late Night Audio*]
10. Two Armadillos, "Ronin" [white*]
11. Tornado Wallace, "Always Twirling" [Delusions of Grandeur]
12. Fingers Inc., "Never No More Lonely" [Jack Trax]
13. Tyrez, "Technical Love" [Dolly]
14. Pawel, "Crillon" (Sistrum Remix By Patrice Scott) [Dial]
15. YMC, "Tranceatlantic" [Yoshitoshi Recordings]
* denotes tracks which, as of the time of publishing, are unreleased

First of all let's talk about Secretsundaze, how long have you and James been doing the parties for?
Giles Smith: This next summer the party will have been going for ten years. So we started in 2001. It's quite unbelievable that we've been doing it this long. We're planning on doing some parties in London, but these days we are looking to do more and more international things. So after ten years of doing the parties we are going to start broadening our horizons and doing different things. I mean we have the agency, the Secret Agency which is quite a big concern of ours; we have about fifteen artists on it. And the label as well, we're planning on a big year for the label, we've got a number of releases planned for that. Because in the past it was more for compilations. We did do some vinyl samplers lifted from the mix albums, but now we've just taken on a new label manager and we've got the first releases planned for April. Obviously the party was the grass roots for us but looking ahead I don't think we'll keep doing them every two weeks, we're not so young any more.
So what was the party like when it first started?
We did it every two weeks on a Sunday, from 2pm to 10:30pm. So it's been going like that since right from the beginning. We didn't have any grand designs when we first started doing it, it was just that old cliché of doing a party for our friends and playing the music we liked in a nice space. It started in the old loft at 93 Feet East which is well since gone. But it became quite peripatetic because we lost a few venues due to sound pollution and complaints and stuff like that.
When did the agency come about?
We only started it last year so it's a relatively new thing for us. We have fifteen artists on our books exclusively, so we look after a nice range of cats from within our sphere of music. Some older heads like Chez Damier, Delano Smith, Patrice Scott, through to newer people like Wbeeza and Ethyl & Flori. We're looking to grow the agency and as much as we love deep house and U.S. house, we're not going to confine ourselves to just those styles. We want to branch out and take on some people with different sounds too, so recently we've taken on Adam Marshall and Sven Weisemann.
How long have you been DJing?
I started when I was about 20 so I guess for about 13-14 years. I was actually buying house music from the age of 15 and had been buying vinyl so I knew quite a lot about it already. I had never planned to become a DJ, it happened quite organically. My friends all pushed me in to doing it because they knew how into music I was, but I hadn't really considered it because I came from a fairly traditional school and had always thought I needed to conform and get a proper job. So it wasn't really on my radar for a long time, but I started doing it and really enjoyed it. I was actually working in fashion PR for a very short amount of time before I got the sack for the cardinal sin of being rude to a journalist. But that ended up being a really good thing for me because it gave me a kick up the ass. I had already been DJing a little bit but I focused on my music more and more after that.
How long have you and James known each other?
We've known each since we were about 15. We both went to a school in Cambridge called The Perse and I went there from 7-18. So James started when he was about 14 or 15, so we've known each other for nearly 20 years. We were both more into bands and indie stuff at the time. I loved the Creation stuff, My Bloody Valentine, the teenage classic bands like The Smiths and The Cure. But around that time of being 15 I remember going with some other friends to a couple of raves. My oldest friend Jimmy who I've known since I was three, he was in the year above me and when you're 15, hanging out with someone even one year older than you means you do very different things. So he introduced me to raves and doing that sort of thing, and that was it really.
And how about producing, when did you start doing that?
Production is a relatively new thing for me, only in the last five years really. I mean I'm definitely more a DJ than a producer, whereas Martin (Dawson, Giles' production partner in Two Armadillos) is a highly trained engineer. I make no bones about that either because some people skirt around the fact that they don't actually engineer their own tracks. I have had a major role in everything we've done, but I haven't actually engineered it. Martin has been doing it for 15 years so he knows exactly what he's doing. It was one of those things where I could have spent lots of time on my own, which I didn't really have with doing the parties and everything. But we met and he asked me to work with him, because he liked the style of music I played and he wanted a different outlet I guess for his music. So we did our first EP for Dessous, which we completed after about three or four days. I don't personally feel it stands up the best of what we've done, but it was apparent immediately there was some chemistry between us. We've pretty much just finished off our album, which we haven't signed to anyone yet. We were approached by a few labels who prospectively asked us to do an album, and instead of agreeing to sign to any of them it just gave us the impetus to go ahead and make one. So we just finished a couple of weeks ago and have pretty much everything done, though we may get a couple of vocalists in for a couple of the tracks.
Did you consider putting it out on Secretsundaze?
I think for an album it needs to come out on a more established label. I think Secretsundaze will become a really good label, but an album needs quite a significant investment to promote it properly. It's different for an EP, you can put one out on a half decent label and with some brand awareness the music will do the talking, but I beg to differ with albums. Certain labels are known for putting out good albums and they get good distribution around the world, so for our first album we want to go for another label. Also just to have some third party avocation as well.
Have you and James ever worked on music together?
We did once and it worked pretty well. Toby Neumann did a mix for Secretsundaze a few years ago and one of the bigger tracks on the album was by him and Onur Ozer as Sensitiva and the track was "Viola Tricolor." We remixed that track for the mix and that was kind of the peak of the mix. The track was unsigned at the time of the mix so we wanted to put it out and remixed it too. So we did that but we do have pretty separate and defined tastes in our music, even though there is quite a bit of crossover in what we like and play. So I guess we don't rule out working together again but we choose not to right now.
Who are some of the people you have on your first releases for the Secretsundaze label?
We've got a young French guy called Brawther, he's a protégé of Chez Damier. I had put this track of his on a podcast I did a couple of years ago and it was his first track he'd done as Brawther and it was on Chez's Balance label. It was called "Stardusts and Asteroids" and was this beautiful deep house/techno track. He got in touch with me after the mix came out and we stayed in touch. He's got a deep knowledge of the music for someone so young and is an excellent DJ as well. So he's doing the first release, then the next one will be Two Armadillos, and that's quite a Detroity, anthemic track, which is a lot more techno-ish than we usually make, but there are still live elements in there like a stand-up bass and that sort of thing. Then we also have an EP from Ethyl & Flori, a very promising UK duo and they've already had some good releases out too.
Tell us about the mix you've done for us.
Well it was pretty classic in the sense that it was recorded in my bedroom, doing it in one take, which is how I like to record mixes. I know it's easier to do them using something like Ableton but I prefer to make it like a proper DJ set. The most time I take is in thinking about it and programming it, picking tracks that are going to work well together.
What can we expect from you in the next year?
Two Armadillos have also got a few other releases planned for the coming months. We've done a remix for Jovonn who is a bit of a US house legend and has made some amazing records. He's just done a track for Late Night Audio, so we're doing a remix of that. We've got the EP on Secretsundaze and then we'll be doing one for Chez's Balance label too. We're also planning on doing a Two Armadillos live set later in the year. Hopefully once we have the album out the way we can get our heads down and start focusing on that. It's a bit of a pipe dream at this stage but we'd really like to include some vocalists for the live set too. We do have a few people we've worked with in the past and it would be good to have that extra live feel too.