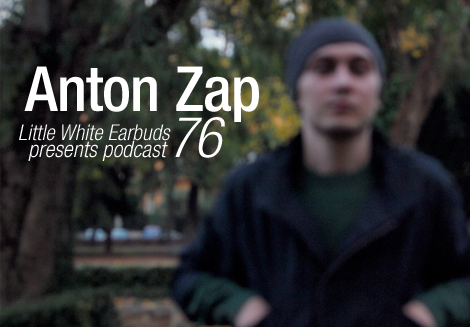 Although he has only been releasing for a few years, Muscovite Anton Zap emerged on to the house scene with the presence of a veteran. From the outset it was clear his productions had authenticity stamped all over them; immediately arresting and full of fluid grace, the former resident of Moscow's famed Propaganda club quickly began to develop his own particular sound. His early EPs for Quintessentials and Underground Quality ticked all of the right boxes for effortlessly hypnotic, deep house; but stood next to his releases for his own Ethereal Sound label, it was clear Zap was only just scratching the surface of his capabilities. These releases have seen Zap dive ever deeper into his sound, exploring a world that is dreamy, aquatic and without a trace of forced behavior. Without a wrong move to his name it seems every release from Zap is not just essential listening, but also an improvement on the last. And to show he's no one trick pony, his contribution to the Story label found the Russian exploring a completely different kind of house, one that harks back to the days of its very roots. LWE tracked down the producer to coax a mix out of him, which, due to his limited English, does the majority of the talking for our 76th exclusive podcast.
LWE Podcast 76: Anton Zap (48:20)
Audio clip: Adobe Flash Player (version 9 or above) is required to play this audio clip. Download the latest version here. You also need to have JavaScript enabled in your browser.
Tracklist:
01. Benjamin Brunn, "Hero" [Ethereal Sound*]
02. Joe Drive, "Nephti" [Ethereal Sound*]
03. Anton Zap, "Miles and More" [white*]
04. Nenad Marcovic, "Coney Island" [Ethereal Sound*]
05. Vakula, "Uliyanochka" [white*]
06. Yuri Shulgin, "Flow" [Ethereal Sound*]
07. Evgeny Light, "Public Library Square" [Simphonic Silence Inside]
08. Eject Project, "One" [Citadel Records]
* denotes tracks which, as of the time of publishing, are unreleased

Russia is not the sort of place that you usually identify with electronic music. Can you tell us something about where you grew up and how you came to discover electronic music?
Anton Zap: Actually Russia is the place especially for electronic music, but mainly everyone identifies our country as the biggest population of rich people. That's not true, most of the people are living "under the zero line." I was born and still live here in Moscow. I have been into music from my childhood. Later in mid 90's I discovered vinyl shops where I've spent most of my time buying and digging and waiting. There were nice record shops like Pitch and Discocsid where I met Vasily Borisov (Magic B) and Vlad Lozinsky (Tetris). Vlad worked in the studio, so every time I was buying new records I heard his hypno sounds from the studio where he and other musicians were working on a new music. Finally I came to the studio and the story begins.
What are the clubs like there? Do you take your influence for your tracks from the music you hear at good clubs or is this through discovering the music from other sources?
Like everywhere. Mostly Russians prefer interiors and drinks. Not like good sound systems or well cooked music program. I would love to not name the good or bad clubs. I could tell you that Moscow night life is huge. You could find whatever you want for your money.
Your tracks have a very pure, analogue sound to them. What gear are you producing on?
My favorite device is Korg Electribe-SX. Most of the analogue sounding tracks were produced [with that].
How long had you been producing before you released a record??
Well, I don't know what to say. I've been always into the music process since 18.
What have been your favorite places to DJ around the world so far?
I like them all! But I'll never forget the UQ party in Berlin and Terpsiton Kongress in Essen.
Straight away you were releasing on some very good house labels. Did you consider getting in touch with local labels or did you decide to go for international labels straight away?
I decided to not the deal with the local labels because I always wanted my own. Also when we speak about the labels we speak about the people behind them.
And when did the idea for Ethereal Sound come along? Tell us about the plan for the label.
From the beginning actually. Plans… no way! I just wanted to build a nice left-field local scene for electronic musicians and DJs.
You've been very well received for your deep aquatic sounding tracks and you seem to be creating a more identifiable sound as you continue. Are you purposefully following a continued theme within your productions?
Thank you, yes.
Compared to your release output, you have very few remixes. Do you have a lot of offers coming in to remix people?
Actually not.
Are there any plans of an Anton Zap album?
I don't think so.
Tell us about the mix you did for us.
It's very simple: The tracks I like at the moment and from artists I would love to support.
What can we expect from you over the next year?
More releases on my own imprint Ethereal Sound. Thank you for the questions.