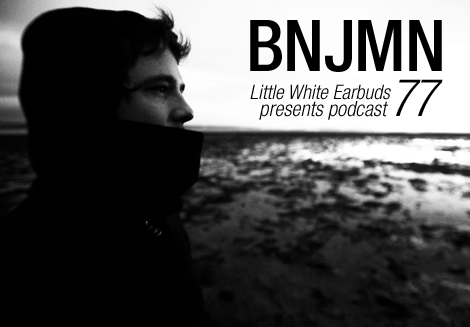 Ben Thomas can be forgiven for sounding somewhat lofty when professing his goal of "creat[ing] something new, that hasn't been heard before," mainly because he's been doing just that since 2007. His tracks, released under a bevy of monikers including Jackhigh, Rewolf, 141, Singing Statues, and BNJMN, seem both detached from dance music as we know it and utterly now. The 23-year-old Londoner captures the moods cultivated by his sources of inspiration rather than their methods, resulting in records that resonate with listeners' memories even as they're creating new ones. What first brought Thomas to our attention was his striking, Rush Hour-released album, Plastic World, a work so blindingly strong and cohesive it was difficult to believe it was his debut full-length. Crammed with sound and wracked with texture, its 10 hybrid house/techno tunes make beautiful sense of the overwhelming times in which we're living. In our interview, Thomas explains his surplus of pseudonyms, plans for the future, and the story behind the staggering sound of Plastic World. LWE also enlisted Thomas to mix together our 77th exclusive podcast as BNJMN, one which illuminates his contemporaries as it weaves together blurry house, acid and unreleased material.
LWE Podcast 77: BNJMN (53:32)
Audio clip: Adobe Flash Player (version 9 or above) is required to play this audio clip. Download the latest version here. You also need to have JavaScript enabled in your browser.
Tracklist
01. BNJMN, "We Are The Weather" [Svetlana Industries*]
02. Jacques Greene, "Sorted" [white*]
03. Actress, "Maze" [Werk Discs]
04. James T. Cotton, "The Boxx" [Spectral Sound]
05. Lone, "Cloud 909" [Magic Wire Recordings]
06. Model 500, "OFI" (SDC's Evasive Funk Mix) [R&S Records]
07. Lone, "Once In A While" (Midland Mix) [Werk Discs]
08. Agoria, "Panta Rei" [Infiné]
09. BNJMN, "Arose" [white*]
10. Maya Jane Coles, "What They Say" [Real Tone Records]
11. Kassem Mosse, "Untitled" [Workshop]
* denotes tracks which, as of the time of publishing, are unreleased

Did you have a musical upbringing? When did you start producing?
Ben Thomas: I grew up around my parents playing a lot of music, and I picked up the guitar at a really young age, but I definitely wasn't forced into doing anything musical. I started producing music around the time I left school when a friend of mine introduced me to Cubase.
When were you introduced to electronic music, and what was your introduction?
I think the first music I heard to really experiment with electronics was being exposed to Pink Floyd when I was young, then through my teens hearing things like Aphex Twin and Kid A by Radiohead had a pretty big impact. When I left school I was exposed to more experimental and "deeper" music by sharing stuff with friends.
On a blog you started, you called yourself "a 'quick change' artist, which means that with each new project I look for new sets of rules and inspirations to further push forward creatively." A lot of artists tend to either rely on the constraints of a certain type of music or avoid them entirely. From the description above it sounds like rules help you create; is that true? Do you think that sense of certain constraints is palpable in your music?
Sometimes thinking within a certain genre or BPM can help getting things started, but I think what drives me to create is to try to create something new, that hasn't been heard before. I like going back through history and listening to a lot of different types of music, and I like to draw from that, but I'm always looking to create something unique and fresh.
The task of creating something no one's ever heard before seems a more difficult task with each passing year. How do you prepare yourself for making music that doesn't invoke familiar sounds? How do you turn your influences into new ideas?
I think it's about being inspired by other music but also at the same time shutting yourself off from outside influences. When I'm making music I go into my own world, almost like a trance kind of state, and whatever comes out happens naturally and isn't forced by trying to sound like another artist or a certain genre. Like I said though, when you start a tune it's sometimes best to start with something in mind, be it the BPM or certain style you're going for. It usually starts with something really basic like a kick drum or a set of chords and goes from there.
Oftentimes younger artists tend to refine a single aesthetic and build up a single profile, whereas you've broken yourself up into several styles and pseudonyms. Did you do this to keep music making fresh for yourself or is there a different strategy in mind?
There's definitely no strategy in mind, all I'm concentrating on is making the music and releasing it is always an afterthought. I think now with the BNJMN album coming out on Rush Hour I may end up focusing more on this sound than the others, it's been my main focus for a while now.
Which alias was your first? Which one are you most drawn to these days?
When I started making music it was down-tempo/hip-hop inspired stuff under the name Jackhigh. Since then I've made music under several aliases but never more than one at any single time; every time it's been a development and not just making loads of different types of music for the sake of it. I'm drawn to whatever music I'm working on at the time, at the moment its the BNJMN stuff so that's where my head's at.
Interestingly you went from low key releases and self-releasing music to having a 2xLP released by Rush Hour — a major achievement for any producer, let alone one who is still getting established. Tell us about how you ended up connecting with Rush Hour.
I ended up sending them a demo last year as I thought their sound and ethos fitted with what the BNJMN stuff was about. Luckily they liked the material and decided to put out a limited EP promo which was available in-store only, followed by the album.
The tracks on the Plastic World album are incredibly densely layered, sometimes incorporating discordant sounds/non-musical sounds. The overall effect can be somewhat overwhelming. What were you trying to accomplish with these methods?
It's just personal preference, when listening to music I like hearing things that make the music sound like an environment unto itself, and non-musical sounds can help in that way. I like to be absorbed in the sound and sometimes that means using samples or using certain effects that can sound a bit non-musical.
This style makes me think about the album Splazsh by your compatriot, Actress. Do you draw inspiration from his work or connect with it more generally?
I really like his work, but when I was creating this material I'd never really heard Actress' music. He's definitely one of the most creative producers around at the moment though.
How important is it for your productions to work on the dance floor or in a club setting?
It isn't at all really. I don't go to clubs much and all the music I'm inspired by is always musical first, if it's danceable that's usually by coincidence. However I'm strongly influenced by rhythm so if it makes people dance then all the better.
What can we expect from you for the rest of 2011?
I've got an EP coming out on label called Svetlana Industries which should be out fairly soon, that's pretty different to the Plastic World material but will also be released under the name BNJMN. I'm also planning to start playing live soon so I'm working quite a lot in Ableton at the moment trying to get prepared for that — this mix is similar to what I plan to do live.
One last question: What do you do for fun?
I go to watch my local football team, listen to music with friends, and I've just started to try to get fit. Too much sitting around making music has taken its toll.