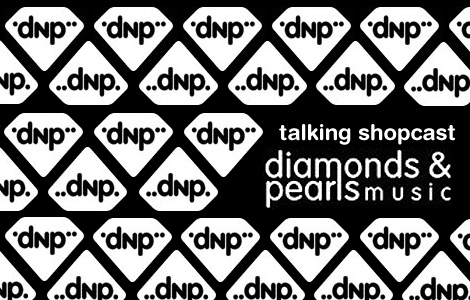 Welcome to the fourth edition of our series of interviews and mixes affectionately titled Talking Shopcast. The majority of media and fan attention gets showered on the artists who create the music we love to listen to/DJ with/dance to, and for good reasons. But without the hard work, keen ears and business savvy of label staff, we'd be stuck only streaming tracks on their websites. Number four brings us to the eclectic and far-reaching Diamonds & Pearls Music, a distributor, record label and production studio in one. DnP has taken its time releasing records, selecting a coterie of top notch producers to fill its diverse slabs, such as Henrik Schwarz, Ricardo Villalobos, Luciano, Matthew Styles, tobias., Efdemin and more. DnP is also responsible for getting records from Mikrodisko, Beatstreet, Contentismissing, Enliven Music, Pastamusik and many more in shops around the world. All three of DnP's founders were gracious enough to answer our questions; and although they insisted on relative anonymity, it didn't stop them from giving us one of our best Talking Shopcasts yet. To top things off, Efdemin crafted an exceptional exclusive mix (available below) that might make it difficult to sit still long enough to read the interview.
Please tell me about the beginning of Diamonds & Pearls. Why and how did you start out? How did you decide on the name Diamonds & Pearls?
E: I wasn't with the guys… I think I was hospitalized.
A: I can't remember when we started the whole thing.
J: We founded DnP in 2003. The idea was to make a small distribution for house and techno music. We just wanted to do something meaningful with our time. It never was about making money, but at that time I thought the market couldn't go any lower and that it could be good for the whole process of learning how the business works to start in a difficult situation.
A: We all know this was an mis-estimation, wasn't it?
J: Sure it was, but I would do it again.
A: Me too.
J: As a kid you may want to be an engine-driver or a fireman, but as a youngster many people want to do something with music. It isn't the worst thing to combine what you like with what you have to do everyday. I didn't have the talent to be a musician by myself, but I knew a little bit about running a business and I knew that my friend A. was making music for years without even thinking about releasing something, so it was a good combination.
A: Yeah, why not. Doing something you like is definitely worth fighting for. Besides, art is one of the few political correct things to do, or a least it should be.
E: Why did you guys named the thing Diamonds and Pearls? I never get this!
A: We just wanted a "KLF styled" name, you know, a simple name everybody can remember. It was meant to be, I don't know, I didn't want it to be pretentious.
J: This has been accomplished and I still like the name.
How did you select the artists for the Diamonds & Pearls roster?
J: First of all, the music has to be good.
A: That's right.
E: Hmm…
A: I do care a bit about the artists' character too…
E: No, you don't.
J: It's not so bad if the artists are friends or at least could become friends, but we don't check the people or something like this. There is a lot of intuition in the process of deciding whether we want to work with somebody or not.
A: And we should not forget that every kind of art is strongly related to the artist. I can barely imagine a total idiot who creates something we like.
E: Hmm… For example: Louis Ferdinand Céline was an anti-Semite and a fascist, and I wouldn't want to be in the same room with the guy; nevertheless, he wrote one of the greatest books ever written "Voyage au bout de la nuit."
A: Yeah. Many geniuses are weird and "different" …some are idiots, too. So… you are right.
E: They are scary. I'm afraid to meet one… although it could be fascinating.
A: There is only a small chance to meet a genius, most of them are dead.
E: O.K. That's good. By the way, would you guys release an awesome track made by a total jerk?
J: Yes.
A: No. I definitely wouldn't, would you?
E: Yes.
Do you get many demos? What are some qualities you look for when sorting through them?
E: I sometimes have the spooky feeling we are getting billions of horrible demos.
J: No. We are getting around 50 demos a month.
E: And 49 are horrible.
A: I guess the important thing is that you notice a kind of attempt to work things out. It's not enough to use preset sounds and lots of delay and FX. It's very easy today to make complex tracks with for example Ableton Live or a modern MPC. Anybody can easily learn this tools very fast. On the other side the process to develop your own style and your own ideas will take some time.
J: There are some good tracks coming with the demos.
E: I can't remember a single one and I don't think we ever released something from a demo on our own label.
J: That's true. Mostly we ask other artists we like for tracks, maybe you can call this demos too. Often they give us very different tracks.
A: These tracks are always good. But remember! We distribute some labels which send us really good demos of their 1st release.
J: I wish there would be more nice stuff among the demos.
E: I really hope that we get a demo from a genius one day.
A: And if he comes visiting us, you are hiding in the attic.
What is one of your favorite releases on your own label? Why?
E: My favorite is "Shipbuilders Vol.1." I am really proud on that one. It's so orchestral. I always thought we'll become famous with this one.
J: But in terms of money it has become our greatest flop.
A: That's so sad. We all love this record and all of our artist friends too. But anyway it was a good example for the wrong time and place for this release. I think we are getting better every record.
E: Well, I'm not sure I want to be famous anymore, but who knows.
A: I love our first release too. The record became some kind of classic. And lots of people think both sides are produced by Henrik. I think we tried to create something different on every DnP release yet… and that is not so easy. I might have listened too much to my solo releases, but the others are great!
J: I love all our records.
A: You do? Your words are pleasing my ears.
J: Sure, I'm serious, I think they're all great. That sounds a little boring, but it's true.
According to many doomsayers, running a record label isn't one of the "smartest" fiscal things to do. How do you keep Diamonds & Pearls running with sales "as they are"? How has the closure of many distributors affected Diamonds & Pearls?
E: I get 15 cents an hour, maybe that's how it still works.
J: We learned to think economical, to focus on keeping DnP alive by always choosing the cheapest possibility without making the project lose its power.
A: The content is what we care about first. So we try to stay small and to do almost everything by ourselves. We don't employ clerks which gamble the whole day.
J: No, we rather gamble ourselves. Wait, it's my turn… click.
A: As we do everything by ourselves we don't have to pay for expensive artwork or advertising.
E: Why the hell don't we do advertising?
A: I hate commercials. Advertisement kills the arts. Besides it's hard to find somebody who is doing a really good job.
J: To return to the question: Sometimes I think it's not so bad that the market is thinning out a bit.
A: There are way too many labels…
E: Which suck…
A: Don't say that. It sounds arrogant.
E: Sorry, you are right.
Do you think blogs like LWE help or hurt the music industry? Do you think blogs have a role in the future of dance music promotion?
J: I think everything made with heart is good for the arts.
E: I don't do any blogs and I sure don't need the music industry.
A: You don't even know what a blog is and you don't know anything about the music industry, don't you E.?
J: Yeah, but to be serious, I really like what you do. Everything is well selected and nothing you do can hurt anybody. I don't see why blogs shouldn't have a role in music promotion. Everything new and forward is good for this crappy industry.
A: And most of the music critics or journalists are very traditional, they still have the same kind of language they used in the sixties.
E: Yes and this is strange, because everything changed but them.
J: Yes. Please go on with what you do, we need this.
There is no shortage of labels in dance music. What does Diamonds & Pearls do to stand out from the crowd?
A: We are just trying to waste nobody's time and to bother nobody. Of course this isn't as easy as it sounds, because most of the time it means low income if you try to do something different. Most people don't really like to be surprised nor do they like something exceptional.
J: You have to find a way to be different and to satisfy the listener. It makes no sense to release something that doesn't have anything never heard.
E: …and we have an outstanding quality control.
A: Do we?
J: Sure. You!
E: Evolution will do its work and erase all the bad music from the surface of this earth.
J: That will never happen.
E: I know, but it makes me happy to say it.
A: It makes me happy to hear it.
J: Yeah.
As technology advances further, vinyl is moving closer to becoming obsolete to many DJs. What are your feelings on this? Do you think the end of vinyl is in sight?
J: I don't see why vinyl shouldn't be even greater in future.
A: We don't sell almost the half of the records we sold 3 years ago.
J: Yeah, yeah, but a baker doesn't sell half the buns he sold half a year ago.
A: And…?
J: I mean, everybody struggles, that has nothing to do with the fact that vinyl will always have a glamorous sex appeal no other medium can provide.
A: That's true. Maybe vinyl becomes less important for DJs but not for music lovers. You know I am really a computer geek but I started a vinyl distribution.
J: We know many music lovers…
A: …and do they store their music on hard disks?
J: No, they don't.
E: I heard they sell more of alternative rock vinyls in the U.S. again.
A: Yes, it comes back.
J: Let's hope so, by goodness!
What are a few other labels you respect/revere most?
E: I don't know any labels, but I like the guys who are making reissues of ESG records or weird theme compilations.
J: You know the labels we distribute, and you mean Soul Jazz Records.
E: Yeah, Soul Jazz, great.
A: I'm listening to lots of different styles of music… stuff from which I could learn something new. Classical music, experimental, house, techno, jazz, punk rock, alternative music… anything. Apart from the labels we work with and to drop some other names: I like many releases on Rephlex and Warp as well as from Tigersushi from France or Sähkö Recordings from Finland. Just to name a few. Actually, I have respect for everybody who is releasing good music nowadays and we should not forget that there is lot of very good music out there. It is only harder to find something outstanding and new in the flood of trash released every month.
E: Many people are doing better than we do.
A: Yes, of course. That is a fine thing and an encouragement for us to try even harder! I have a lot of respect for big players, but I don't know if I want to be one of them.
J: There are so many really great labels and artists that it is difficult to name them all. I think the most influence on me and our own label came through the music on classic labels from Detroit and Chicago.
A: I remember us listening to lots of cool house and techno records even before thinking about Diamonds and Pearls.
J: Yeah. I love the classic stuff! But you know that I like lots of different music too! For example I really enjoy listening to football and riot related punk bands like Cockney Rejects, Cock Sparrer and The Oppressed.
E: Yes I know. You are really a fan of… Oi Oi Oi!
A: Me too. Especially drinking songs!
What can we expect from Diamonds & Pearls in the next year or so?
J: The next big thing is our second compilation, featuring such great artists as Efdemin, tobias., Dinky and Matthew Styles, Pier Bucci, EAT, Prosumer & Tama Sumo and Marcel Dettmann. The first 12″ by Efdemin and tobias. is coming next month and will be followed by three 12″ with the other artists. It's a huge project we are very proud of.
A: We got a really weird artwork for the compilation. I don't want to say too much…
E: If you have all four 12″ you can put them together for a picture of a bunch of mad dudes doing mad things.
J: I thought the dudes were just standing around.
E: Sure, standing around and looking crazy.
A: Yes and we have to finish that ASAP, do you remember?
E: Sure. Lots of stuff has to be finished first.
J: We will have some new Anscorm releases on DnP. DNP 10 is nearly finished.
A: Almost.
J: We also have some promising projects with Eve White, Eliot Orphan, XDB and Quietpoint on our small beloved sub-label, Ballad Inc., in the pipeline.
A: The tracks I've already heard are really hot shit.
E: I heard that EAT will finish some great stuff for DnP, too.
J: Yeah that would be great. I hope all these things work out in 2009 and that our artists and friends all survive the economic pressure in hard times like these.
A: Where there's a will there's a way.
E: Oh god. I think I have to puke…
Talking Shopcast 04: Efdemin (72:46)


Tracklist:
01. Ferdinand Kriwet, "Voice of America" [Edition RZ]
02. Thriller, "Hubble" [Thriller]
03. Loco Dice, "Black Truffles In The Snow" (Mike Huckaby's The Jazzed Out S Y N T H remix) [Desolat]
04. Vera, "Hooked Up With Da Drums" [Moon Harbour Recordings]
05. The Godson, "Magic Water" (Saint Jean remix) [Still Music]
06. Dplay, "Tschaka" [Running Back]
07. Rennie Foster, "Little Dandelion" [Futago Traxx]
08. Josh Brent, "A Question of Timing" [Schatrax]
09. Boris Horel, "Close To Me" [Eklo]
10. Studio 1, "Gelb 2" [Studio 1]
11. Protectorate Collective, "Nm" [Protectorate Collective]
12. Norm Talley, "The Journey" [Nouveau Riche Entertainment]
13. Protectorate Collective, "Be" [Protectorate Collective]
14. STL, "Silent State" [Smallville Records]
15. Sian, "Red Cloud" (Minilogue remix) [Aus Music]
16. Eliot Orphan, "Twelve" [Ballad Inc.]