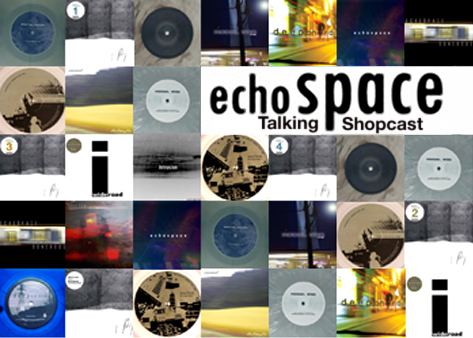 Welcome to the twelfth edition of our series of interviews and mixes affectionately titled Talking Shopcast. The majority of media and fan attention gets showered on the artists who create the music we love to listen to/DJ with/dance to, and for good reasons. But without the hard work, keen ears and business savvy of label staff, we'd be stuck only streaming tracks on Myspace. Our latest bring us to echospace [detroit], one of America's finest imprints which often sets the bar for dub-influenced techno worldwide. Owned and operated by Stephen Hitchell (aka Soultek, cv313, Intrusion, et al.) and Rod Modell (aka DeepChord), the label's self-contained roster explores the furthest edges of electronic music across a series of colorful vinyl slabs. The label also honored Model 500's "Starlight" with a host of new remixes and its latest venture, the Intrusion sub-label, dives even deeper in the very essence of dub music. Hitchell talked with us about the state of the music industry, lessons learned, and echospace's forays into the digital world. He also weaved together a truly stunning exclusive mix which is available after the jump.
Please tell me about the beginnings of echospace. Why and how did you start out? How did you decide on the name echospace?
Echospace originally started as a project name for a remix of my friend Erik Møller (I:, Unai) on my other label, Souldubsounds in 2004. The remix was finished but it didn't quite sound like anything related to my other projects; echospace was really the only way I could describe the sound of the recording, it was very spatial and filled with tons of atmosphere. I could only imagine in space the slightest sound traveling would echo for miles and spin around you in every direction, very immersible. I suppose the title was best suited as a description of the music rather than a name of an artist, but over time it really grew on me and Rod really liked it, so we went with it on The Coldest Season album as well.
You've been running labels for a number of years now; how is echospace different from the rest for you?
I have been involved with labels since 1995 when I did a small run on a 12″ (as Radius) with a close friend. We only released one record which we didn't even sell to distributors, we gave them away to friends. In 1998 I was a bit more serious about getting music out through proper distribution channels and a few friends and I decided to start a label which would give a home to all of our work. The best thing about doing your own label, artwork, promo etc. is you never lose your artistic vision, you can release something without compromise. In the time I was working on a label with many friends, I learned everyone has their own opinion on what they think is good or where the focus should be with the sound of the label and you end up changing your sound to fit that direction. I think that was a big reason why I walked away from working with too many people on a label and started to get more involved with my own personal things.
With echospace, Intrusion, cv313, Variant, Phase90, Soultek et al. its a bit more personal and I can say things exactly as I want them to be heard without compromise — it's exactly the sound I love and have been producing for the past 15 years. I think each project has a slight variation and different mood in each production, which is why I feel they should be separated from one another. With echospace, working with Rod Modell has been artistically rewarding. His strong background in the specifics of sound and recording really expanded my horizons with innovative production techniques and has been a radical departure from the traditional recording methods I was used to. There are certain people in this world who are great observers of their environment and surroundings and Rod is definitely one of those people. He notices things most people wouldn't look twice at and can find subtle beauty in the sounds around us. The knowledge I've gained in this respect has changed my whole direction in a lot of my recent material.
Tell me a story from one of your favorite moments in running echospace.
I would have to say one of my favorite moments was working with Juan Atkins, a legend and a person I respect and revere more than just about any other producer in electronic music. When I first talked with him about the [Model 500 remix] project he was very receptive to my ideas, and to me this was amazing. After all, he is the godfather of techno. When he finally agreed to do it and seemed honestly excited about it, well, it was one of the proudest moments I have experienced in my musical career. Juan's music has had such a huge influence on me over the years, I had the distinct privilege of opening for him at a party I was involved with in Chicago (in the early 90's) called Dee Day 2, and I also had the honor of announcing him to an audience of 5,000 raving fans. It was a very special moment I'll remember the rest of my life. He and his wife were both so humble and down to earth, it didn't surprise me he is very much the same person close to 15 years later. I still remember buying Metroplex 24 on white vinyl at Gramaphone. Josh Werner held the last 2 copies he had for me, and that record changed my life. To me, "Starlight" is what Detroit is all about. It's sorrow and funk all put into one, there's pain and love in each sweet note, and to this day doesn't sound a second older than it did almost 15 years ago. That project in particular was certainly a highlight for me and I think for everyone else involved with the project.
You recently disclosed that you would be making echospace releases available digitally. Was it a difficult decision to make? What kept you from releasing that way previously? What do you think the benefits will be?
The label is now available digitally, which was a hard decision to make. But after long conversations with other labels and friends, it seemed like the right move to make. One thing that put it all into perspective was a show we played in Rotterdam. A few fans came up to me during the course of the night who were all much younger than me and said they didn't buy vinyl, they djed using Traktor and wanted high quality files of the echospace catalog. Throughout the course of that tour I must have had 100 people asking if they could buy the MP3s from the website in high quality. I realized we were missing an audience and an audience which had grown immensely over the years. As much as I love vinyl and always will, I understand not everyone is me or has the preferences I do. In turn, some of the vinyl junkies (like myself) felt betrayed by going this route, but in the end so many people were sharing the material on file shares it didn't make a tremendous difference anyhow. If you have an audience or group of people who love music it really shouldn't matter which medium they prefer, the only thing that matters is if they love what they're hearing.

Echospace in action at Sonar. Photo by nudevinyl
Do you think there is much promotional value in a blog like LWE or its peers? Do you read many blogs?
I think the new age of blogging has become a great resource for fans, journalists and musicians to talk about their passion, spill out their heart for what they love and that can only be a great thing. In the last few years I have watched this new age of blogging help seize a presidential race, unite people in disastrous events and help in the honest disclosure of news related to the war in Iraq and other hostile territories. It's the people's press. Granted I am sure there is a good 50% of information out there funded by corporations whose sole purpose is opposition and miss-direction, but there is still a great deal of honesty in it. I think for the most part blogs are the new information super highway; it's a great way for people to express their opinion to the masses (who care to read them) and in some cases get inside information on true events in accurate detail, its why I limit my television viewing to public broadcasting stations.
I think its important people have options to how they receive information and what they choose to do with that information. As with everything it's so important to have different view points, to listen to debates and views from 100 different angles before formulating a decision. The same thing applies in the world of music: now more than ever, the market is filled with thousands of musicians with very little room for top critics and journalist to write about them. Blogs help support and push those obscure titles and increase awareness of the music. Not every release makes it into every record shop — in most cases very few do. Blogs discussing records (as much as message boards) are critical, you read 100 different opinions and become aware of new music. It becomes a social event in a time most people prefer to download music or buy records off of a webshop than take the time to go hunting through crates at a record store.
The most important thing though is that the blog or website is honest and really trying to support the music, not steal it. This is the one aspect of blogging which has hurt the music and recording industry tremendously, (not to mention the 1,000s of vinyl and CD plants that have shut down these past 5 years) I've watched shop after shop & distributor after distributor close their doors as a direct result of illegal file sharing. It is theft regardless of how its justified, would you go to Paris and steal the "Mona Lisa"?
What are a few other labels you respect/revere most? Why?
Well, this list could go on forever but off of the top of my head I would say Studio One, On-U Sound, Pressure Sounds, Blood & Fire, Trojan, Firehouse, Wackies, Basic Channel, Chain Reaction, Main Street, Maurizio, Basic Replay, Honest Jons, Deepchord, Down Low Music, Imbalance, Blue Note, Clock Tower, Sub Pop, Fortuna, Silent, Transmat, Fragile, Tresor, Underground Resistance, Studio 1/Profan, Planet E, 7th City, +8, Communiqué, Mille Plateaux, Force Inc., Metroplex, KMS, Trax Records, Warehouse, Relief/Cajual, DJ International, Dance Mania, Warehouse, Irdial Discs, Soma, KDJ, Sound Signature, Red Planet, Prescription/Balance, F Comm, Ampoule, ~scape, Scion Versions, Hypnos, Smallfish, Mojuba/A.R.T. less, Metrolux, Sistrum, Styrax, 430 West, Frictional, Millions Of Moments, Axis, Purpose Maker, M-Plant, Peacefrog, Perlon, Distance, Large, Kompute, Wax Trax, Hot Mix 5, Dust Traxx, Night Life Collective, Guidance, Sub Static, It Is What It Is, Anticipate/Microcosm, 4AD, 12k, Ghostly/Spectral, Cadenza, Antenna, Mathematics, Background, Ai Records, Playhouse, Kompakt, Ostgut Ton, DFA, Skull Disco, Hyperdub, Art Of Dance, City Centre Offices, FatCat, Mute, MDR, Klockworks, BPitch Control, Orac, Rephlex, Warp, Amplexus, Plug Research, Soul Jazz, Type, U-Cover, Yore, Huume, Asphodel, The Agriculture, ROIR, R & S, Third Ear, Skam and hundreds of other labels I've followed and bought over the years, I have over 10,000 records so I am sure I could go on for hours here, there are so many artist and labels out there I love for many different reasons.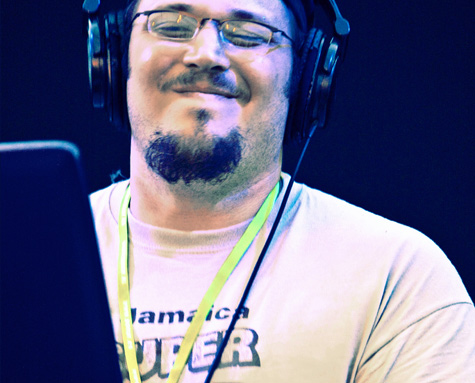 Stephen Hitchell lets his soul shine through. Photo by nudevinyl.
With the state of the American economy/dollar and the general state of the recording industry, what keeps you going?
That one is simple, the love of it all. If you get back to the state of mind you had when you first discovered this music (for me that was 1986) and the power and love you felt when you first heard it, well it's something indescribable with only words. I've always been addicted to music, even when I enlisted in the Army. My roommate's would go out every weekend drinking and I would stay in our barracks with my only personal items, consisting of a drum machine and a pair of headphones. I would spend 95% of my free time studying drum sounds and different sequencers. I also had a little side business splicing reel to reel tape replacement loops for various echo units, but that is a story for another time. Honestly though, if this music grabs you the way it does me it just takes control of 95% of your thoughts — its hard not to be consumed by its beauty, I will for the rest of my days here. I could only compare it to the first time a person discovered the power of religion, it makes such an impact on people and as a result of that you hold onto it for the rest of your life. The first time you touch your childs hand, look into their eyes and you know in your heart you truly love something more than yourself. Well, that is this music to me, it's eternal love.
What are some of the lessons you've learned in your years in the label business and with echospace specifically?
To summarize that in a few short sentences isn't possible but the one thing which I would consider most important (a life lesson, if you will) always trust and follow your heart. Regardless of what is said and what happens, always remember why you are here and what you love the most and for me that has always been the music. I will be the first to admit I am a complete isolationist and for the most part don't leave my house if I don't have to, so I have no real attachment to a scene nor do I care to, the music is and always has been the only thing that has kept me here. In regard to the business (marketing, press, promo, etc. or life in general) you must always remember, life is 10% what happens to you or is said about you and 90% how you react to it.
What do you foresee in the future of dance music record labels? What are your hopes for the future?
This question is a tough one, I honestly don't know. I think it will always be here, my only hope is I am there with it.
What can we expect from echospace over the next year's time?
For now, we just released my first solo album and third 12″ installment as Intrusion this week, entitled The Seduction Of Silence, and the final 12″ features Paul St. Hilaire (Tikiman). Teaming up with Tiki has been a dream of mine for over 10 years now and it's a song I love and am very proud of. Beyond that, I signed a new artist to the echospace roster who will be contributing a beautiful full-length CD album of heart-felt ambient work and I will also release the amazing "I:" project from Sweden's Erik Møller in March with new remixes on Souldubsounds.
Please tell me a bit about the concept behind your mix.
Well, I tried 10 different times to make a hybrid "closer to the edit" style mix in Ableton with over 100 different cuts up and loops of various songs and I just couldn't do it. In the end all I wanted to do was make a simple old school mix with two Technics, a Pioneer DJM500 mixer, my record box, play some music I love and hit record on the tape deck. I pretty much stuck to one crate of records as much as I wanted to be diverse. (I didn't want to screw up!) More importantly, I wanted to have a mix which wasn't so all over the place and stick with a formula I am used to and feel most comfortable mixing. I know most of these records more than most of what I own and have mixed and played almost all them 1000+ times so I felt much more comfortable this way. The unreleased material I included was a bit of a gamble, as most of it isn't on vinyl and the CD mixing thing is still a bit foreign to me, but I think it worked out OK in the mix. I did four other one hour mixes which had a much broader artist range and track selection, but sadly I wasn't 100% comfortable with any of them in the end. This one was by far my personal favorite.
Who are a few of your favorite DJs past and present?
Derrick May, Jeff Mills, Derrick Carter, Miles Maeda, Mickey Oliver, Josh Werner, Mike Huckaby, Diz, Claude Young, Mark Farina, Anthony "Shake" Shakir, Dan Bell, Danny The Wildchild, Phantom 45,  Jesse De La Pena, DJ Pete, Rhythm & Sound (w/vocalist) Richie Hawtin, Don Williams, the list could go on for quite a while!

There have always been some great DJs out there and still are, but one set I distinctly recall as being magical was by Derrick Carter in the early 90's at a loft party at 500 West Cermak where he was working 3 decks and had mixed Prince "When Doves Cry" with Hawtin's "Spastik" and Todd Sine's "X-Trak" all to total perfection, it was mind-blowing. No beat sync feature back then, no Ableton, no lock up sync and walk away shit. That's partially why I don't quite understand the new age of mixing — it takes away the art of it all. When it comes to downright technical mixing ability and demonstrating the true art of djing and working an audience, no one does it quite like Derrick in my humble opinion.
Download: Talking Shopcast 02: Soultek (92:47)
Tracklist:
01. Intrusion w/Paul St. Hilaire, "Angel Version" [echospace [detroit]]
02. Rhythm & Sound, "Mango Walk" [Rhythm & Sound]
03. Rhythm & Sound w/ Tikiman, "Ruff Way" (Afefe Iku remix) [white label]
04. DeepChord, "Electromagnetic Dowsing" (Mike Huckaby remix) [S Y N T H]
05. Substance, "Relish" (Shed remix) [Scion Versions]
06. Pelon, "No Stunts" [Chain Reaction]
07. cv313, Unreleased track from live PA at Smart Bar, Chicago
[echospace [detroit]]
08. Intrusion, "LostSequence" [echospace [detroit], unreleased]
09. Phase90, "ShiftSequence" [echospace [detroit], unreleased test press]
10. Maurizio, "M5" (side a) [Maurizio]
11. Maurizio, "M5" (side b) [Maurizio]
12. Rhythm & Sound w/Cornell Campbell, "King In My Empire" [Burial Mix]
13. Maurizio, "M5" (side a loops and effects) [Maurizio]
14. Rhythm & Sound "See Mi Yah" (Basic Reshape) [Burial Mix]
15. Model 500, "Starlight" [Metroplex]
16. Sons Of The Dragon, "The Journey" [Sons Of The Dragon]
17. Rod Modell & Michael Mantra, "Vitamin K" [Hypnos]
18. Variant, "The Setting Sun" [echospace [detroit]]
19. This Mortal Coil, "The Lacemaker" [4AD]