Graphic by Oliver Hafenbauer
Legend has it that Robert Johnson made a deal with the Devil to obtain his mastery of the guitar. Judging by the uniformly excellent output of the label that bears his name, one might suspect that Atanasios Christos Macias and Oliver Hafenbauer, the brains behind Live At Robert Johnson, made a similarly Faustian bargain. A more rational explanation points to their years of experience in the Frankfurt dance music scene. In addition to decades spent DJing and running record shops, Christos (known casually as Ata) was a founder of the esteemed Ongaku Music, Klang Elektronik and Playhouse imprints. Together with Hafenbauer, he's also operated the no-frills-all-thrills club for which the label is named. Their combined experience and recruitment of Roman Flügel, Arto Mwambe, Massimiliano Pagliara, and B.H.F.V has made LARJ yet another scene-defining label: a unique corner of house music which never shies away from melodies or songwriting and has proven that mix CDs can still be greatly desired products. LWE reached out to Hafenbauer to pick his brain about the label's aims, its plans for the future, and the importance of record art. Label staple Roman Flügel was also kind enough to provide Talking Shopcast 11, a thrilling hour of bleep-filled techno and electro that reveals the continued relevance of Network and Warp Records.
Please tell me your your job title and what you do on a day-to-day basis for Live At Robert Johnson.
Oliver Hafenbauer: I am A&R and responsible for the artist and label management at LARJ. My day usually begins with a cup of coffee and a little chat with one of the guys in our office before I start answering emails. Besides my activity for the label, I'm taking care of the musical curation and the booking management for the club Robert Johnson. I guess the main part of my work is arranging and organizing things. In addition to that there are a lot of creative processes and all sorts of projects around the office to be taken care of. We share the building with Tobias Rehberger's office and factory. Ata and Tobias are close friends for many years now and Tobias was also responsible for the naming Robert Johnson. Our office space is quite big and includes a professional kitchen where Ata runs his cooking club, "Club Michel" once a week. About a year ago Ata and Tobias had the idea to ask a cook, the wonderful Frau Ochs, to spoil the whole team every day with her incredible home-style cooking. Everyday at one-a-clock we all gather around one large table in our office and enjoy lunch together before everyone goes back to work.
How much input does each of LARJ's staff have on what the label releases? How much input does each artist have in what their releases consist of and look like?
The label LARJ is basically only Ata and me. Either Ata or I decide what will be released next. Together with the producers we compile the tracklisting for the album or the maxi singles. Most of the times the artist himself has a vision or an order of tracks in mind which makes sense already. To check the quality of the sound we drive over to Robert Johnson and listen to the tracks on the Martin Audio sound system. Our art department, Doeller & Satter are responsible for most of the LARJ Artwork. In case of Roman Flügel's last EP, Desperate Housemen we decided to get our friend and designer Saskia Randt involved who already created the cover for the first CDs compilation series. For LARJ, the artwork is just as important as the music.
The label has a unique aesthetic that's half sleek and simple, and half messy and unstructured, with cut-outs and the like. How does the design of LARJ represent the label? Does the label come to designers with ideas or do the designers have freedom to create as they please?
Since we share the office space with our art department we have a very close collaboration with each other. After we've roughly discussed an upcoming cover design, Michael Satter and Sandra Doeller have the freedom to decide which art work will finally be released.
LARJ was first launched back in 2003 for a couple promo mix CDs, but it wasn't until 2008 and 2009 that it became a full time label. What was the logic behind taking it full time?
The first 12 cardboard CD sleeves in 2003 were flyers with the particular Robert Johnson line-up of the month. They were only available in a couple of shops in Frankfurt or were given to friends. At the club's entrance you could get an audio CD with a mix recorded live in the club. The mixes were anonymous, but with a little knowledge you could guess the particular DJ. The idea to launch the label started with the first "official" compilation series in 2009. The basic idea was to make it possible to take home that Robert Johnson feeling in a materialized way. Therefore we had to establish a "proper" label with Robert Johnson artists, EP's and albums.
Before starting LARJ, Ata had help found Ongaku, Klang Elektronik and Playhouse. LARJ seemed to start as Playhouse was winding down. Why has Playhouse mostly stopped putting out records?
The start of LARJ had nothing to do with Playhouse, it was just about time for us to launch the label.
The label has largely focused on residents of Robert Johnson, but not exclusively. What does it take to have a release on LARJ? Will the label feature more non-resident releases in the future?
First of all the artist should produce music we would like to release. Often there is a huge lack of melodies in the promo material people send me, but a very important component of our releases are melodies.
What is one of your favorite releases on LARJ? Why?
I really enjoy all of our releases, of course. We launch all sorts of dance music from new wave to deep-house, but my personal favorite is Roman Flügel's "Brian Le Bon." It totally represents my idea of contemporary dance music. The sound is somewhere between the bleep of Warp Records and classic house music. I also love Massimiliano Pagliara's interpretation of PiL's "Order Of Death" called "In Order Of More Depth" for its darkness and new waveness.
What are a few other labels, past and present, you respect/revere the most? Why?
I love the work from Smallville, Dial and Laid. They found a great Hamburg scene/sound. Gerd Janson is doing a real good job with his label, Running Back. Uncanny Vally from Dresden stand for a very honest way of house music, on top I like that we are all friends with each other. I love Future Times in the U.S. for the same reason. I also admire the way Warp Records is going for all these years now. Shed's Wax label and Frank Timm's work for Soundstream is conceptually working really nice, the high quality of sound and the plain design. I also really like the guys of Sex Tags Mania and their irony regarding the house and techno business and certainly their great artwork.
Is there anyone LARJ wants to release who it has not yet released?
Yes, of course. There are coming two remix EPs from Massimiliano Pagliara's Focus For Infinity album with remixes from Tuff City Kids, Nicholas, B.H.F.V and a couple of others. Also I'm pushing forward a solo release from CB Funk (Christain Beisswenger). Chris is one half of Arto Mwambe and B.H.F.V.
LARJ has risen quickly to the top of the pile in tandem with the club. Is there a lot of pressure to maintain the label's top rated reputation? How does it impact your label decisions?
We don't feel any pressure at the moment. For us it's all about high quality dance music. I want our releases to be slightly futuristic. I know the word futuristic allows a lot of different interpretations, but it is the way I feel when thinking of LARJ.
Ata said in a recent interview that the label plans to stop doing mix CDs after one more by Dixon. How will that impact the rest of the label's output, if at all? He also said their would be compilations instead. Would you mind shedding light on what these compilations would be of?
Most of the tracks Ata and I like speak for themselves. I think Ata's Live At Robert Johnson Vol. 7 compilation showed this already, he decided to string together most of the tracks unmixed. Reminds one of the good old mixtapes or the classic way of compilation. We like this idea a lot and soon there will be new stuff following. In the future we will put our focus on several mini compilations with various artists.
What are the label's plans for the rest of 2011?
Finish our plannings for the autumn/winter tour 2011, completing the concept for the mini compilations, Dixon's fantastic Live At Robert Johnson Vol.8 compilation CD, several maxi singles and EPs of artists like Roman Flügel, Lauer, B.H.F.V and hopefully soon a solo release from Christian Beisswenger.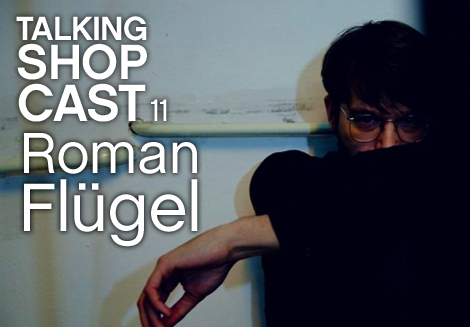 Talking Shopcast 11: Roman Flügel (60:01)

Tracklist:
01. Botany 5, "Lovebomb" (LFO Mix 1) [Virgin]
02. Xon, "Midnight Express" [Network Records]
03. Nightmares On Wax, "Biofeedback" [Warp Records]
04. New Age Technology, "New Age Technology" [Ozone Recordings]
05. Rhythmatic, "Take Me Back" [0742 Records]
06. Bizarre Inc., "Technological" (Detroit Mix) [Blue Chip]
07. Tricky Disco, "House Fly" (Radical Rockers Remix) [Warp Records]
08. Energize, "Report To The Dancefloor" (Electro Mix) [Network Records]
09. Original Clique, "Come To Papa" [Chill]
10. Lost, "The Gonzo" [Perfecto]
11. 4 Hero, "Scorcher" (Dance Mix) [Reinforced Records]
12. The Scientist, "My First Memory (The First Memory)" [Kickin Records]
13. Turntable Overload, "T.T.O." (O.T.T.) [Made On Earth]
14. Boneshakers, "One Step Ahead" (B.I.D. Mix) [Debut]
15. Altern8, "Objective" [Network Records]
16. NRG Posse, "Themes" (Mix 1) [D-Zone Records]
17. Acid Jesus, "Mulunga" [Klang Elektronik]