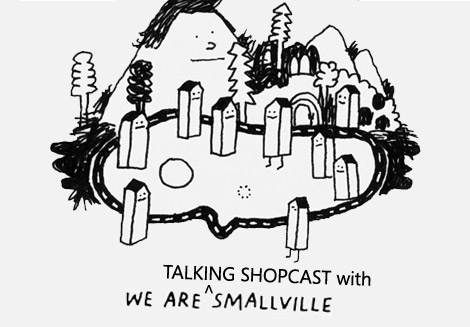 Sometimes you just want to go where everybody knows your name. For owners Julius Steinhoff and Just von Ahlefeld (Smallpeople) and Peter Kersten (Lawrence), as well as an extended cast of producers, artists, DJs and shop-keeps, that place has been the Smallville record shop in Hamburg. Smallville's ambitions quickly exceeded the store's walls, first with a record label that showcased the both the core and extended family, reaching as far as STL, Move D & Benjamin Brunn, and Thomas Melchior & Bruno Pronsato. It's difficult to generalize about the label's releases, but some values endure: an admiration for subtle, evolving melodies; an emphasis on deepness that leaves the dance floor within reach; and Stefan Marx's signature line drawings. What started as and still is a neighborhood hangout is now one of house music's more distinguished imprints, which for many is a dream come true. LWE needed to investigate further, quizzing Steinhoff and von Ahlefeld about Smallville's origins, its relationship with its sibling labels, and plans for 2012. Together as Smallpeople, they also provided Talking Shopcast 14 — an exquisite hour of house delicacies to start the year of right.
Tells us a bit about who you are and what you do for Smallville Records on a day-to-day basis.
Smallville is run by Julius Steinhoff and Just von Ahlefeld, also known as Smallpeople, and Pete Kersten, also known as Lawrence. Basically the Smallpeople run the everyday life at the Smallville record store: we sit in the shop to sell records, do the orders at the distributors, plan our parties and label projects from the store and pack orders from our online store. The shop is a place to hang out and meet people, to listen to and talk about music or start a track. But around Smallville is also a great gang of people who are part of it, working and helping out. It's really a good bunch of people, like Stefan Marx, who is responsible for the complete visual side of Smallville; Jacques from Smallville Paris, who lives in Hamburg for some years now; Richard aka RVDS, who is running It's and releasing good music, recently on Laid; Wiebke (aka Elin), who runs the party series Dear in Hamburg, Christian (aka Blessing) works in the store with us plus does the artwork for Laid; Helena Hauff is also working sometimes and is a great DJ. It also includes people like Christopher Rau and Tilman tausendfreund, who are friends and also help out if needed; and last but not least Stella, who lives in Berlin now but opened the store with us in 2005 and is a initiator and member since the very first thought about the store.
How did the Smallville record shop come about? When did you branch out with the Paris shop? And what spurred you to start releasing records?
Actually we just wanted a good spot in Hamburg, a shop and hangout. We didn't really think about whether it would work or not, more just did it. And it worked, we're doing good — actually better then ever before now. After six years of doing the shop, we know a bit more how everything works. We cannot offer every record that is out there and we don't want to. We would rather take a large number of one record that we believe in to offer it in the store for a long time. We just made two people really happy a minute ago, because we still had Workshop 9.2 on stock. I guess it's very good for the store to have a certain sound that we stand for and offer. It's always the music we love the most, that we sell the most, even if it's a wide range between deepest house and techno. But that is a good thing and a very important point for our good feeling in the store. The plan to release records and do a label, too, was there from the beginning — it just took a while to set up everything.
The Smallville shop in paris is run by Jacques who lives in Hamburg, but he's doing the orders from here and visits Paris regularly. The Smallville shop there was originally initiated by Pantha Du Prince, who just stocked a lot of Dial stuff and some good records in a shop for clothes; and he found Jacques to help him out with the daily work in the shop. But meanwhile Smallville paris is integrated in another record store called ground Zero, which is cool. If you are in Paris, you should check it out at 23 Rue Sainte-Marthe, 75010 Paris — it's nice and cosy.
For a while the label was very closely affiliated with Dial, to the point De:Bug felt it necessary to say "Smallville nicht Dial ist." Was it difficult to establish the label as its own entity?
Well, actually not. Dial and Smallville are close together due to Pete, who co-owns both imprints, but Dial is 11 years old and smallville only six. The Smallville record store is kind of a Dial shop now, too, as we have the Dial/Laid warehouse in here. Maybe Dial and Smallville are like brother and sister in a way, but in the end still two different labels run by different people. We were not looking to divide it music-wise — this comes naturally — and it's also natural that it's still close together, working well with each other. But yeah, there are things in common — artists, sounds and everything — but mostly also the way we look at running a label: without any need to be functional or to fullfil any commercial purposes.
Smallville's records are synonymous with the artwork of Stefan Marx. How was he first involved with the label and why was he chosen to visually represent the label?
Stefan is a fixed part of the Smallville family and a long-term friend of ours. He was working for Smallville since the very beginning — his first work was our small village logo and text. He's responsible for every part of our visual body — record covers, party posters and the windows of our record store. Stella actually introduced us to Stefan before we opened the store and we were amazed by his stuff. Stefan also likes the freedom he has to do things. He also released on Smallville; Smallville 25 is from him, it's called The Dead Sea, a three poster collection in a gatefold record sleeve. All in all, we believe it's the best thing that could have happened to Smallville. we are very thankful to have him.
What is your A&R policy like these days? Are you mainly seeking out music from people close to you or are you open to demos? How did the Melchior & Pronsato record about?
The Melchior & Pronsato record actually just happened. We knew Bruno and Thomas before and Bruno once just told me they had two unreleased tracks and if I'd be interested to listen, as they like Smallville. Of course I was interested. We all liked the tracks, so we released them — it's not a long story. But besides, that we must admit, we are not really listening to a lot of demos. There are just too many and unfortunately a lot of bad music that doesn't fit at all. We got to listen to so much music every day and during the week, so we find it hard sometimes. Most of the Smallville releases came naturally through friendship and people around we knew and like or find interesting. For us it's important to have a good feeling with the artist, too, and to be on the same wave length, doing it from the heart.
The label's releases can generally be described as deep house music, but there have been some outliers — perhaps most notably STL's "Silent State." Are you looking for specific aesthetic choices to align with the Smallville sound or is it more a certain vibe you're aiming for? Is there anything specific you won't put out?
There is no certain aestethic we are looking for, or at least nothing that is verbalised. It's really more the vibe, the feeling. If something fits Smallville, we will realize it quite fast.
Smallville has been around since 2006, and obviously the musical climate in house has changed a lot since then. How much do you feel the need — or even pressure — to respond to what's popular at the moment or that year?
We don't feel the need to respond to anything. I guess that's important. Of course we are influenced in a way by what is around because we go to parties, clubs, places and cities, and play a lot, so that's an influence. But not in a way to react on something "popular."
How much input does the artists themselves have in the final product?
You mean the artwork? It is always an important step to visit Stefan Marx in his studio and to have a look at his works. After that the process comes naturally as there is a lot of inspiring stuff at Stefan's studio. So artists can definitely take part in the process as long as they don't want a surprise.
What is one of your favorite releases on Smallville? Why?
It's a good feeling that we are still feeling all the releases, from the beginning until now. Standouts in terms of the label might have been the album by Move D & Benjamin Brunn, as it was out first album on Smallville. It's really a timeless piece of music and we got a lot of so nice feedback from around the world. That was amazing to realize and it still makes us happy to see it on Smallville. We won't forget when we first listened to it in the store. And the same with the "Silent State" track. This also got so much love from so many different camps. I still carrying it in my case wherever I play.
What are some labels, past and present, that have influenced how Smallville is run, and why?
Dial, Emphasis Recordings and FXHE! The first Omar-S records on FXHE were just coming out when we opened the record shop. We loved them a lot and also invited Omar-S to play in Hamburg a short while after. There are a lot of timeless tracks on these labels. Emphasis is the label from Steven Tang. Every record is great and these are always a good hint for people digging for records in the store. We bought a lot of these, so we can offer them as long as possible. Steven was also guest at our Smallville party series and it was great to finally meet him.
Is there anyone Smallville wants to release who it has not yet released? What are your plans for 2012?
The release of a Steven Tang record would be something truly great for Smallville. We are big fans. As for 2012, we are working on a Smallpeople album, hopefully for the first half of 2012. There is some really good stuff in the pipeline for the Smallville label.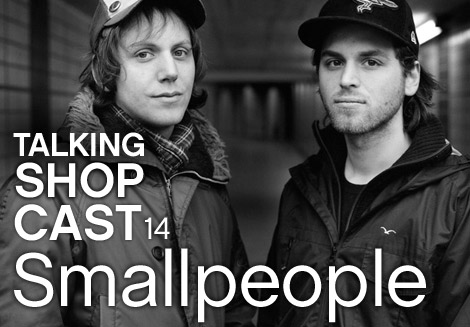 Talking Shopcast 14: Smallpeople (67:17)
Audio clip: Adobe Flash Player (version 9 or above) is required to play this audio clip. Download the latest version here. You also need to have JavaScript enabled in your browser.
Tracklist:
01. STL, "Birdart" [Something]
02. Herbert & Dani Siciliano, "I Hadn't Known (I Only Heard)" [Phonography]
03. Sun Glitters, "Beside Me" (Essáy's Calm Interpretation) [Kann Records]
04. Ben Westbeech, "Hang Around" (Karizma's Kaytronic Dub Mix)
[Brownswood Recordings]
05. Juniper, "Jovian Planet" [Ominira]
06. Smallpeople, "untitled" [white*]
07. Smallpeople, "Black Ice" [Smallville Records]
08. Capracara, "Flashback 86" [Soul Jazz Records]
09. Tang, "Horizons" [Emphasis Recordings]
10. Glenn Underground, "Vision" (GU's Original Instrumental)
[Strictly Jaz Unit Muzic]
11. Inner Sense, "Vibin" [9Ts Records]
12. Second Life, "Inner Love (Give It Up)" (Black Keys Rework) [Running Back]
13. Omar-S, "Phazed" [FXHE]
* denotes tracks which, as of the time of publishing, are unreleased