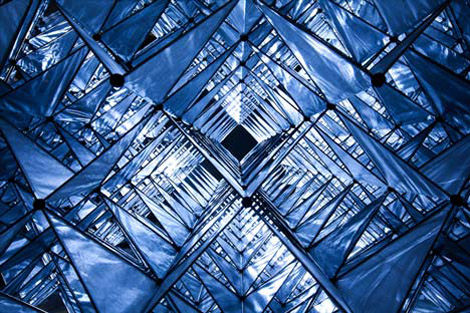 "Little Shining Man" by Heather and Ivan Morison
The easy and popular thing for producers to do at the present is write a house track that references Chicago's golden age by adopting its palette. Emulating the 707 drum kit, 808 claps and Juno-6 bass affords some of Chi-town's gritty immediacy, although these sorts of tracks so often enter one ear and out the other, replaced by the next crop of epigones or someone's vintage house collection. It behooves producers, then, to look past the building blocks and study the more intricate rhythm patterns in which they were originally used. Doing so might not yield something staggeringly original, but the results have a better chance of being memorable, especially among bland peers. UK duo Ethyl & Flori take this tact on their Shelter single for Secretsundaze.
Audio clip: Adobe Flash Player (version 9 or above) is required to play this audio clip. Download the latest version here. You also need to have JavaScript enabled in your browser.
Where previous E&F collaborations for Freerange Records, Quintessentials, and Fear of Flying landed on the functional side of deep-house, "Shelter" is altogether more lyrical and vintage sounding. It glides on the backs of swooping synth-strings and their mellifluous piano counterparts, but bears a toughness imparted by early Dance Mania-influenced percussion — an array of stop-start shakers, nagging hi-hats and shrugging tom patterns. This pairing seems to beckon to the weary with its melodies and protect them with drums, all while hearkening back to the time when Chicago's well-loved club Shelter first existed. While veteran producer Rolando likely remembers that period, his remix is more contemporary and streamlined in nature. He breaks the original's melodies into pieces that arise from a stream of insistent hand percussion and ostinato tones, occasionally congealing into the familiar motif. Shelter finds Ethyl & Flori exhibiting considerable growth as producers and provides for a broader range of jocks, continuing Secretsundaze's run of quality singles since turning its focus to artist-led releases.