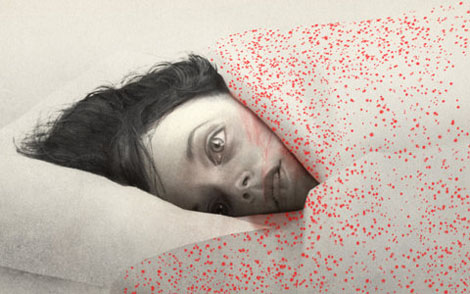 Illustration by Sam Weber
It's hard to know exactly how to describe Actress' music nowadays. Whereas Hazyville mined a kind of singular take on smudged-out, gray-scale techno, he's been loath to stay complacent with any sound for very long. Since then, between the zonked out études and pastoral oddities of R.I.P, the chopped up electro funk of "Machine and Voice," and the barely-there bloops of "Rainy Dub," Darren Cunningham has perplexed and enthralled with every missive. Yet for all his stylistic wanderings, there's a consistent palette with which Actress' records are painted; a certain muggy, smoke-filled cloud seems to loom large over all of his work, with individual elements clawing at pervasive digital distortion for air.
Audio clip: Adobe Flash Player (version 9 or above) is required to play this audio clip. Download the latest version here. You also need to have JavaScript enabled in your browser.
Preceding the long-awaited Ghettoville album comes Silver Cloud, perhaps the strangest record Actress has ever put his name to. The three tracks here are among the longest in his discography, with A-side "Voodoo Posse Chronic Illusion" pushing upwards of 12 minutes. A reduced, downtrodden affair, with a simple dial-tone "bass line" keeping the plodding, spectral rhythms in check, it takes its time ebbing and flowing in and out of focus over its length, with certain sounds seeming to almost dissolve in real time (replicating Basinski's tapes digitally). The two B-sides seem even slower, mining the kind of instrumental hip-hop styles recently advanced by the likes of Clams Casino and Main Attrakionz. "Silver Cloud Dream Come True" is particularly dingy, while the blemished aggression of "Floating In Ecstasy" sounds just about the opposite of its title. While Cunningham has clearly mastered the art of the album, I've long been less enthused with his 12″s and EPs. Silver Cloud is his strongest EP yet, and its engrossing vibe and lack of concessions make it one of the most avant-garde things he's ever done. I'm not sure what it suggests about Ghettoville, but on its own Silver Cloud stands out as a highpoint of an already impressive discography.