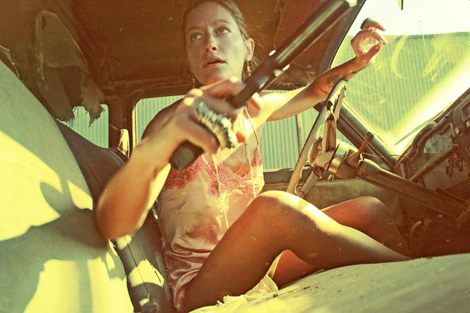 Photo of Joni Harbeck by Neil Krug
[Kompakt]
Back in 2004, Ada's Blondie was the go-to album to persuade your girlfriend or boyfriend that techno really was "okay." Borrowing from pop-house veterans Everything But The Girl (via a cover of "Each and Everyone") and indie-rockers Yeah Yeah Yeahs ("Maps"), Michaela Dippel broke out of the Cologne techno ghetto to achieve crossover critical, if not commercial, success. That's not to say that she left behind her Rhineland roots — every one of Ada's solo releases has been on a hometown label; and with frequent remixes from the cream of the Kompakt label, it was inevitable that one day she would release on the venerable imprint. Her music is a perfect fit for Kompakt with it's emphasis on somehow euphoric and melancholic melodies, pastel-coloured but chunky bass-lines and cute pop-culture references. It's a move that should ensure her the wider audience she deserves, and, as the title intimates, Adaptations Mixtape #1 is intended as an introduction from a trusted friend, but it's a shame it's such a collection of warmed-over odds and ends.
Audio clip: Adobe Flash Player (version 9 or above) is required to play this audio clip. Download the latest version here. You also need to have JavaScript enabled in your browser.
That's not to say this is by any means a bad release, and certainly has a number of excellent songs, but it is perhaps an indication of the increasing conservatism of Kompakt's output. In particular, DJ Koze's Jay-Z baiting remix of "Eve" was conspicuous by it's absence on his remix collection Reincarnations, so it's a pleasure to have that here. Similarly, "Living It Up" from 2006 is a fantastically lithesome floor-filler, and the Cologne old guard of Michael Mayer and Tobias Thomas turn "Maps" into the end-of-night singalong it should always have been. It's difficult to talk about Ada's music without mentioning the f-word, but her music really does have an inviting, feminine touch to it, a more than welcome quality in the dick-swinging contest that the current vogue for colder and harder techno can occasionally turn into. Her remix of Tracey Thorn's "Grand Canyon" is a case in point, as affectionate and comforting as a cuddle and a cup of tea after a long night's raving. "Forty Winks", from last year, ranks amongst the best things Ada has ever done, and illustrates her considerable compositional talents perfectly, outdoing pretty much anything on the last couple of Pop Ambient compilations.
Audio clip: Adobe Flash Player (version 9 or above) is required to play this audio clip. Download the latest version here. You also need to have JavaScript enabled in your browser.
However, Ada's sentimental sensibilities are occasionally cloying, as on the closing "Our Blindhouse (Each and Everyone)". While neatly bookending the record with a further EBTG reference to match the opening Tracey Thorn remix, the re-version of the Cologne classic that made her name may prove too syrupy for many ears. Likewise, her retouching of Alex Smoke's self-pitying "Never Want To See You Again", whilst a valiant effort at polishing a turd, cannot save the execrable source material. Ultimately, Adaptations is as lop-sided and wildly variable in quality as all your favourite mixtapes, but let's hope there's not another volume in this series — fingers crossed for an album proper instead.